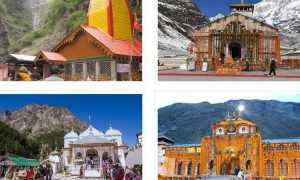 Availing Char Dham yatra at free of cost to the elderly of the state has been the chief objective of 'Mere Bujurg Mere Teerth Dham' Yojana. The scheme was meant to benefit those above 65 years of age who wish to pay visit to the sacred shrines of Badrinath Dham and Gangotri temple, two of the major pilgrimage destinations of Char Dham yatra. These two sacred shrines have been chosen because of their relative ease in access by motorable roads.
Uttarakhand's BJP Government, upon ascension to power, altered not merely the name but also the scope of the pilgrimage project. The new name of the project is 'Pt Deen Dayal Matt Pitt Theerthadanam Yojana'. Earlier the scheme let elderly pilgrims visit sacred shrines of Badrinath, Gangotri, Reetha Saheb and Nanak Matta. Under the revised scheme, pilgrimages to spiritually potent sites of Golu Devta, Baijnath, Kali Math, Tarkeshwar Mahadev Temple and Jageshwar Temple would also be availed free of cost to needy elderly. It would be the state-owned and operated transportation services of Garhwal and Kumaon Mandal Vikas Nigam that would provide free transportation and accommodation services to needy pilgrims.
The project launched on the auspicious eve of Navratri in 2014 started with free pilgrimages to Gangotri and Badrinath. Upon the success of the project and keeping in mind the needs of inclusivity of sacred shrines of other religions as well, the project was extended to include visits to Sikh shrines of Nanak Matta and Reetha Sahib, as well as Islamic shrine of Hazrat Nizamuddin Dargah. The Islamic shrine under the newly revised scheme has been replaced with Pirane Kaliyar.
The issue of people from well-to-do families using the scheme to visit two of the char dham shrines and other pilgrimage destinations at free of cost could not escape the Government's notice as well. The scheme was intended to benefit only those who could not afford travelling to the said places. To avoid future misuse of the scheme, only those who are exempted from income taxes would be allowed to travel under the 'Pt Deen Dayal Matt Pitt Theerthadanam Yojana'. Eligibility of the pilgrims would be ascertained by examination of the concerned documents. The responsibility to choose the eligible pilgrims and ensure a safe and convenient pilgrimage to them rests with the respective District Administration. Contact your nearest District Administration Authorities for further details regarding free Char Dham yatra as well as free pilgrimage to the above listed destinations.