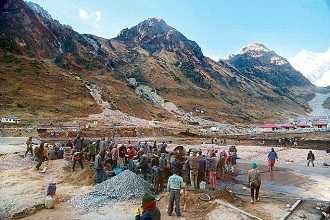 The Badri Kedar temple committee will be getting the reconstruction work in Sri Kedarnath Dham done by the famous multinational company Aditya Birla Group. They have undertaken the construction of night shelters for pilgrims travelling to Kedarnath. Residential colonies for the Raval (head priest), priests and other temple staff are also set to be built. The temple committee acquired the land from chief minister Trivendra Singh Rawat for this purpose. The chief minister had held a meeting with the infrastructure development in Kedarnath on Monday for discussing further about this.
Birla Group in Collaboration with BKTC
CM Rawat has mentioned the fact that the number of devotees in Kedarnath has increased at an alarming rate in the past couple of years. For this purpose, special attention will be given to the infrastructure development. Now the devotees will be able to go on other holy pilgrimages as well like Panch Badri and Panch Kedar along with Kedarnath and Badrinath Dham which will be propagated through the tourism department's website along with other methods. The CM has also informed that the re development work in Kedarnath will be discussed with the DM of Rudraprayag and later on further steps will be taken. The government promises to help and facilitate the devotees.
Construction Work to Commence after Land is Finalized
The president of Badri Kedar temple committee – Mohan Prasad Thapliyal has said that in order to facilitate the pilgrims in a better manner and to offer them a convenient travel to Shri Kedarnath, infrastructure development is important. During the 2013 disaster of kedarnath the structure of the building of the temple committee was completely destroyed. Residence for the Raval, priests and the other general staff of the temple will be given accommodation in close proximity to the temple complex. Along with this other construction works will include Bhog Mandi, Math Bhandar, Toshkhana, committee office and more. The Aditya Birla redevelopment will commence the moment the land is finalized. Present in the meeting were all the top officials including Chief Secretary Utpal Kumar Singh, Secretary Amit Negi, Temple Committee CEO BD Singh, Aditya Birla Group Senior Manager Arun Singh, etc.
The Following Buildings are Ready to be Built:
The Birla group has agreed to make the following buildings – Raval and Pujari Niwas; Toshkhana, dispensary, puja office, panther room, administrative buildings, inquiry centres, Bhog Mandi and almost 200 different night shelters for the devotees.