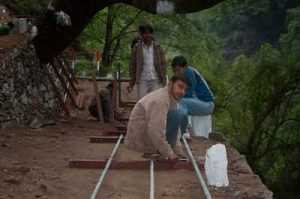 The chief officer in command of the Chardham route has ordered for the integration of clean drinking water, accommodation facilities, food, clean toilets, biometric recognition facility, sanitation, electricity, Helicopter service and transport facilitation along the whole Chardham route. Acute shortage of food and electricity as detected now are soon to be eliminated. The last date for the integration of the above mentioned facilities is 6th April. The officers in charge have been instructed to focus on the online photo matrix registration system. There are instructions to increase the number of registration machines on the Chardham site.
Officials have been encouraged to incorporate the use of jute bag instead of poly bags as a huge step in increasing environmental awareness and preserving the delicate ecosystem of the Char Dhams. There are plans of finishing the repair of roads and reconstruction of transport ways before the season kicks in. there should be special focus on the identified danger zones that are prone to accidents and landslides. A pilot project involving the integration of 3 mobile toilets in Tehri has been launched. The important officials in the Char Dham facilitation committee are Radha Ratudi, Anand Bardhan, D.S Goyal, C.S Naplchayal, Shailesh Bagoli and higher official like Arvind Singh Hyanki, Minakshi Joshi and Shri Ravishankar.
The Rajyapal Inspects the Arrangements at Char Dham
The Rajyapal Dr. Krishnakant Pal inspected the arrangements in place at Char Dham. The Rajyapal instructed members of the advisory committee; Prakash Mishra and Ravindra Singh to inspect the facilities provided to tourists and pilgrims on the Kedarnath route. The advisory officials have already submitted their report to Dr Krishnakant Pal. There are strict instructions issued to the advisory committee regarding the intensive monitoring of the reinforcement and reconstruction activities taking place in Kedarghati in response to the 2013 debacle.