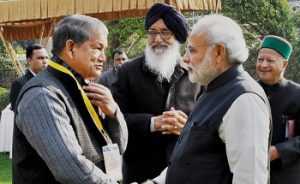 Chardham Yatra will be much safer and easier now. Our Prime Minister, Narendra Modi has ordered the National Highways Authority of India for urgent clearance of forest areas within a month. The goal is to start road construction work as soon as possible so that Chardham connectivity can improve by leaps and bounds. Prime Minister Modi had a video conference with Chief Secretary of Uttarakhand, Mr. Shatrughna Singh this Wednesday. Mr. Singh was to present the project's progress report to the PM and post submission of the report, the above order came from the PM. Singh while explaining the project informed PM about the road widening work which is being undertaken on the already existing roads to Uttarakhand Chardhams; i.e. Badrinath, Kedarnath, Gangotri, Yamunotri. Road widening is being undertaken to broaden existing roads into two lanes and the PM was made aware of this fact.
The Chardham connectivity improvement project consists in the construction of a 889 kms of road and is inclusive of other constructions such as 12 big sized bridges, 60 comparatively smaller bridges and two sturdy tunnels at Chamba and Radi Tap.
While explaining the project progress to the PM, Singh informed him that the procedure of passing tender on all sanctioned works has already been initiated and the amount set for the approved works is around Rs 1570 crores and target deadline for project completion is year 2020.
Singh further informed the PM that National Highways Authority of India has already cleared up land to allow construction of about 116 kms of the decided road and construction of the rest of the length can only be undertaken after completion of on-the-way procedures like forest clear up, land acquisition, utility transfer. A team of industrious, dedicated revenue officials has been created with the intention to speed up the procedures for land acquisition. This resourceful team has already completed the verification process for about 392 kms of land followed by submission of all relevant documents to the concerned department of ministry. He also informed that soon they are looking forward to acquire about 479 hectares of land. This 479 hectares is a medley of Government land [140.69 hectares], Private land [92.27 hectares] and forest land [246.66 hectares].
Uttarakhand State nodal officer has no pending proposals with him pertaining to things like landslide mitigation, forest clearance for plantation of roadside trees, road up-gradation. After getting all these info, PM Modi instructed NHAI to finish up with forest clearance within a month's time and begin the road construction work. Singh then informed PM that they are done with the estimation step for the relocation of 484 kms of pipe line and 408 kms of electricity line. Also, he informed that they are soon to begin 140 kms of road construction work on the Rishikesh–Rudraprayag route. On the Rudrprayag-Mana route too 160 kms of construction work on the varied segments of the route will be undertaken and that cost amounts to nearly Rs1010 crores. The other construction cost estimates listed out by Singh include Rs 1380 crores for the Rishikesh-Dharasu route [144kms], Rs 2053 crores for Dharsu-Gangotri route [124kms], Rs1246 crores for Dharasu-Yamunotri route [95kms], Rs 988 crores for Rudraprayag-Gaurikund route [76kms], Rs 1626 crores for Tanakpur-Pithoragarh route [150kms].
New Source: https://www.dailypioneer.com/