PM Narendra Modi to visit Kedarnath and Badrinath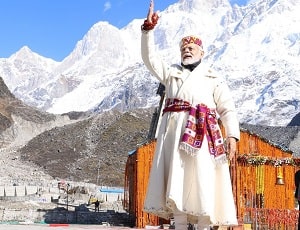 The honourable prime minister of India, Narendra Modi is a devout Hindu and is known for regularly visiting and paying his respects to the lord. He began his holy Uttarakhand visit by visiting the Kedarnath shrine on Friday. He even paid his respects to the Shankaracharya sthal in Kedarnath which is built to honour the great sage, philosopher and founder of Advaita Vedanta – Adi Shankaracharya. The Prime minister had visited Kedarnath and spent a night in the Kedarnath cave prior to the announcement of the prime minister's election result.
After Kedarnath, he then arrived at Badrinath to pay his respects to Badri Vishal. He was accompanied by the honourable chief minister of Uttarakhand, Shri Pushkar Singh Dhami and the governor of the state, Lt Gen Gurmeet Singh. It was early in the morning that the prime minister went for the Darshan at Badrinath. Both the dhams can be seen decorated in colourful, vibrant and beautiful flowers to welcome the prime minister.
The main intention for the prime minister's visit to the hill state is to go for a complete inspection of the various ongoing projects and development work in the state. He even inaugurated the ropeway project in Kedarnath that is set to connect Gaurikund with Kedarnath and Govindghat to Hemkund shrine along with inaugurating the NH project that will connect Mana Village to Mana Pass and the national highway widening project of the road from Joshimath to Malari Village. The prime minister also interacted with several officials and workers during the whole trip.