For tourists and pilgrims visiting the Gangotri Dham, there are a plethora of enchanting destinations in and around Gangotri to cater to travellers of every kind. Apart from the main temple of Gangotri, the region is dotted with many other must-visit places, the memories of which are worth cherishing all through life.
Let's Take a Look at the Major Places to See in Gangotri
Tapovan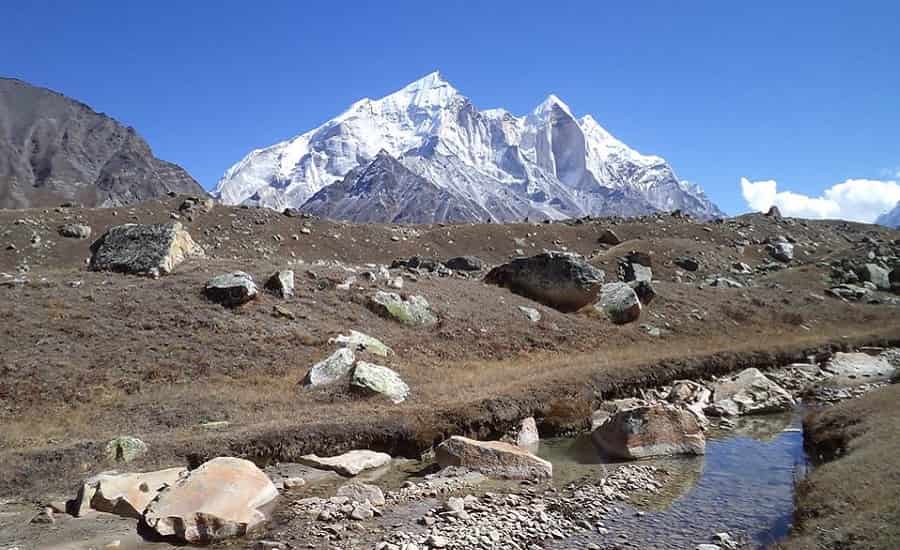 One can reach Tapovan from the point of Gaumukh glacier by trekking the pathway. This scenic meadow with breathtaking views of high Himalayan peaks and mountain range is indeed soul elevating. Lodged at an altitude of 4460 meters from sea level this enchanting meadow presents one with views of holy Shivling and comes studded with flowers of every kind. The trek route to Tapovan however is a difficult one and the help of an experienced guide could make the travel easier.
Jalmagna Shivling
The Jalmagna Shivling or submerged Shivling is a natural rock formation submerged in the waters. In the winter season, when the levels of water recede, this under-water Shivling becomes clearly visible to the eyes. The Jalmagna Shivling is revered quite intensely by devotees. The reason is that it has strong mythical connection with the arrival of Devi Ganga onto the earth. Myths hold that right at this place, Lord Shiva received the forcefully flowing Ganga on his locks as she arrived for the first time on earth.
Vishwanath Temple
Vishwanath temple of Uttarkashi is at a distance of 300 meters from the main Uttarkashi bus stop and houses a holy Shivling which comes with a circumference of 90 centimeters and a height of 60 centimeters. The temple features a shiny brass trident projecting from it and bearing inscriptions telling about the history of how it came into being. Within the temple courtyard, stands the Shakti temple, right at the front of the Vishwanath temple and this Shakti temple is dedicated to Goddess Shakti, famed as the Goddess of prowess and strength.
Bhairon Ghati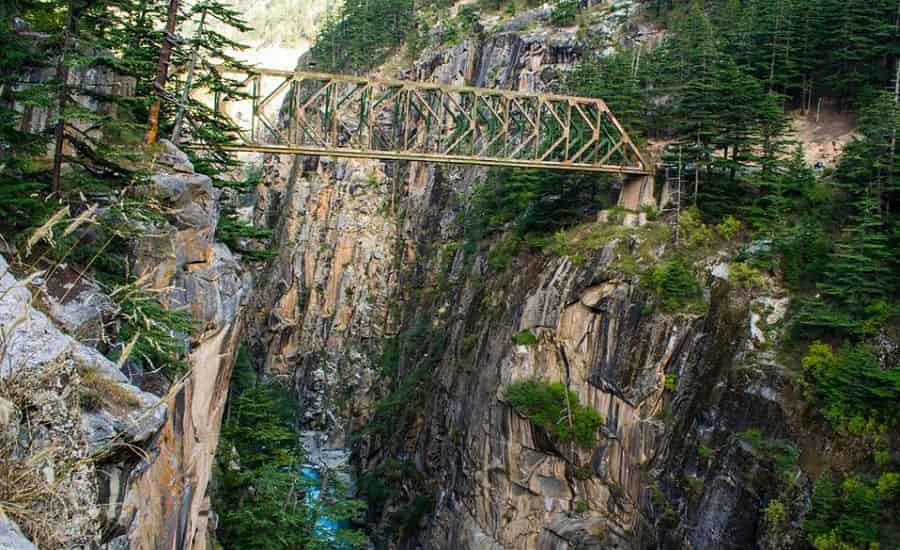 Bhairon Ghati is a picturesque location right at the confluence of River Bhagirathi and Jadh (Jad) Ganga. One has to traverse a distance of 10 kms to reach Bhairon Ghati. Bhairon Ghati is the place where the famed Bhaironath temple stands amid a dense forest cover. To get to the temple you need to make a journey by road to Bhairon Ghati from Lanka and then cross the river Jahnavi, a shallow enough river which can be crossed easily by wading through the waters.
Gaumukh Glacier
The snout of famed Gangotri glacier is shaped like the mouth of a cow and thus called Gaumukh. It is perched at an altitude of 4238 meters above sea level and is a favourite trekking hotspot for adventure seekers. The trek to Gaumukh starts from Bhojwasa and offers adventure lovers with many opportunities to indulge in such as boulder hopping, rock climbing, glacier traversing. The region thrives with abundant flora and fauna. Sight of silver birch, blue pines, herds of blue mountain goats along with the roaring tumultuous Bhagirathi River issuing out of the Gaumukh glacier would fascinate you a lot.
Pandav Gufa
This Gufa or cave, once upon a time the dwelling place for Pandavas, is set amid a dense forest cover. One has to trek a distance of 1.5 kms from the Gangotri base camp to reach this spectacular cave. Myths hold that while going to Kailash, Pandavas halted in this cave for some time and meditated.
Surya Kund and Gauri Kund
A visit to these two magnificent waterfalls lying amid the mesmerizing splendours of Mother Nature will definitely impart a powerful spiritual experience. A journey of just half an hour from the temple of Gangotri is to be covered to reach these spectacular waterfalls. As you feel the calmness of the ambience and enjoy the sight of milky waters roaring and cascading down along the mountain edges, you'll definitely be transported to a deeply spiritual world. Gauri Kund lies opposite to Surya Kund and an iron bridge stands in between, separating the two waterfalls.
Bhagirathi Shila
This rock located near the temple of Gangotri is that rock on which King Bhagirath is believed to have meditated. This stone also symbolizes the arrival of Goddess Ganga, as she gushed down for the first time on this earth. This gigantic boulder is of great spiritual import and pilgrims reaching this 'Shila' or rock usually do not miss the opportunity to offer silent prayers or even meditate for a short span.
Gangotri Trekking Options
If you are passionate about trekking, there are many places in Gangotri to lure you and give you a satisfying trekking experience. Here follows some trekking options to try out-
Trek to Gaumukh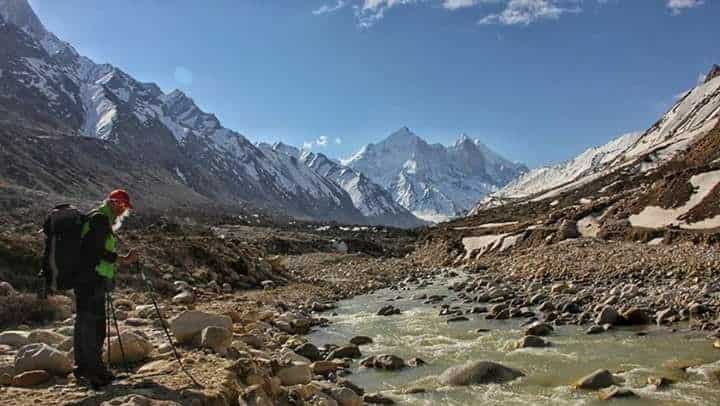 18 kms of trek from the Gangotri base camp can take you to Gaumukh. The enchanting views of Bhagirath mountain ranges and the Shivling Mountains along with surrealistic peaceful ambience of the place is sure to mesmerize you. The Gaumukh glacier is the geographical source of the Ganges and a trek to this place is indeed an exhilarating experience.
Trek to Tapovan
If you are looking for nature in all its tranquil forms, trek to Tapovan. The trek would take you through difficult pathways but once you have reached Tapovan, you would surely be enamored of the peaceful atmosphere of the place, the stunning views of the high peaks of Shivling Mountains. If you wish to go uphill to the peak of Shivling mountains Tapovan meadow would serve as the base camp for that adventure activity.