Devotees of lord Shiva will be able to reach the 11th Jyotirling of Baba Kedar through the middle of the snowy streets. On the Gaurikund – Kedarnath pedestrian route, the road has been made by cutting ice in Bhimbali from Rudra point in most of the places. In several places the ice walls of 5 to 12 feet high are covering the roads entirely.
The same situation is being observed in the Himkhand zone because of which the arrangements are being made by the security and administrative personals to ensure the safety of the pilgrims. The Gaurikund Kedarnath pedestrian route is being prepared by DDMA for movement for Kedarnath Yatra which is due to open on May 9th. During the last week of March 2019 there was 4 to 12 feet of snow ahead of the Bheembali route.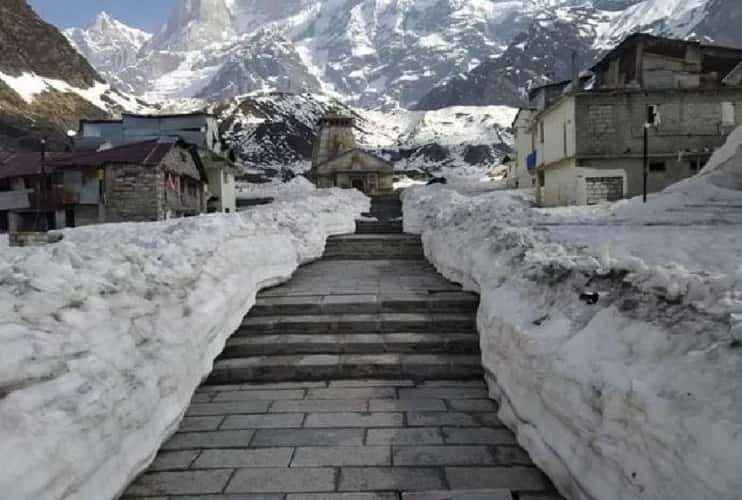 Ever since March 24th more than 150 labourers from DDMA of Guptkashi division are busy in making the roads worth walking on by clearing the snow. Due to the presence of excessive amounts of snow the path has been prepared by cutting 3 to 4 feet of ice for the movement horses and other mules along with the pilgrims. In almost 9 km out of 17 km long pedestrian crossing, ice is cut in many places.
In several places, snow walls of up to 5 to 12 feet high cover the road on either sides. The pedestrian ways of Bhairav Gadhera, Kuber Nala, Tharu Camp, TF Chatti and other places lying in the Himkhand zones are still very sensitive. Due to the presence of excessive sunlight the ice is receding quickly creating a hazardous situation. Keeping this situation in mind the SDRF personnel will be deployed to carry out the pilgrims from these places on May 8th.
On the pedestrian route Rambara to Rudra point most of the snow has been cut for the movement of the pilgrims. The procedure of cleaning out the ice is still underway in Himkhand and other regions as well.