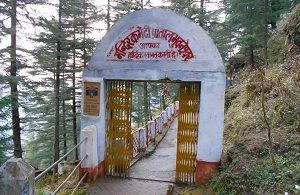 Patal Bhuvaneshwar Cave is venerated as the site at which one can feel the undeniable presence of the Divine. The earliest reference of Patal Bhuvaneshwar Cave is found in Skandapurana's Manaskhanda. Local folklore and mythical legends exemplify the site to be where Lord Shiva is worshipped by all the thirty-three crore devas of the Hindu pantheon. As its name suggests, it is an underground cave temple. It is situated at the village of Bhubaneshwar, 14 km away from Gangolihat in Uttarakhand. The length of the cave is estimated at 160 m while its depth amounts to 90 feet. One encounters a host of natural limestone rock formations once inside Patal Bhuvaneshwar cave. The cave has further tunnel-like apertures that lead further into deeper caves. The whole of its inside has been illuminated by electric lights. The name Patal Bhuvaneshwar Cave is rather a misnomer. Although its name refers it to be a 'cave', Patal Bhuvaneshwar cave contains many different caves in its entirety. There are many caves with this caved, making one feel as if one has entered a mysterious underground kingdom of caves. This lengthy cave makes one feel as if one has truly stepped inside Mother Earth's deep, dark womb.
Patal Bhuvaneshwar Cave is said to have existed from times immemorial, some say from the very advent of time itself. Situated amidst thick forests of oak and deodar, this mysterious cave leads into a 120 m long tunnel-shaped vertical passage. Yes, what one feels whilst inside is quite akin to its name as 'Patal', the netherworld. Over 100 steps lead one further into the interior of the cave. Once inside, it feels as if one has entered the divine realms of Gods and Goddesses for a hundred depictions of the same await one in its life-like depictions and idols. These truly bring to life many stories of Hindu Puranas.
Shiva – The Prime Force Behind Patal Bhuvaneshwar Cave


Although the cave has depictions of myriads of gods and goddesses, it primarily belongs to Lord Shiva. Who else would choose such a mysteriously beautiful, subterranean cave as his abode? In fact, every second projection you come across inside the cave resembles an actual Shivlinga. It is also astonishing to note that the water that continually falls upon the Shivlingas does not collect or stagnate unlike in other places. The sweet taste of the water that cascades down in the inner chambers of Patal Bhubaneswar Cave as if they are portraying the true descent of Ganga in its many streaks from the locks of Shiva lets one truly wonder at this marvel of Mother Nature. No wonder, Patal Bhubaneswar cave is a protected monument under Archaeological Survey of India (ASI).
Spiritual and Mystical effects of stepping inside Patal Bhubaneswar Cave
Many people report certain spiritual and mystical experiences inside Patal Bhubaneswar Cave. A certain sense of deep peace is said to descend upon one who enters the cave. Many report experiencing spiritual visions as well. The Cave is said to deepen one's meditation as well. Whatsoever be the truth behind the myriads of legends surrounding the cave, one cannot deny the effect it has on one's senses and spiritual faculties.
Legend of Patal Bhuvaneshwar Cave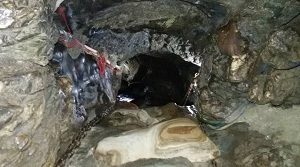 There are many interesting legends prevalent about Patal Bhuvaneshwar Cave. Manaskhand of Skanda purana tells the story of the first human discovery of the site. Before we proceed further, let us tell you a bit about Skanda Purana. Skanda Purana is the largest of all the 18 Puranas. The Purana is dedicated to the glory of Lord Shiva and is named his son Skanda. Many tales concerning Lord Shiva's battles with Danavas and Daityas are depicted in detail. Of the seven khandas or chapters, the first three chapters deal with the glories of Hindu Trinity of Shiva, Vishnu and Brahma. The last four chapters are dedicated to depicting certain hallowed spiritual sites amongst which Patal Bhuvaneshwar Cave also finds itself mentioned. The verses delineate the precise location of the cave as at the meeting point of Rivers Gupt Ganga, Sarayu and Ramganga at the holy Bhubaneswar.
The story goes thus. King Nala sought the help of his friend King Ritupurna of Surya Dynasty when he was defeated by his own wife Queen Damayanti and wanted to escape her punishment. King Ritupurna hid Nala in a dense forest. But while he was returning from the forests, he followed a fascinating deer which took him deep into the woods and disappeared. Upon his taking a nap under a tree, the deer appeared to him in a dream urging him to not harm it. He felt guided to move towards a certain cave as he gained his senses. Rituparna met Sheshnag, the mythical King of all serpents, guarding Patal Bhuvaneshwar Cave at its very gateway. Sheshnag agreed to carry the King upon his divine hoods and give him an exploration of its inside. It is said that the fortunate King was gifted darshan of all the Gods and Goddesses including the Almighty Lord Shiva in its interior. After this accidental discovery, Patal Bhuvaneshwar Cave remained closed and away from human scrutiny for ages. In Treta Yuga, the cave opened her bowels for the righteous Pandava brothers. Adi Shankaracharya, the great Indian philosopher, saint and religious revivalist is attributed the discovery of the cave in Kali Yuga. The short narrative of the history of its discovery can be found inscribed at its entrance in the present day.
The advent of pilgrimage to Patal Bhuvaneshwar Cave began with Adi Shankaracharya discovering the cave in 1191 AD. The Priest family of Bhandaris has been in charge of the religious ceremonies of Patal Bhuvaneshwar Cave ever since. Many anecdotes claim that worshipping at Patal Bhuvaneshwar earns the spiritual merit equivalent to worshipping at all the fours abodes of Divinity in the sacred Chardham Yatra. Some believe that there is a secret underground passage that connects Mt Kailash with the cave. Patal Bhuvaneshwar Cave also fell on Pandavas' final trajectory till Swargarohini. They are believed to have meditated at this sacred shrine before reaching their final destination.
What is inside Patal Bhuvaneshwar Cave?
Adjacent to a natural spring, rests the natural wonder of Patal Bhuvaneshwar Cave. One has to deposit one's baggage at the entry. Even cameras are not allowed inside. One is ushered inside the underground cave usually accompanied by a guide as well. There are about 82 steps that let one descend into its deep bowels. It actually feels as if one has truly entered the Patala or netherworld once inside the tunnel-like cave apertures. Supportive chains are installed along its interior walls so as to ease the efforts in entering its interior. This prevents the probability of accidental slips as well. After a combination of squeezing in, crawling and worming one's way through its feebly lit passages, one reaches the idol of Sheshnag at its foot. The idol depicts Sheshnag holding earth on his hoods. There is also an idol of Lord Narasimha in between the stairways one descends through.
One is greeted by the austere presence of a Hawan kund in the beginning. King Janamejaya, son of King Parikshit is said to have performed yajna at this very site. It feels as if one actually gets to witness Takshaka snake about to strike at Janamejaya, since the yajna was being performed to take revenge for King Parikshit's having been killed by snake. Scrambling further, one gets to witness the depiction of the sweet nectar of Amrita from the holy Brahmakamal falling upon beloved Lord Ganesha's head. This is associated with another famous legend in Hindu mythology. Lord Ganesha was birthed from Maa Parvati's ubtan and was asked by his Mother to guard the site at which she was taking her bath. Ganesha stayed true to the promise given to his mother, and did not let in even Lord Shiva, her husband, even after his continual requests. This infuriated Lord Shiva and he unknowingly chopped off his own son's head. As Maa Parvati discovered this horrendous turn of events and was shook by grief and rage, Lord Shiva replaced the beheaded head by that of an elephant's. It was the elixir of Amrita falling from the live-giving, sacred flowers of the Brahmakamal that brought life to his head.
Moving further ahead, one comes across the blessed idols of Amarnath, Badrinath and Kedarnath being worshipped. This is symbolic of the fact that worshipping in Patal Bhuvaneshwar is equivalent to one's paying homage at each of these renowned sacred shrines as well. There is also an idol of Kalabhairava with his open mouth and protruding tongue adjacent to this. The entire narrow passage is considered symbolic of the path through Brahmaloka a soul has to pass through to attain the supreme goal of existence moksha. Devout believe that everyone passing through the narrow channel would be able to attain moksha.
The depiction of Lord Shiva wearing his garland of skulls sitting upon a majestic lion, quite symbolic of his role as the Destroyer of the cosmos, is present before Kalabhairava. It then leads to a series of four doors. It is said that each of the four doors stands for a specific attribute. The doors are named Randwar, Paapdwar, Dharamdwar and Mokshdwar. Only two of the four are open now. It is said that Paapdwar and Randwar, the doors to sin and war, were closed right after the death of Ravana and culmination of Kurukshetra war respectively. It is predicted that the third would open with the end of kali Yuga, while the fourth would be the only functional one in the next age of Satyug.
One also comes across a podium containing an image of the heavenly Parijata tree inside Patal Bhuvaneshwar Cave. It is believed that Sri Krishna brought the beautiful plant from the heavens itself.
As one proceeds further, one arrives at the ground upon which Hanuman and Ahiravan fought each other, or so the legend goes. One is further led into an inner cave where Markandeya Purana is said to have been composed by Markandeya Rishi. This path further leads to the sacred site at which 'Pitru Tarpan' is performed. A depiction of heavenly cow Kamdhenu bathing Brahma Kapal with her milk is present at the very site.
Next in the series of depictions are seven ponds with the turned head of a swan. Myth goes that the swan which was given the task of protecting the waters of ponds drank all of its water, earning Lord Brahma's curse that its head be turned. This is followed by the beautiful Ganga flowing out of Shiva's matted locks whilst all gods and goddesses are offering their obeisance.
At the centre of this spiritually mysterious cave is the Shivalinga of Narmadeshwar Mahadev accompanied by Nandi. One also comes across depictions of Saptarshi constellation and Milky Way galaxy as one treads further. Then one enters the Garbhagriha, the innermost sacred chamber of the Cave. There are three Shiva lingas in here. Water droplets fall upon each of the Shivlinga alternately from the copper plates that are hung above. It is said that the copper plates were first installed by Adi Shankaracharya.
Offering worship at Sani Pradosham in this sacred site is said to bring peace to one's ancestors dating back to twenty one generations.
After the Garbhagriha, one sees the depiction of Koteshwar Mahadev. His form with open locks and snakes hanging from his neck is quite awe-inspiring. One finds a passage that allegedly leads to heaven. Herein Pandavas and the divine couple of Shiv-Parvati are seen. Only a portion Patal Bhuvaneshwar Temple is open for the public. This marks the end of one's exploration of the interior of the cave. Another route has been delineated for the devout to return to the main passage. On this path, one is again met with four Shiva lingams. Each of the linga is said to be for a particular Yuga. It is interesting to note that Shivlinga of Kali Yuga is the largest among the four.
As one treads onto the previous path, one also comes across depictions of the heavenly elephant of Airavat and Lord Shiva's kamandal.
Actual Devas vs Depictions in Patal Bhuvneshwar Cave
It is said that King Rituparna, the first human to have entered the bowels of Patal Bhuvaneshwar Cave, was given a tour of the cave for six months by Sheshnag. The King is said to have witnessed the real Gods and Goddesses, whose depictions line the inner chambers of the cave today. But he was warned that revealing this sacred site to another human being would result in his death. As the king couldn't help but reveal its truth to his wife, he had to meet with his death. The queen discovered the place after much effort. She was not gifted the 'Divya Darshan', instead was met with the statues, idols and pictorial depictions of the Gods and Goddesses. She built stairs inside Patal Bhuvaneshwar Cave so as to allow pilgrims to visit the sacred shrine. As her descriptions reached far and wide, Kings of Chand and Katyuri dynasties arrived at the place and developed it further.
Best Time to Visit Patal Bhubaneswar
Summer months are considered ideal to visit Patal Bhubaneswar. Thus, try to make your travel plans between April-June or September-October months. As is true of most sacred shrines in Uttarakhand, it is better to avoid the monsoon months of July and August.
How to Reach Patal Bhubaneswar
By Air: Alight at Naini saini Airport at Pithoragarh. It is at a distance of 91 km from the sacred cave. There aren't regular flights though.
By Rail: The railway station at Kathgodam would be the closest one. It is about 192 km away from the sacred site.
By Road: One can drive from Binsar, Jageshwar, Kausani, Nainital, Ranikhet or any of the major destinations in Uttarakhand. The road ends half a kilometer before the entrance of the cave. One needs to travel rest of the path on foot.
It is a 4-hour drive from Binsar. Patal Bhubaneswar Cave is situated about 120 km from Binsar. Its distances from Chaukori and Gangolihat are 37 km and 14 respectively.