Badrinath Dham needs no prior introduction to those who are acquainted with Devbhoomi of Uttarakhand. That Badrinath forms part of two coveted pilgrimages of Char Dham is well known as well. But did you know that Badrinath also forms part of a group of Vishnu temples together called as Panch Badri? In Vaishnavite traditions, a pilgrimage to the Panch Badri temples is considered supremely beneficial. Each of the temples of Panch Badri is not just a revered Vaishnavite shrine, but is also colored with its own rich history and mythology. A visit to the temples is incomplete without our delving into their intricately linked mythological association with each other, and the sacred land. Let us know further about Vishal Badri (popularly referred to as just 'Badrinath'), Bhavishya Badri, Yogadhyan Badri, Vridha Badri and Adi Badri.
Legend Behind Panch Badri
The land nourished by River Alaknanda between her origins at Satopanth and her confluence with River Nandakini at Nandaprayag is celebrated as the abode of Lord Vishnu upon the earthly realms. This 'Badari Kshetra' is dotted with many Vishnu shrines, of which the five iterated above forms Panch Badri. The story behind their forming a single pilgrimage trail can be traced back to the legend of Nar-Narayan. The human incarnate pair of Lord Vishnu is said to have meditated and practiced spiritual austerities at each of these places in their search for their ideal 'tapovan'. Their search ended at Badrinath, a region which was then replete with Badri trees. In the holy land of Badrinath, the twin avatar of Vishnu engaged in spiritual austerities that sought the greater good of all living beings for thousands of years. The land thus rendered holier by supreme selfless spiritual practice became a pilgrimage destination. Although the Badri trees in the region withered away, its name retained the memories of the once abundantly found trees.
The Five Badris or 'Panch' Badris
01. Badrinath Temple (Vishal Badri)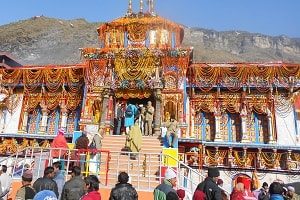 Vishal Badri is the other name for the deity at Badrinath dham. Vishal Badri is also called Badri Narayan and is a form of Lord Vishnu enshrined within the Badrinath temple. According to mythical and historical records, this idol of Badrinarayan was discovered from the depths of the Narad Kund by Adi Guru Shankaracharya and enshrined at the Badrinath temple. The Badrinath temple is one of the 'panch Badris' and is also counted among 108 auspicious Divya Desams of the Vaishnavites. The temple is perched at an altitude of nearly 3133 meters above the sea level and falls within Uttarakhand's Chamoli district. The Badrinath temple complex houses 15 divine idols of Lord Vishnu seated in meditative pose. Each idol is sculpted out of glossy black stones. The present Badrinath temple represents a conical structure and was constructed nearly two centuries back by Garhwal Kings.
Another legend has it that when Lord Vishnu arrived at the location of Badrinath dham for penance, he was enamored of the scenic splendor of the place. In one of his characteristic mischievously spirited frolics, he schemed to usurp it from Lord Shiva. He took the form of a wailing child. Maa Parvati lovingly took great care of the child. The child one day encroached upon Lord Shiva's seat when Shiva and Parvati were away, and refused to give it away once they were back. Lord Shiva thus relented to give it away to Narayan, and moved to Kedarnath thereby yielding it vacant for Lord Vishnu. However, even after Lord Shiva had left the place, the place was dotted with relics of his stay in the form of Badri trees, kind of gigantic trees that bore wild berries. According to the legend, Lord Shiva was served by and taken care of by these Badri trees. Their service was however invisible to mortal eyes.
How to Reach Badrinath Dham
Badrinath can be easily reached via road. Many buses run from Haridwar and Rishikesh. Also, one can employ rental car services to reach Badrinath from either of these spots. Alternatively, one can reach Rudraprayag, Chamoli or Joshimath and then travel to Badrinath. Since the road from Joshimath is too narrow to be used during night, vehicles are not permitted after sunset.
Another option is to travel to Badrinath via helicopter. The journey can be finished in less than an hour!
What to Visit Around Badrinath
Once you are at Badrinath, you ought to pay visit at the adjacent Mana village as well. The village has many relics from the Mahabharata era. Vyas Gufa, Ganesh Gufa, Bhim Pul are some of them.
02. Bhavishya Badri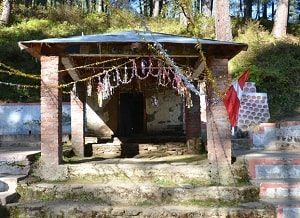 Bhavishya Badri perched at an altitude of about 2744 meters above the sea level falls amid the dense deep forests of Tapovan. There's an interesting story behind its name as 'Bhavishya' (which means future) as well. A divine forecast has it that a day will come when devotees will flock at Bhavishya Badri like they do now in Badrinath because Badrinath will have no existence during that time. Scientists point out that this could turn true as the entrance of Joshimath from where begins the rigorous trek towards Badrinath is continually sinking and may disappear someday. Bhavishya Badri houses the Lion-headed idol of Lord Vishnu in his Narasimha avatar.
How to Reach Bhavishya Badri:
To reach Bhavishya Badri, one needs to reach the village of Saldhar, 19 km from Joshimath. The rest of the pilgrimage involves trekking of 6 km. The trek route meandering across Himalayan thickets culminates at Subhain village. It is believed that in the olden days, this path along the trajectory of Dhauliganga River lead further till Mt Kailash and Mansarovar.
03. Yogadhyan Badri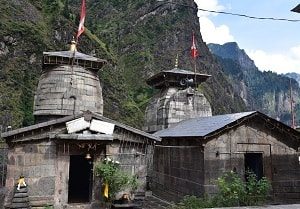 Yogadhyan Badri is lodged at an altitude of 1920 meters and is situated at Pandukeshwar. The place gets its name from the Pandava ruler, Pandu. According to myths, after emerging victorious against the Kauravas on the battlefield of Kurukshetra, Pandavas came to this region. They had won the battle and the kingdom but were suffering emotionally with the guilt of taking the life of their own cousins and causing such bloodshed. Thus they came here to renounce their kingdom, handover 'Hastinapur' to King Parikshit and engage in deep penance. After their deep penance at Yogadhyan Badri, they started out on the pathway leading to heaven. Even King Pandu, father of Pandavas, had meditated here during his lifetime. As its name suggests, the inner sanctum of Yogadhyan Badri bears Lord Vishnu's idol in meditative pose. The life-size idol of Narayan in meditative pose carved of Shaligram stone is indeed a sight to behold. It is said that the kings in the course of their penance were watched over and blessed by the Lord.
How to Reach Yogadhyan Badri:
Yogadhyan Badri can be conveniently included in one's travel itinerary of Badrinath dham. One needs to drive 21 km ahead of Joshimath to reach the village of Pandukeswar in which Yogadhyan Badri is situated. The temple is situated half a kilometer below the motorable road. There are steps built that lead one to the temple from the road.
04. Vridha Badri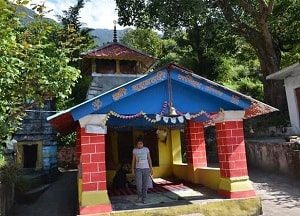 According to legends Vridha Badri had been the house of the deity of Shri Badri Narayan idol prior to its enshrinement at Badrinath dham. Myths hold that this idol was originally sculpted by Vishwakarma himself. Vridha Badri is located at an altitude of 1380 meters above the sea level.
One wonders why a Vishnu Shrine would be called Vridha, the vernacular for 'old'. This is perhaps the only temple that worships Lord Vishnu in the form of an old man. This is attributed to the temple myth that says Lord Narayan gave darshan to Narad Muni in the guise of an old man. As is true of many sacred shrines in Himalayas, Vridha Badri is linked closely with Adi Shankaracharya as well. It is said that the partially damaged idol of the temple was recovered and reinstated by him, prior to his establishment of the dham at Badri.
How to Reach Vridha Badri:
To reach Vridha Badri, drive to Joshimath. The rather simplistic shrine is located at Animath village, seven kilometres distant from Joshimath.
05. Adi Badri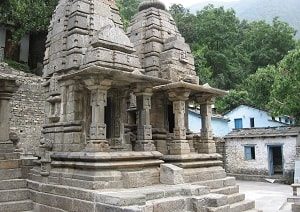 Adi Badri falls on Karnaprayag-Ranikhet road and comes in a conglomeration of about 16 temples, all dating back to the era of the Gupta dynasty. Among these, one temple is the distinguished Narayan temple of Adi Badri housing a Lord Vishnu idol rising to height of nearly 3ft. This idol is sculpted out of black stone. According to popular beliefs, Adi Guru Shankaracharya laid the foundation stone of these temples.
How to Reach Adi Badri:
Adi Badri can be reached from Nainital, Ranikhet, Karna prayag and Ramnagar. It is about an hour's drive from Karnaprayag and falls close to Chulakot en route to Ranikhet. One hour drive suffices to finish the 19 km distance from Karnaprayag to Adi Badri.
Best Time to Visit Panch Badri
Since the prime member of the conglomerate Badrinath is open only from May-September, Panch Badri pilgrimage ought to be undertaken only during these months. It is always advisable to avoid making trips to these remote Himalayan terrains during monsoon months, thus the best time to make Panch Badri pilgrimage includes the summer months of May, June and the post-monsoon months of August and September.