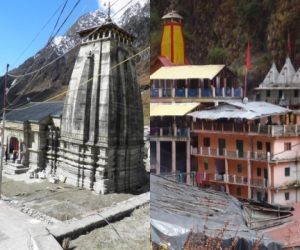 The tourism department of Uttarakhand is making new strategies to promote Chardham yatra. If the strategy takes a successful shape, then pilgrims will be greeted with the message 'Welcome to Chardhams' as soon as they step into the periphery of Uttarakhand. Along with this message, a link too will be sent to the people by the department of Uttarakhand tourism. By visiting this link, one could garner all info related to Chardham yatra.
Till now there's no such facility for tourists by means of which, they could easily gather information related to Kedarnath, Badrinath, Gangotri, Yamunotri. Even if tourists manage to reach Uttarakhand, the rest of the journey often needs to be undertaken by themselves alone. No information is provided to them on the behalf of Uttarakhand tourism department. But now the department is framing new strategies in this direction.
According to the officials of the department interactions related to these strategies is going on between the department and various mobile companies. The very moment tourists enter Uttarakhand, a welcome message will be sent to them plus a link through which they'll be informed in details about Chardham yatra.
Discussion is going on with mobile companies. The department is making an effort to implement this strategy as soon as possible. With this tourists will feel that they have been welcomed from the Chardhams and with that, tourists who had no previous plans to go towards Charhams, might decide setting out for Chardham yatra.
Image & News Source: https://dehradun.amarujala.com/