Munsiyari, a picturesque hamlet amid the snow-clad Himalayan peaks stirs in you a sense of awe for the sublimity of Nature's beauteousness spread all around. This tiny, comely hill station falls in Uttarakhand's Pitthoragarh district and is cradled at an elevation of 2298 meters above the sea level. The stunning vistas of the magnificent Panchchulli mountain ranges towering across the horizon would simply blow your mind away. Plan a visit to Munsiyari to soak in its beauty to the fullest.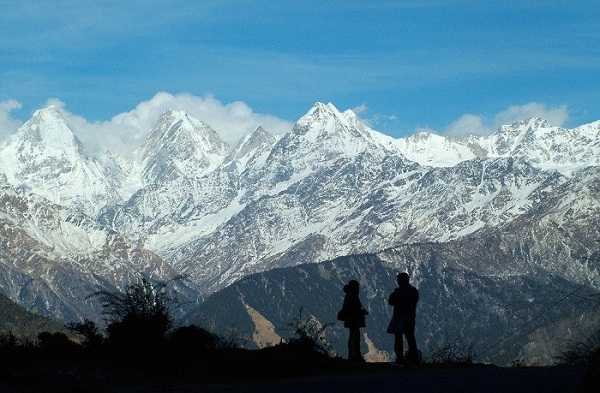 Places to visit
Betulidhar
Betulidhar is a beauteous meadow studded with colorful rhododendrons. Betulidhar also boasts of some of the best winter skiing slopes. The panoramic views of sunrises as well as sunsets from Betulidhar leave indelible impression on your mind.
Madkot
This tiny scenic hamlet is 22 kms away from Munsiyari and is dotted with multiple natural thermal springs which are potent enough to relieve you of your rheumatic or arthritic pain.
Thamari Kund
Thamari Kund is a ravishingly beautiful lake amid the thickets of Paper trees and Alpine woods. One could easily spot the very rare musk deer from here.
Nanda Devi temple


The ancient temple of Nanda Devi is one of the most revered pilgrimage sites of Uttarakhand. The presiding deity of the temple is Goddess Sati who resides here in the form and shape of Nanda Devi. You have to trek 3kms from Munsiyari to reach Nanda Devi Temple.
Tribal Heritage Museum
This Museum was set up by Dr S.S Pangthi, a traveler, trekker and retired school master and is popular by the name of 'Masterji Museum'. It is a private museum set up by Dr S.S Pangthi at his own residence. At the museum he exhibits interesting antiques, documents testifying the trade between Tibet and Johar Valley etc. This museum is located at Nanasen Village.
Maheshwari Kund
Maheshwari Kund is a beautiful small lake. According to myths this pond had been the seat of a Yaksha once upon a time. This Yaksha was head over heels in love with the village head man's daughter. Angry villagers dried out the lake to punish the Yaksha. The Yaksha retaliated by cursing the villagers. Then followed a ghastly drought until the villagers had to submit, repent and apologize to the Yaksha. The Maheshwari Kund is just 2 kms away from Munsiyari and offers one with breathtaking views of the Panchchulli Peaks.
Birthi Falls
Birthi falls is a 126 meters high waterfall located at a distance of about 35kms from Munsiyari. The enchanting view of these cascading waters in the midst of verdant greenery is indeed a spirit elevating sight.
Accommodation
Munsiyari has plenty of luxury to medium range and budget staying options. Among the mid-rung Munsiyari stay options you could go for the Wayfarer Resort that offers an eclectic medley of 5 Swiss styled cottage tents and 5 Kumaoni authentic log huts. You could also choose other resorts like Parvati Resort, Pine Resort, Zara Resort. If you are looking for budget stay options, PWD Inspection Bungalow, KMVN Tourist Rest House, Milam Village and various other hotels on the popular trekking pathways offer affordable accommodation.
Best Time to Visit
The summers are the best time to visit Munsiyari. Summer season sets in the month of March and ends in June. If you plan your visit around March or April, you could please your heart and soul with the splendid views of colorful thickets, all ablaze with full bloomed rhododendrons. The summers also impart the surrounding ambience with enough clarity. That makes it possible to view the distant snow-wrapped Himalayas distinctly enough. If you can stand chill cold and is attracted by expanses of snow-clad vistas, you can consider visiting Munsiyari in the winters even. Winters at Munsiyari commence from the month of November and end in March. Avoid planning visit in the rainy season; i.e. between June and Mid September. Heavy rains and frequent landslides thwart the joy of journey.
How to Reach
Munsiyari can be reached by all the three routes namely airway, railway and roadway.
By Air
The nearest functional airport to Munsiyari is the Pantnagar airport located 249 kms away in the hill town of Nainital. Frequent flights connect Pantnagar to all major cities of the country. On landing at Pantnagar airport, you could hire airport taxis to make you reach Munsiyari.
By Rail
Munsiyari is located in vicinity to two major railway stations, Tanakpur and Kathgodam. Tanakpur is about 218kms from Munsiyari while Kathgodam is about 217 kms away. Frequent trains connect Kathgodam and Tanakpur to all the major cities of the country. Regular taxis ply between Munsiyari and these two rail heads to make you reach Munsiyari with ease.
By Road
Road transport connects Munsiyari to all major Uttarakhand cities plus cities of many adjoining North Indian states. Also, you could take bus from ISBT Anand Vihar bus stop to any of the destinations such as Haldwani, Champavat, Tanakpur, Almora and then you could take a cab to reach Munsiyari from any of these destinations.
Cuisine
All hotels at Munsiyari come with their own restaurants where you can try the various tasty Indian and Continental Cuisines. Also, while walking down the streets and bustling markets of Munsiyari, you can sample some of the most traditional and truly irresistible local snacks like Aaloo ke Ghutke, Cholia Roti, Besan Bhadela, Maal Pua etc.
Shopping
Shopping is something you can't wait for when you visit a new place. Well, at Munsiyari you would get ample scope to shop to your heart's content. Go to Darkot, a shopper's paradise in the true sense of the term. Darkot is 6 kms drive from the town of Munsiyari. At Darkot you can pick beautiful souvenirs in the form of colorful sheep wool blankets and artistic Pashmina shawls.
Things to Do
Munsiyari thrives with plentiful things to do. You can go trekking, set out on a bird watching or wildlife viewing tour or can simply sit back and gaze dreamily at the beauty of the gorgeous landscapes, mountain peaks and forested trails.