The holy and extremely sacred town of Rishikesh goes synonymous with meditation and yoga. It is so popular for these activities throughout the world that the international yoga and meditation festival also takes place here annually which is participated by domestic and international yoga enthusiasts as well. Graced by the presence of the holy River Ganga and dotted with various ashrams on wither sides, Rishikesh is the place to be if you want to have a deep rejuvenating experience.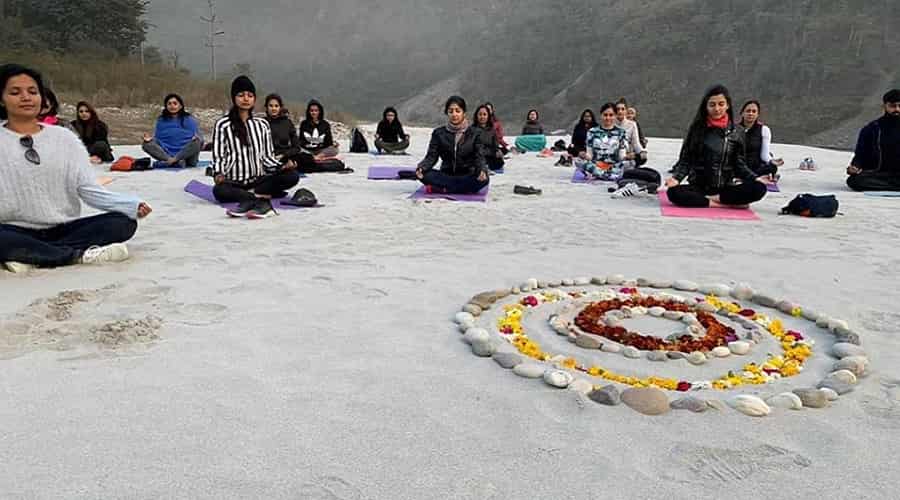 Benefits of Meditation
Meditation is one of the most popular ways of eliminating stress and other such related problems that one may be suffering from. Although it cannot replace western medication and therapies, meditation has always been one of the ways to clear out your mind and keep yourself healthy from within and endure any possible things that may befall upon you. It provides you with the best ways of attaining peace, balance and tranquility within you and also takes care of your emotional health. Extensive research on meditation shows that it has a lot of positive affects if you are suffering from problems like – allergies, disorders related to anxieties, asthma, binge eating, depression, high blood pressure problems, substance abuse, fatigue, improving the quality of your heart etc.
Ashrams for Meditation in Rishikesh
There are numerous meditation Ashrams which offer different types of meditation experiences some of which are:
Parmarth Niketan Ashram
This renowned and extremely popular ashram offers various types of meditation experience through which you can tap into a different zone of your inner peace. Being located on the banks of the holy river of Ganga, this place consists of around more than 1,000 rooms within a sprawling and clean 8 acre campus which is the perfect balance of peace and serenity. They give various trainers who are experts in different fields of expertise and one can also be a part of the international yoga festival that takes place here.
Sivananda Ashram
Popularly referred to as the best yoga and meditation training institute in Rishikesh and even throughout India, this iconic ashram also goes by the name of 'divine life society'. As the name suggests this place is dedicated to Swami Sivananda who is also credited with being the founder of this place works at imparting significant knowledge not just on yoga and meditation but also Hinduism and the teachings of Vedanta among other spiritual topics. This is truly a wholesome experience for all enthusiasts of spiritual seekers. You shall be participating in various peaceful and rejuvenating activities and choose from a range of special programs as well.
Omkarananda Ganga Sadan
Situated gracefully on the banks of the holy River Ganga and offering some of the most peaceful, tranquil and blissful environment, this place is perfect for people seeking yoga and meditation activities. Sooth your senses and get in touch with your inner peace here by embracing the knowledge of yoga, leading a simple life and also learn more about the great mystics of this time. Praising the Lord and attending the refreshing and spiritually evoking Ganga Aarti will be one of the most memorable experience that you shall be taking away from here.
Yoga Niketan
Considered to be one of the most peaceful places in entire Rishikesh to indulge in various yoga and meditation activities this is one place where visitors and participants say that they felt truly in connection and one with their mind, body and soul. The charming and sprawling landscape here pans out over an area of around 7 beautiful acres. The sessions here centre around the Patanjali Yoga Shastra and does not lack any facilities. The experience is very exhilarating and gives you the perfect place to be of you are looking for a place to escape the chaotic city life.
Meditation Course & Tours in Rishikesh
We understand the importance of mental health in your life so we bring to you special offers on meditation courses paired up with soulful tours in and around Rishikesh. We make sure that every day of yours begins with a breath of fresh air and ends in contentment. Our aim with this, is to allow your holiday to be a spectacular experience and free of any hassle or problems that may fall in your way. Book now any of the meditation course and yoga services as well that will leave you refreshed and at peace with your inner self.