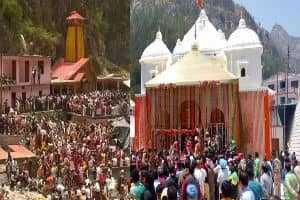 The journey to the sacred Char Dham Yatra will be telecasted live via a special app to pilgrims and tourists. The goal will be to secure the safety and travelling conditions of visitors and pilgrims who have been visiting Taiyari Zila. During the journey, the local people and communities will also be benefited through the distribution of Prasadam and Puja utilities. This will of course, facilitate the tourists and pilgrims.
The newly appointed SDM and the adhyaksh of the Yamunotri Temple committee Rohit Meena said that the doors to Yamunotri Dham are usually opened on Akshaya Tritaya. This time the local authorities have done their best to make the char dham yatra a better and smoother experience.
He also went on to inform that the preparations of making Yamunotri and Gangotri Yatra live have been going on since the last 6 months. The target groups and procedures for the same have been fixed with the help of DM. NIC has collaborated by preparing an app for the same.
The system will note the numbers and the names of travellers from the hotels and lodges and this information will be transmitted to the local and state authorities. Not only will this ensure better cognizance and record keeping, but the safety processes can also be strengthened. Every hotel will be connected via the Saray Act (noncompliance and non-enrolment will lead to legal action).
The principal points and check posts on Yamunotri Dham will have fixed and secured slot for parking. The red alert will be issued after 70% of the space in the slot has filled up and this will be a signal for other cars not to stop at that point. This system will hopefully prevent the nasty traffic snarls that have been happening on this route.
The travellers will benefit as they will be spared unnecessary hassle and difficulties. They can also avail facilities like Prasad and drinking water and shelter along with other amenities. The rural and local arts and crafts will also be showcased to tourists and pilgrims; hopefully this will symbiotically benefit both parties. The strengthening of the rather depressed economy of Char Dham areas is also a major concern along with the refurbishment of water, electricity, roads and health facilities for tourists and pilgrims.