Due to the heavy snowfall that ensued Kedarnath, this time the pilgrims will be required to walk 3 to4 kms on snow to reach Baba Kedar. However, the administration here is already preparing to deal with this situation by removing the snow cover from these pedestrian pathways before the journey kick starts on May 9th, 2019. It won't be an easy task for the officials to completely get rid of 9 feet of snow covering from the routes. It is an obvious fact that in this situation, the tents will be erected above this snow once the journey begins. These tents will also contain stay options and food facility for the pilgrims.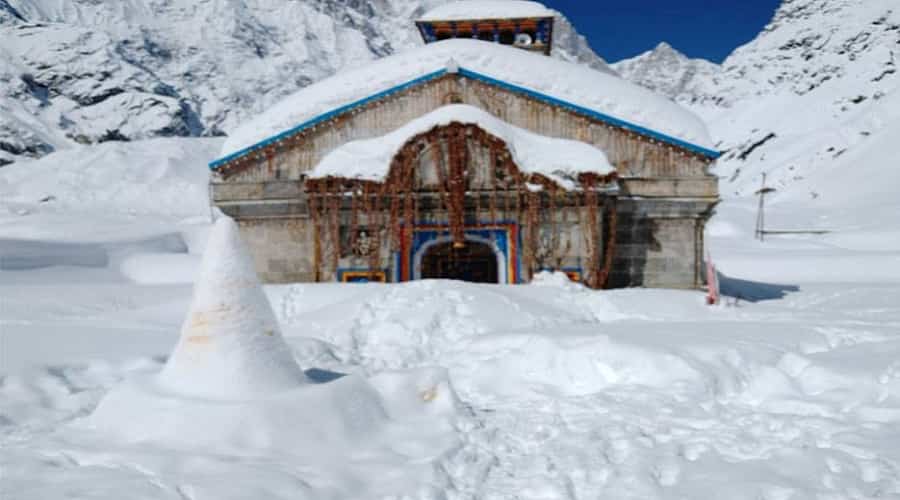 The effects of this uncertain snowfall will definitely cause a hinderance when the Yatra begins on 9th May 2019. March has passed and yet the snowfall on the Dham is continuing. Keeping in mind that the weather is extremely moody, this is predicted to continue on for further for a few days.
This unpredictable weather condition is the reason as to why the entire region of Kedarpuri is completely covered under 9 feet of snow. In places where snow avalanches fell down then these regions are covered in almost 10 feet thick covering of snow.
According to Manoj Semwal, the former media in charge of NIM (Nehru Mountaineering Institute), who is also looking at the reconstruction work for Kedarnath since the past 5 years and is currently the in charge for wood stone construction company, has conveyed that this time the pilgrims will have to make their way from the icy and snowy pathways leading up to the temple. In 2014, the pilgrims were faced with exactly the same problems. They said that it was surely difficult to walk on snow but the experience was quite unique and different for the pilgrims.
Local Youths will Arrange for Tents
There are also other residence options for pilgrims along with the tents and cottages, which are provided by Tirth Purohit. In order to provide the pilgrims with adequate stay options, the administration are also setting up tents.
As per the information given by the district magistrate, Mangesh Ghildiyal – 200 local youths have been allowed to set up tents not only in Kedarnath but also in Lincholi. All these arrangements are being done in order to provide a lot of stay options for when the influx of pilgrims increases.