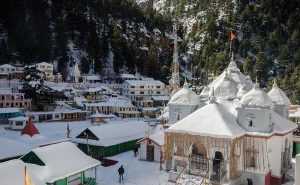 The doors to world famous Hindu pilgrimage centres Kedarnath, Yamunotri and Gangotri will close one day after the auspicious Bhaiya Dooj that is on November 1st. the temples will remain closed for the whole of winters. The doors to Badrinath will close on the day decided after Vijaya Dashami while the dates for closing doors to Hemkund Sahib and Lokpal Lakshman Mandir. The doors to these temples will now be closed on 15th October instead of 5th October because of increased pressure of crowds.
According to traditions the doors to Yamunotri, Kedarnath and Gangotri close on the day of Bhaiya Dooj every year. This year this occasion falls on 1st November. Baba Kedarnath festivities happen on this day and the idol of Kedarnath is carried in a festive palanquin to Gaurikund where provisions are made for night halt and rest. This is also where the palanquin of Goddess Yamuna is kept for her winter abode. Usually this event takes place on 2nd November in Mukhba. The head priest of Badrinath Rahul Ishwari Prasad and Dharmadhikari Bhuwan Chandra Uniya will set the date of Badrinath temple closing date on 11th October (the day after Vijaya Dashami).
Similarly, the Lokpal of Hemkund Sahib and Lakshman Mandir will close on 15th October. The chief managing officer of the famous Gurudwara Sardar Sewa Singh said that every year the closing of the temple happens on 5th October. This year the closing date is delayed till 15th October due to extra rush of tourists.