Kedarnath Dham is considered to be the most difficult destination to reach in the Chota Char Dham circuit of Uttarakhand. It requires the pilgrims to be physically prepared for the long journey of 14 kms to reach the temple. However the final road leading up to the main temple of Kedarnath is not obsolete and is connected to a series of road networks that connect the various cities, towns and even states. Kedarnath shrine is one of the most visited temples in India where people from different corners of India visit to attain salvation.
Here is a complete guide on how you can go on this soul-enriching journey to Kedarnath: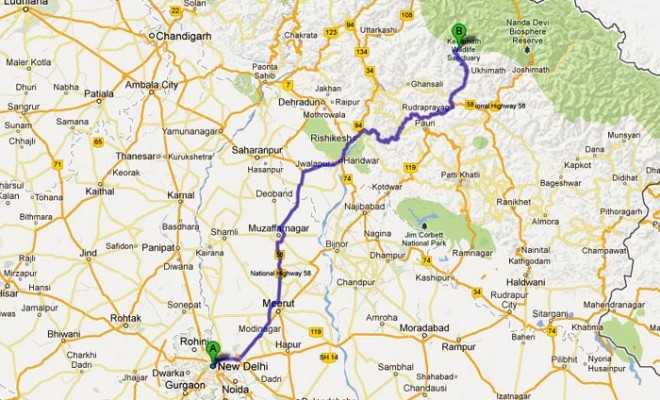 By Road
One of the most convenient and the best ways of reaching Kedarnath Dham is by opting for taking your private car or by hiring a cab or a taxi service to Kedarnath. In case you are making the journey with your own car then you should know that Kedarnath is connected via various road networks like – Chandigarh (387 km); Delhi (458 km); Nagpur (1421 km); Bangalore (2484 km); Rishikesh (189 km); Chennai (2,608 km); Mysore (2,726 km); Kolkata (1,913 km).
Kedarnath From Haridwar- several buses ply from Haridwar in every half n hour and it takes almost 8 hours to reach the final road head leading to Kedarnath i.e. Gaurikund. In case you are going with 5 or 6 other people you can also choose to rent a jeep from Haridwar or Rishikesh and you will be reaching Gaurikund within 9 to 10 hours.
[Note: The road from Rishikesh to Gaurikund will be shut down for 8 hours between 8 pm to 4 am].
One of the most important things to remember if you are taking your own car is to get a car which has a good ground clearance since you will be encountering rock strewn routes throughout the way.
Where to Park Your Car?
There are two different parking lots located right before Gaurikund at a mere distance of 100 and 500 metres. Although getting space for your car may appear to be difficult but all you need to do is talk politely, discuss and pursue the caretakers there in a more humble manner then you will be definitely allotted a parking space.
Gate System en Route Kedarnath:
A fatak or a gate present in Sonprayag at a distance of 5 km below Gaurikund which keeps the movement of the vehicle on check and going only in one direction from Sonprayag to Gaurikund. This procedure ensures a minimum traffic level however it also adds and extra 1 to 1.5 hours of travel time. For an easy way out you can choose to park your car in Sonprayag itself and then hitch a ride with some up to Gaurikund.
Transportation from Gaurikund – from Gaurikund the entire 14 kms of the path leading up to Kedarnath Dham is paved. If, due to some reason you are unable to complete the journey on foot then you have the option of choosing the services of dolis, pitthus, mules etc. the rates for these alternate transport services are not fixed but in case you want to get an idea of the rates then you should go through the government rates.
Brief Route Map of Kedarnath from Rishikesh:
Rishikesh – Devprayag – Srinagar – Rudraprayag – Agastyamuni – Guptkashi – Phata – Rampur – Sonprayag – Gaurikund – Lincholi – Kedarnath
By Air:
The closest airport from Kedarnath Dham is situated in Dehradun which is the Jolly Grant airport and is located at a distance of 239 km. from Rishikesh this airport is located at a distance of 16 kms and its takes almost 20 to 30 minutes to get to Rishikesh. This airport caters to a number of flights from various towns of India. If you are travelling to Kedarnath from Chennai, Bangalore, Kerala, Karnataka or any other states of South India then you can book your flight tickets from your place to jolly grant airport in Dehradun and then book a taxi or a cab heading to Gaurikund.
By Helicopter:
This has to be one of the easiest and the most convenient ways of reaching Kedarnath. In case you are looking to cut down on your travel time or are travelling with someone who is unable to travel via road. Some of the places from where you can reach via helicopter to Kedarnath are: Gauchar, Dehradun, Phata, Sitapur and Dehradun. The helicopter service to Kedarnath commences from Sahastradhara helipad in Dehradun and takes almost 40 to 45 minutes to reach the helipads at Phata, Sitapur, Guptkashi or others. From here on the passengers will be transferred to another shuttle which will transfer them to the helipad in Kedarnath which is situated at a distance of just 500 metres from the main temple entrance. Although an expensive option you will be able to have one of the most amazing spiritual experiences in Kedarnath at the least amount of time and with extreme ease. This option will cut down on your travel time to just a few hours instead of days.
By Train:
The last railway station for Kedarnath is situated in Haridwar or Rishikesh which are situated at a distance of 215 kms and 241 kms respectively. From Dehradun the station is located at a distance of 257 km and from Kotdwar it is situated at a distance of 246 kms. The railway station at Rishikesh does not cater to fast trains and Kotdwar station also caters to a very limited number of trains. Haridwar railway station is a better choice since it has a better connectivity to places like – New Delhi, Mumbai, Ahmedabad, Amritsar and Howrah.
Kedarnath New Route:
The old route to Kedarnath had gotten washed away completely during the 2013 floods. However a new route is now constructed developed and maintained by the team members of NIM. The new route makes its way from a newly constructed bridge in Lincholi which comes after Gaurikund.
Facilities Available along Kedarnath Trek Route:
The administration has provided several facilities and services which can be experienced while making your way from Gaurikund to Kedarnath which include medical and urgently required first aid facilities in Bhimbali, Lincholi and Kedarnath. There are also various tea stalls and food joints along with various resting sheds available throughout the route. There is also a 10 beds hospital offering various and the most basic modern hospital facilities which can be availed during the urgent situations.
Kedarnath Route Map from Delhi
Delhi to Haridwar (210 km) Rishikesh (25 km) – Devprayag (70 km)- Srinagar (36 km)- Rudraprayag (35 km)- Tilwara (10 km)- Agustumuni (11 km)- Kund (15 km)- Guptakashi (6 km)- Phata (12 km) -Rampur (10 km)- Sonprayag (4 km) -Gaurikund (6 km)- Rambara (8 km) – Garud Chatti (5 km) – Kedarnath (4 km).
Kedarnath Distance from Major Cities of India
Chennai to Kedarnath – 2,615 km
Mysore to Kedarnath – 2,733 km
Pune to Kedarnath – 1,911 km
Vishakhapatnam to Kedarnath – 2,186 km
Vijayawada to Kedarnath – 2,263 km
Madurai to Kedarnath – 3,019 km
Coimbatore to Kedarnath – 2,946 km
Kochi to Kedarnath – 3,131 km
Nashik to Kedarnath – 1,737 km
Nagpur to Kedarnath – 1,486 km
Bhubaneswar to Kedarnath – 1,815 km
Nellore to Kedarnath – 2,443 km