The health department has tightened its grip on the Char Dham Yatra. Hyperbaric chambers will be built in Sri Badrinath and Sri Kedarnath…know its speciality.
Hyperbaric chambers in Badrinath Kedarnath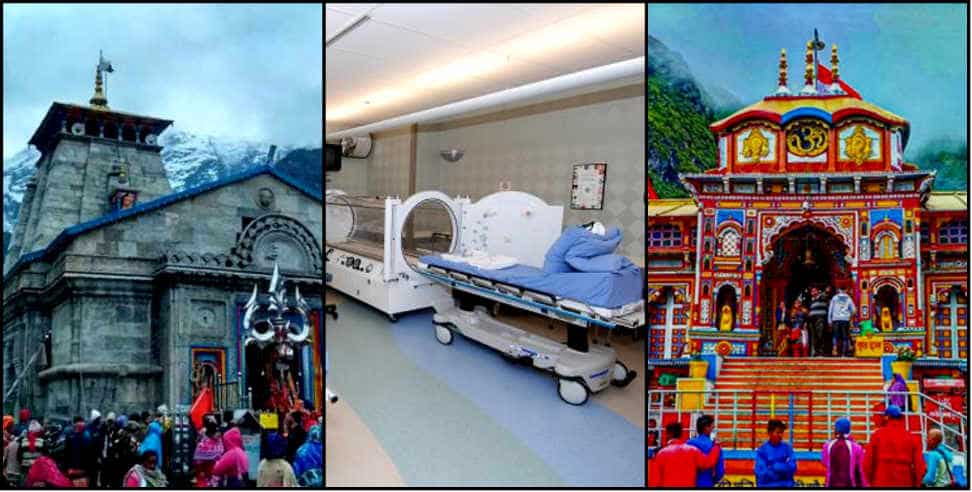 Char Dham Yatra is just about to begin. In order to keep the travellers safe during the journey and not face any health-related emergencies special preparations being undertaken by the health department. They have planned to set up hyperbaric chambers in Kedarnath Dham and Badrinath Dham…after this, the devotees will be able get better care during health emergencies that would save their lives. Let us just remind you that the journey of Char Dham is very difficult. Due to the lack of oxygen availability in the high mountain regions devotees have to face difficulties. Badrinath and Kedarnath Dham are located at a height of almost 11,500 feet above sea level, so the oxygen content in the air is very low. In the past few years several devotees have lost their lives due to heart attacks and respiratory related problems. But now the health department wants to make a change in this situation.
Know More about Hyperbaric Chambers:
Thanks to these chambers in case of any emergency situation the devotees will be able to keep themselves in normal condition. Health Director General Dr. Ravindra Thapliyal said that these hyperbaric chambers are being constructed in Kedarnath and Badrinath to deal with any health-related emergencies. Inside the chamber oxygen pressure is maintained. People suffering from symptoms of respiratory problems and feel it during the journey will be able to feel at ease because of these chambers. Simultaneously, 30 specialist doctors will be deployed on the Char Dham Route and a total of 84 doctors will be deployed under the rotation system. The high altitude medical camp NGO of six sigma health care will also lend a helping hand in Kedarnath and Badrinath. Good results are expected that due to this initiative taken up by the health department, Yatris on the holy journey will return with good experiences.
Warm rooms have also been prepared along the walking path of Kedarnath Dham so that during the time of extreme cold, travellers can utilise them in case of deteriorating health condition. These rooms will prove to be a boon for heart patients. During their visit for the darshan of high altitude Char Dham, many patients are not able to receive good health care services due to which several people have lost their lives. People suffering from heart or respiratory problems are prone to a number of other health related difficulties. According to the past data, 112 people lost their life during the Char Dham Yatra in 2017 where as in 2018 106 people have been reported dead. Taking a lesson from the past the health department will establish hyperbaric oxygen chambers in Kedarnath and Badrinath.
News & Image Source: rajyasameeksha