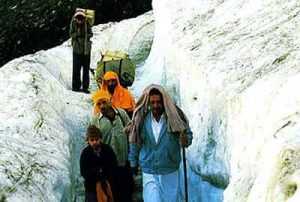 Hemkund Sahib, the renowned Sikh pilgrimage site in Uttarakhand, would open its doors for Darshan on 25 May 2019. The decision of the Gurudwara Committee to open the Kapat of Hemkund Sahib on 25 May was announced by Gurudwara Administrator Sri Sewa Singh. Speaking to reporters in Govindghat, He revealed that the decision concerning this year's (2019) pilgrimage was reached at the meeting of Gurudwara Committee concerning the same.
The Jatha would leave towards pilgrimage shrine on 24 May. On 25 May morning, Hemkund Sahib would open for public Darshan. One would be astonished to know that Gurudwara is engulfed in snow of 4-4.5 feet in height right now. Also, the entire trail till Hemkund Sahib remains submerged under heavy snow.
Snow Removal would have to be completed much before the actual commencement of the journey. In fact, Sri Sewa Singh added that Indian army men would arrive for the duty by 20th April 2019.
It is interesting to note that the very name of Hemkund Sahib is derived from 'Hem' and 'Kund', Hindi words for 'snow' and 'bowl'. Hemkund thus translates to 'bowl of snow'. This pristinely beautiful site is marked with a glacial lake surrounded by seven mighty mountain peaks. It finds its mention in Guru Granth Sahib and is closely associated with Guru Gobind Singh, the tenth Sikh Guru. It is said that this is the site at which God clearly conversed with the Guru. The trek of 13 km begins from Govindghat and passes through the village of Ghangaria.
Hemkund Sahib is located close to Badrinath Dham, the fourth destination in Char Dham Yatra route. Also, the mesmerizing valley of flowers is located quite near Hemkund Sahib as well.
Pilgrims have already started making enquiries and preparations for Hemkund Sahib Yatra 2019. There is ample provision for food and accommodation for pilgrims between Rishikesh and Hemkund Sahib. The pilgrimage would continue till 10 October 2019. Although the shrine will remain open till the beginning of October, summer is widely regarded as the ideal time to visit Hemkund. Thus, the peak pilgrimage season include summer months of May, June and July. May your pilgrimage to Hemkund Sahib in the year 2019 be divinely guided and supported by the infinite mercy of universe!