Hotels in Harsil
Harsil is one of those places which offer the option of saving money on accommodation and staying at a good budget hotel. This area will provide a lot of 1 star and budget accommodation. This area can be easily reached in other parts of Gangotri and is well connected to the road. Budget hotels here, not only make a good choice for those who want value but are ideal for those who travel by individual or small groups, there are some good budget hotels in Harsil, Gangotri, which are affordable for everyone. Suitable for important sites in Harsil Gangotri, it makes a good place to stay and the budget hotel will allow you to save money on your accommodation.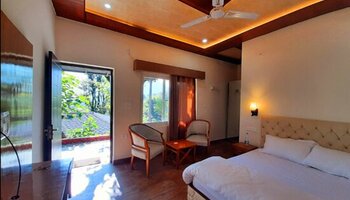 Hotel Prakriti the retreat
Harsil yamnotri road, Harsil
Hotel : Deluxe ➝ Restaurants : Yes
Location : 500 meters ➝ Parking : Yes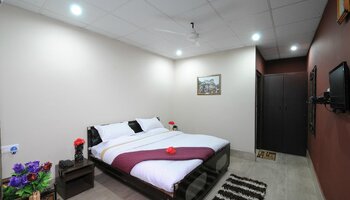 Hotel Himalayan Nature Resort
Yamunotri Rd, Highway, Harsil
Hotel : 3 Star ➝ Restaurants : Yes
Location : 500 meters ➝ Parking : Yes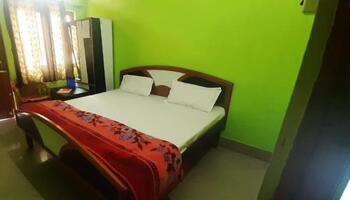 Hotel Shivalik
Yamunotri Rd, Highway, Harsil
Hotel : Standard ➝ Restaurants : Yes
Location : 500 meters ➝ Parking : Yes
Harsil Hotel List
1. Chardham Camp Harsil
Address:
The Chardham Camp Harsil
Kalp Kedar Mandir, Village- Dharaali
P.O Harsil, Uttarkashi – 249335,
Uttarakhand, India
Introduced by Leisure Hotels in the year 2003, Chardham camp Harsil offers the best of accommodation in the heavenly backdrop of Harsil's scenic beauty. It feels as if one is gifted the quietude and charm of old world along with convenience and splendor of modern amenities while at here. You will be residing at weather-proof, luxury tents with attached baths and toilets and will have access to multi cuisine dining, STD ISD conferencing facilities and spaces for religious activities, prayers etc.
2. Nelangana Resort
Address:
2km before Harsil Gangotri highway, Harsil
District: Uttarkashi, Uttarakhand, Pin – 249135
Nelangana Resort is perfectly located en route Gangotri shrine making it a popular choice for many who make Harsil their base for pilgrimage till Gangotri Temple. The beautiful holiday resort is situated upon the banks of Bhagirathi River and in engulfed in dense Himalayan forests. Of the 7 rooms and 15 dome tents open for guests, one is a luxury room. If you are a backpacker in search of a camping ground, you could find it in here as well. Another added advantage of staying at Nelangana resort while at Harsil is its beautiful cuisine prepared exclusively of organic products.
3. Prakriti Retreat
Address:
NH 108, 5 km from Harsil
Uttarkashi 249135
The riverside leisure resort of Prakriti Retreat is an ideal haven for nature lovers, trekkers and pilgrims. The resort has 11 double occupancy rooms with all modern amenities. If you want to enjoy the comforts of a well maintained resort while acclimatizing yourself to higher altitudes, Prakriti is the ideal answer! Its in houses restaurant receives raving reviews from its satisfied guests! People seek out this Prakriti retreat for the serenity, silence and beauty its environ offers.
4. Harsil Retreat
Address:
Harsil, Uttarkashi,
Uttarakhand
Picturesque views, well maintained rooms and ample hospitality! Exploring the mini Switzerland of Garhwal Himalayas has never been easier! Harsil Retreat acts as the perfect abode for tourists in Harsil. Owing to its location upon the banks of beautiful Bhagirathi river, Harsil Retreat presents nature at its unadulterated best! Sumptuous meals and the luxury of hotel rooms in wooden huts equipped with all modern amenities are its hallmarks. If you are looking for a respite away from the hustle-bustle of city life and want to head to a location known for the peace and quietude it inspires in everyone, then Harsil Retreat might just be the answer you are looking for.
5. GMVN Harsil Tourist Bungalow
Address:
GMVN Tourist Rest House Harsil,
Uttarkashi,
Uttarakhand – 246424, India
Equally popular with budget travelers as well as leisure tourists, GMVN Harsil Tourist Bungalow offers the best of accommodation at affordable prices. What guests love about the Bungalow is its proximity to Bhagirathi river. Also, it is located near the major market in Harsil as well. Another highlight of the Rest house is the hospitality of it wonderful staff. The rooms are hygienic, comfortable and very well maintaimed. Enjoy the heavenly picturesque beauty of Harsil while relaxing in the cosy environ of GMVN rest house.
6. Himalaya
Address:
Harsil, Uttarkashi,
Uttarakhand
Many travelers cite Himalaya as the best choice to stay while at Harsil. Don't be surprised to come across apple orchards inside the premises of the hotel. The hotel also arranges bonfire facilities next to the scenic flow of the beautiful river Bhagirathi. The spectacular views its location offers along with the relaxation it sets one's mind into just by being inside its premises are its major highlights. Walk a bit further along its quiet neighborhood and one comes across such clear stream of the waters of Bhagirathi as if one is transported into another world of surreal beauty. Enjoy its delicious food and warm hospitality as well. The one star resort is situated opposite the legendary Wilson house.
7. Hotel Shivalik
Address:
NH 108, Gangotri Road,
Dharali, Harsil,
Uttarkashi, Uttarakhand
Perhaps the hotel with the maximum number of rooms in Harsil, Hotel Shivalik is situated in the village of Dharali. It has around 20 rooms with carpeted floors and attached washrooms. The beds are comfortable and very well maintained. Open the beautiful windows and enjoy the amazing vistas the luxuriously rich environ of Harsil provides. Enjoy the many choices offered in its famed in-house restaurant. Hotel Shivalik offers the services of a doctor on call as well. If you are in the mood of enjoying the romantic milieu a bonfire creates, you might request for the same and they will arrange for one.
8. Sundar Home Stay
Address:
Sunder Home Stay,
Harsil-Mukhba Road,
Uttarkashi, Uttarakhand
If you are looking for a home away from home while away on vacation, Sundar Home stay comes as your nest choice. This recently opened accommodation facility is a perfect choice for a family of four. It has two double bed room with the amenities of a kitchen, attached washroom, beautifully maintained lawn and garn as well as parking facilities. You might try preparing your own cuisine or enjoy the delicacy of complimentary meals they offer.