Govindghat is a fond tourist location situated just on the confluence of River Alakananda and Lakshman Ganga. If you are planning for a visit to this unique tourist destination, this travel guide on Govindghat would help you a lot. Govindghat is a tiny town in Uttaranchal India and it is present at the confluence of the mighty Lakshman Ganga and the Alaknanda Rivers. This town is at an average altitude of 6000 feet and is about 22 km away from Joshimath that is the starting point for Hemkund Sahib and the Flower Valley. If you are looking forward to visiting this magical place then here is all the information you are going to need.

Why Visit
Situated in Chamoli district right at the confluence of Alaknanda and Lakshman Ganga, this place serves as the starting point for trekking to several destinations like the iconic valley of flowers and the holy Hemkund Sahib. Sitting at a whopping altitude of 6000 feet above sea level, this place is a huge hit among people seeking some spiritual upliftment or looking to spend some getaway time from the crowded city life, among the refreshing natural beauty. The entire valley is also extremely popular for its unique flora collection. You can also visit this place during the auspicious occasions of Ram Navami and Dussehra when the entire town springs to life.
How to Reach Govindghat
The nearest Airport from Govindghat is the Jolly Grant airport which is about 292 km away from Govindghat. There are many taxis which will take you to your preferred hotel from the airport. The nearest railway station is Rishikesh and it has a prominent presence on the NH58 road map. Good connections to major Indian cities like Delhi, Mumbai, Bangalore as well as Rudraprayag, Joshimath and Chamoli are present. Major network of roads via the NH58 highway connect Govindghat to Rishikesh, Pauri, Karnaprayag, Ultimate etc. You can take private taxis or state-owned bus service to these areas as there are excellent motor able roads all throughout.
Weather and Best Time to Visit Govindghat
The climate is pleasant in Govindghat between the months of Summer as the temperature hovers somewhere around 15 to 18 degrees centigrade. Winters are freezing cold and most of the areas are shut off. The tourist season is on from May to September. However its best to avoid the monsoons too if you are planning to visit high altitude places like Badrinath or the Valley of Flowers.
Cuisine of Govindghat
The food you find in Govind Ghat will vary according to the area you are visiting. In areas near Badri Nath and Bheem Pul you will have access to only traditional vegetarian cuisine. Onion and garlic too is prohibited in these areas. Ample usage of pure ghee and local condiments give the food a distinctive twist. In the areas near Valley of Flowers and Bedini Ghat there are some small shacks which sell Chinese and Indian Non-Vegetarian food. On the whole you are advised to stick to local Uttaranchal cuisine and hot fluffy vegetable Paranthas which are served all around the place.
Sightseeing in Govindghat
These are a few spots that should definitely be on your sightseeing list when you visit the beautiful hamlet of Govindghat.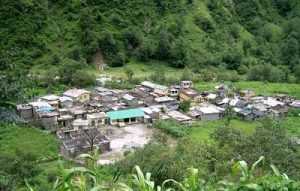 Ghangharia is the last vestige of human habitat which falls on the way to Hemkund Sahib. This is a lovely hamlet which can be used as a base for the trek to the Valley of Flowers. The scenic beauty and the cold climate of the place (13 km near Govindghat) make it an ideal summer retreat.
The Pushpawati and the Hemganga rivers meet here and it is called the Lakshman Ganga. The Valley of Flowers should definitely be on your travel plan if you planning to pay a visit to Govindghat. There are enormous meadows of blooming flowers (nearly 7000 species are present) in this area which is also home to endangered fauna like Asiatic Black Bear and Himalayan Deer.
Badrinath Temple is one of the most visited religious destinations of India and it is situated at a mere distance of 40 km from Govind Ghat. This magnificent temple is dedicated to Lord Vishnu and is one of the 108 must-visit places for Vaishnava Dharma followers.
Mana Village near Govindh Ghat is a must visit tourist spot for nature lovers. There is a 400 feet waterfall named Vasudhara Falls which is believed to have spiritual properties. These falls can be reached after a 5 km trek from Govind Ghat.
Bheem Pul is a huge stone bridge near Govind Ghat that is supposedly constructed by the mighty Pandava warrior Bhim. Fable says that Draupadi (Pandava wife) was scared to cross the banks of the river on her way to Swargarohini journey to heaven) and that's when Bhim threw a huge boulder to construct a bridge between the river banks.
Bedini Bugyal is a Himalayan Alpine that is 25 km away from Govinda Ghat. Nanda Ghunti and the Wan village are clearly visible from this spot. This area is near the famous Roop Kund water fall and is famous for its famous lotuses; the Brahma Kamal.
Accommodation Facilities
The accommodation facilities at Govindghat ranges from a variety of stay options from two bedded home stays to luxury resorts. There a number of easily available cheap, affordable and pocket friendly options where you won't be required to spend huge amount of money. In other cases people are required to buy buckets of water for a fixed amount. However, in case you are looking for a more luxury and comfortable stay option with some other additional amenities like hot water and warm blankets then Govindghat also has that. These places also have to offer a very wide variety of restaurants with a complete menu of different food items and cuisines. The nearby town of Joshimath is also one of the prime options for accommodation during your visit to Govindghat.
Best Time to Visit
The weather condition throughout the year remains extremely pleasant and comfortable. If you are an avid traveler and a trekker or a seeker of peaceful places then a visit to this place is a must. The summer months of April and June are considered to be the peak travelling months where the temperature stays between 15 and 30 degrees Celsius, with persistent cool breeze. However the monsoon months of mid-June and September are not considered to be the ideal time to visit since the entire area remains prone to unexpected landslides. With the temperature ranging between 12 and 27 degrees Celsius, travelling during these months should be avoided. The winter months of November and February are the best time to experience the cool Himalayan winter chill, where the temperature stays between 0 to 10 degrees Celsius. Snowfall during these months can also be expected making it a great option for you to experience the thrill of winter trekking.
Shopping Attractions
Govind Ghat is not a major shopping destination per se. However some items you can buy from here are walking sticks, religious beads, rudraksha strings and religious iconography materials. If you are visiting the Valley of Flowers then do buy the pressed flower souvenirs, seed packets, knick-knacks and handicraft items from the tourism complex. If you are travelling to Govind Ghat then do not carry raincoats with you. Buy one from this town as this town sells raincoats at unbelievably low prices owing to the severe monsoons here.