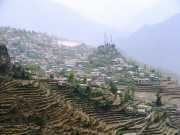 Gopeshwar, the township of Uttarakhand uniquely surrounded by snow-clad Himalayas offers the most enchanting views to a vacationer. The fresh dense forest covers it has, also add to the appeal of the beautiful hill station. The weather too is salubrious and the many ancient temples that dot the region lure hundreds of tourists to the place every year. If you have any plans to visit Gopeshwar, this General travel information guide below will help you indeed.
Gopeshwar, the beautiful township in Uttarakhand lies 1308 meters above the sea level and is clad in pristine natural beauty with its terrace farms, undulating mountain ranges, and lakes. It is one of the most picturesque hill stations falling in Uttarakhand's Chamoli district and has turned out to be a major magnet for nature lovers and vacationers from far and wide in the recent times due to its fresh virgin beauty and serene ambience. The beauty of this township lies not only in the stunning natural ambience but also in the spirituality that reigns over the land of Gopeshwar. The township is dotted with numerous temples and myths hold that the township was named after Lord Krishna. Thus air and ambience of Gopeshwar is deeply steeped in spirituality.
How to Reach?
From Delhi by flight you can arrive at Jolly Grant Airport, 225 Kilometers away from Gopeswar. From the airport, you can easily reach Gopeshwar by taxi. If you wish to take the rail route, Rishikesh is the station where you need to get down. It is the nearest rail station to this township, 205 Kilometers away. From Rishikesh there are many connecting trains to Gopeshwar plus also well-developed bus and taxi services. Gopeshwar falls on the connecting road between the NH58 and NH119. So reaching Gopeshwar via road route is also easy. There are excellent bus services from all key locations of Uttarakhand such as Rishikesh, Ukhimath, Pauri, Rudraprayag, Joshimath, Uttarkashi to Gopeshwar
Best Time to Visit:
If you want your most pleasant holiday experience in Gopeshwar, target to visit the place between the months October-March. The weather remains most friendly for travel and excursion during that time and so you can enjoy your trip a lot.
Sightseeing
Once you are in Gopeshwar, you would definitely want to hop around and see the place. The top tourist attractions for sightseeing that Gopeshwar has to offer are: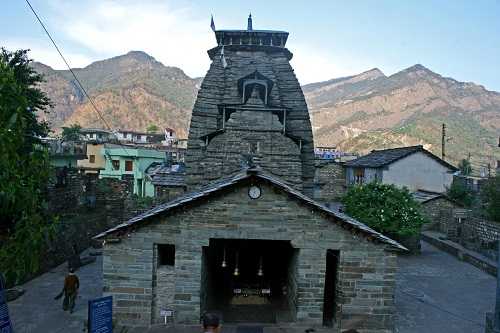 01. Gopinath Temple – This temple was constructed around 11 AD during the rule of Katyuri dynasty. It houses two deities; Lord Shiva and also Lord Vishnu. Here the Ekanan form of the ling of Lord Shiva is worshipped and it is referred to as the 'face of the lord' and even the Mridh form of Lord Vishnu is worship. Myths hold that when the king saw a cow offering milk to the hidden ling of Lord, he at once made up his mind to construct this temple, which is perhaps the most important temple in the whole of Gopeswar. This is perhaps one temple where only Bel patri is offered to Shiv Lingam during Puja and not milk and water. Gopinath temple is also unique in its architecture. There are 24 doors to allow an entry to the temple.
02. Chamolanath Temple – This unique hexagonal temple houses the ruling deity of the region; i.e. Chamolanath whose idol rose from the depths of the underground many centuries back.
03. Chandrika Devi Temple – This temple houses the deity of Goddess Durga and myths hold that it is 'here' that Chandrika Devi or Goddess Durga destroyed Mahisasur. Thus this temple is also differently named as Mahisasur Mardini Temple. This temple is regarded as one of the eight holy siddh peeths which belong solely to Maa Durga.
Fairs & Festivals:
Gauchar Fair is one significant fair that makes Gopeswar famous. The fair takes in Chamoli where the locals gather in large number to exhibit their culture, folk art through dance and drama. Apart from that other common Hindu festivals like Shiv Ratri, Janmashtami, Holi, Dusshera, Diwali are celebrated here with equal pomp and grandeur.
Things to do:
You can do adventure activities like trekking, mountain climbing once you are at Gopeshwar. So this place has enough to offer to adventure lovers
Accommodation:
Accommodation options include a number of budget hotels plus mid-range hotels and Uttarakhand Government Tourist rest houses. Most of the hotels, rest houses come with top-notch facilities like profuse supply of hot water, cable TV Connection, Catering service, Car parking, well-developed laundry services and numerous others.
Cuisine:
There are many restaurants and dhabas in Gopeshwar where tantalizing street food is sold. You can also sample local regional cuisine in these dhabas and restaurants but strictly Vegetarian dishes are only sold here and non-vegetarian items are strict 'no-no'.