The religious prayer ritual of Ganga Aarti which takes place in evening time is one of the most highly revered and significant rituals that lights up both the banks of this holy river which is also the lifeline of Haridwar and Rishikesh. Tourists and devotees from all over the world who are on the quest for their spiritual life make it a point to be a part of this spectacle which never ceases to amaze the onlookers. The priests do this ritual as an ode to the river that had made her way from the heavenly to the earthly realms purifying all the souls on her way. This is an inescapable thing to experience if you happen to visit Haridwar.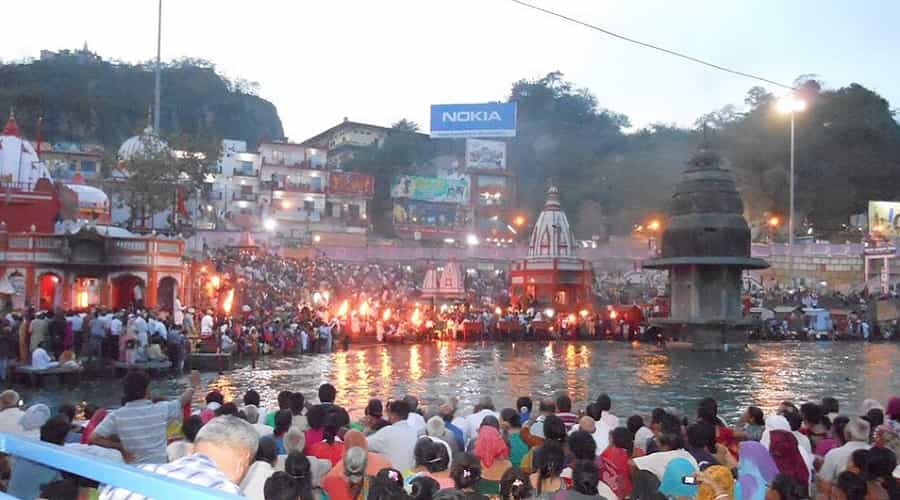 Aarti Timings
In Haridwar the Aarti takes place twice a day i.e. once in the morning while the 2nd one takes place by sun down. The timings depend on the time of sun rise and sun set which will obviously differ as the seasons will change and are as follows:
Summer Season (from march to October) – 5 am – 6:50 am / 5:30 – 7:00 pm
Winter Season – 6:30 am – 7 am / 5 pm – 5:30 pm
History of Gang Aarti in Haridwar
Since Hinduism in India is an ancient religion whose exact date of starting this practice is not traced yet. But the famous Har ki Pauri Ganga Aarti that takes place in Haridwar was started during 1910s and was started by Pandit Madan Mohan Malviya. As per the old and ancient Hindu traditions and culture this river is not just a water body flowing past the holy cities, it is considered to hold a lot of spiritual importance. Its importance is very clear with the fact that King Bhagirath's ancestors had spread out their ashes in the gently flowing river. Taking a holy dip in this water is also considered to rid you of all your skin related problems, free you of any sort of underlying diseases or even grant them with moksha or complete liberation from the karmic cycle of birth and rebirth.
Tips for Ganga Aarti in Haridwar
If you wish to have a beautiful and a deeply spiritual time then following these tips would be the best thing for you:
Grab yourselves a seat to witness the beautiful Aarti procession just 45 minutes prior to the morning Aarti and 75 minutes prior to the evening Aarti. This would be the best way of securing yourself a seat and avoiding all the chaos and crowded situations.
Take care of your belongings and keep your kids close to you as the evening Aarti procession is especially heavily crowded and a massive rush also ensues. Following the above step would avoid this situation to happen in the first place.
Remember to do the best bargaining if you are taking an auto or cycle rickshaw up to the Ghat as they may quote extremely high prices which may feel out of your budget.
For a good view of the Ganga Aarti in Haridwar you can easily make your way and get your seats close to the clock tower and across the Ganga Mata Mandir. You can sit on one of the many stairs here from where a very clear view of the Aarti is something extremely memorable.
How to Go for Ganga Aarti in Haridwar
Har ki Pauri is situated on the main highway and just in the most unmissable part of the centre of the city. One can reach this place easily either by a bus service or a car. It is just 3 kms away from the main city centre of Haridwar railway station and can be reached from any part of the city via a rickshaw or an auto journey.