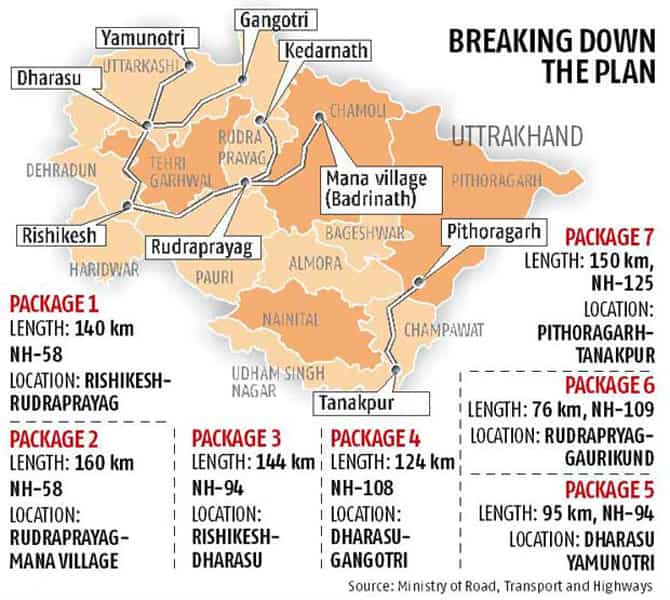 PM Modi took a ground-breaking decision while addressing the huge crowd of people that had gathered at the Parivartan Rally this Tuesday. PM Modi ignited new hope for the pilgrims to Chardham by inaugurating the grand Chardham 900kms long Highway project in a way to honor the multitude of lives that were washed away at the 2013 Flash floods. While speaking out to the crowd, PM Modi said that through the inauguration of this Highway he intends to bring respite to the Chardham Yatra pilgrims and also offer a robust source of livelihood to the natives of that region. The 2013 cloudburst had not only caused major disruption in the Chardham route but had also washed away the existing highway. Keeping this scenario in mind, PM Modi decided to compensate for the loss by setting up an Upper Himalayan Swift Highway network in Uttarakhand.
Some of the chief highlights of this ambitious project are as follows-
This new highway construction proposes to correct the geometrical deficiencies of the existing 900km highway and broaden it so that pilgrims can travel without hassle and risk. This highway is intended to connect all the four Dham and the required cost estimation for this project stands at Rs 12, 000 crore
The total cost of project is likely to include various items such as civil construction, utility shifting, forest clearance and land acquisition. At present work roughly worth 3000 crores has already been started under the route project pertaining to Chardham Yatra
The initial work started off in the month of March as part of the project named, 'All Weather Roads' launched by Gadkari. This project proposes to construct well laid out, pothole proof roads made out of cement. These roads are supposed to be pothole free for almost 200 years post their year of construction. The roads are likely to feature 25 huge bridges, 13 by-passes, 2 tunnels, 18 service centres for passengers, 13 landslide zone alignments
To heighten road safety for the Chardham pilgrims the ministry strategizes to set up a 2-lane carriageway that could pinpoint the high risk landslide belts, build tunnels, by-passes, raised corridors, lengthy bridges, and an all-weather-friendly road
According to Modi Ji the roads connecting Badrinath and Gangotri too should be given special importance because of their association with the defense establishments

PM spoke commendably about Gadkari's efforts saying that Gadkari's hard work was directed towards total up-gradation of the existing roads. In pursuit of his goals, he had taken suggestion from various foreign agencies that have experience in constructing roads with nearly 100 years of durability
If this project goal is aptly realized then the Yatra to all the four Himalayan Dham will become smooth-sailing and people will recollect this excellent for 100 years to come. PM confidently remarked that if this road project works out successfully taking aged parents for Chardham pilgrimage will not be a problem anymore and doors to the Dev Bhoomi will be flung open for every Indian family.