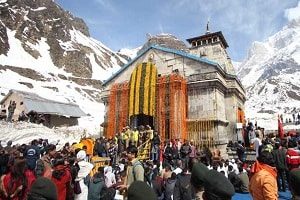 Popular for being one of the most highly revered permanent abodes of Lord Shiva and worshipped in the form of Lord Kedar, it is obvious that every festival or fair concerning lord Shiva is celebrated with great enthusiasm and zeal. The entire region is replete with incredible historical and mythological accounts and there is no dearth of experiences for you to have a memorable time. When comes to Kedarnath Dham the amount of historical events here and the mythological, as well as the spiritual significance here, will baffle you and being a part of one of these celebrations will feel like a dream come true. You will definitely have a memorable time during your visit to Kedarnath during the following festivals:
Vinayak Chaturthi: Celebrated primarily during the months of September and October, this festival and in Kedarnath, this festival is celebrated with immense zeal since Lord Ganesh was Lord Shiva's son. Believers of Lord Ganesha make it a point to visit this sacred destination where they make it a point to worship the lord and pray for happiness and prosperity in life. This year the expected date for this festival is 2nd September 2019. If you want to have a unique and sacred pilgrimage experience then you should definitely pay a visit to Kedarnath temple during this time.
Samadhi Puja: The Shankaracharya Samadhi which is situated right behind the main temple of Kedarnath which is dedicated to the great sage Adi Shankaracharya, witnesses a grand celebration during the closing day of the main temple. This puja is attended by all the pilgrims and involves a huge celebration with lights, music and puja processions. During this time a grand puja is performed inside Shankaracharya Samadhi after which the Kapat of the main temple is shut down for the season and the idol of the presiding deity is shifted to Ukhimath.
Shravani Annakoot Mela: This colorful fair is organized just a day prior to the auspicious day of Raksha Bandhan. This festival is celebrated to mark the brand new harvest by the local people here. During this day this freshly harvested paddy is offered on the lord's Jyotirlinga which is known as 'Prasadam' here followed by a series of special puja rituals that are performed here. The entire shiv ling of Kedarnath Ji is decorated and adorned with a paste of the freshly harvested rice, corn, wheat, other pulses etc. it is truly a visual treat and a massive spiritual experience for everyone visiting Kedarnath Dham during this time.
Badri Kedar Festival: If you want to witness the impeccable culture and traditions of Devbhoomi Uttarakhand then you should definitely visit Kedarnath during the month of June where the entire region gets covered in a grand festive celebration. For duration of 8 days the entire region gets covered in grand musical festivities and people and artists like singers, dancers and painters etc. from different parts of Uttarakhand visit to showcase their talents and spread some awareness about the history, culture, tradition and beliefs of this majestic state.
Diwali: Kedarnath Diwali should definitely be experienced by anyone who is a Shiva worshipper, at least once in their lifetime. During this time not only the temple but all the adjoining regions are adorned with colorful flowers and decorated elaborately with colorful glimmering lights. The team of NIM is responsible for lighting more than 5,000 Diyas which illuminate even the darkest corners. This event is attended not only by everyday pilgrim but also by TV and movie actors who make it a point to be here during this highly auspicious eve.