The difficult and steep trek to Kedarnath Dham will now contain devotional music for the devotees on their way to the Dham. The culture department will now be rigging the entire walkway from Gaurikund to the main Dham of Kedarnath with speakers. In this way, all along the 18 kms of the walkway, devotees will be easily informed of any news or important instruction during the pilgrimage.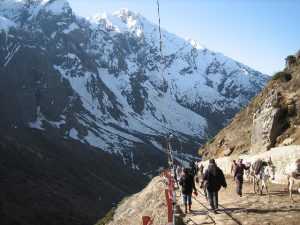 From Gaurikund to Kedarnath the pilgrims will be able to enjoy devotional music. After confirming the budget the culture department will quickly start their work on this project. At the same time, this speaker system will also come in handy during emergency situations.
The 18 km long walkway path of Kedarnath remains flocked by pilgrims during the on season of pilgrimage each year. In case of sudden weather change or an emergency situation, it is difficult to bring news down to all the pilgrims. Under such a circumstance the setting up of a sound system will be beneficial for the pilgrims and help them in providing emergency news immediately.
Ganga Aarti will Undergo a Massive Reform
The culture department of the state is also preparing to give massive reforms to the 6 places where Ganga Aarti takes place.
At the same time, Yamunotri, Kedarnath walking path, Kedarnath Dham and the Ganga resort at Rishikesh will be rigged with only a sound system. At other times on various major tourist destinations instructions and government schemes will be broadcasted on the LED schemes for the tourists.
This is what Beena Bhatt, director, the culture department "we have submitted the proposal and sent it to the centre. Once the budget is confirmed the works will immediately be kick-started. With this, the pilgrims who come to Kedarnath from all over the world will be informed about the local culture, tourist destinations and other related information easily. At the same time in the moment of need emergency information and instructions will be made easily accessible to the pilgrims.