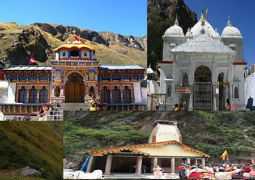 The Garhwal Mandal Vikas Nigam has decided to increase the rent of its guest houses on the Chardham route along with some other important tourist places of Uttarakhand. At many places the annual room rent is supposed to increase by 15 percent and this declaration has received the permission seal which is why Chardham Yatra is likely to be expensive this year.
Garhwal Mandal Vikas Nigam [GMVN] has increased its annual room rent by 15-20 percent after having thoroughly analyzed the room rent subject. Along with Chardham Yatra route many other places of Uttarakhand will experience the results of room rent hike as per the decision of GMVN.
At Lansdowne guest house the room rent has been increased from Rs 2500 to Rs 2800 by GMVN. Similarly at Gangotri Dham the rooms that had a rent of Rs 1940 will now have an increased rent of Rs 2200. On the routes to Yamunotri, Kedarnath, Badrinath there is usually a heavy rush of visitors. So, there too the room rates of GMVN Hostels have been increased
Simultaneously at the guest houses of Mussoorie, Dhanaulti room rents have been lowered as there isn't much rush of tourists at these places. After the increase in rent of all the GMVN guest houses there will also be an increase in the room rent of individual hotels. Also, tourist transport services too can hike their rates.
To sum up, pilgrims will have to spend more on their 2017 Chardham Yatra.
New Source: https://hindi.news18.com/