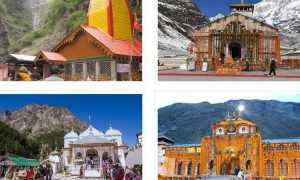 Chardham pilgrims will no longer have to worry about issues like bad weather, landslides and other problems related to travel. Tourism department is setting up Control room at Rishikesh with an investment of 12.50 crores for the safety purpose of Chardham pilgrims. This control room apart from offering all information related to the pilgrimage would alarm pilgrims of every possible danger that could arrive upon them in the course of the journey. To enable them to execute this service, a chip will be fitted to the vehicle of pilgrims and that chip will continue recording their location and transmitting to them all news pertaining to weather, road condition etc much before they actually reach Chardhams.
Tourism department is also setting up Chardham yatra registration office and Transit camp at Rishikesh. For this purpose, already 3.70 hectares of land has been procured from the forest department. By utilizing the 12.50 crore, 20 tourist information counters will be set up in this area. The information centers will be well connected with the four dhams and will continue to receive weather updates from the four dhams. The weather updates will be flashed on screen at the center all the time.
Chips to be attached to vehicles to trace location!
Chips will be loaded on to the vehicles of pilgrims and through these chips the location of pilgrims will easily be traced and they will be made aware of all prior information from time to time. If any danger crops up or weather turns inclement, passengers will be instructed to halt right away.
With this tracing of the location of vehicles, information on the condition of traffic on Chardham route can also be gathered. If there's much traffic pressure on the route, then the vehicles that are following up from behind will be instructed to halt. If there is no arrangement for pilgrims to halt or put up at the Chardhams, that too will be informed to them beforehand. There will be separate centers for danger and weather management at this location. Their main work would be to keep an eye on the weather and provide updates from time to time. Sitting arrangements will be made in comfortable waiting rooms for passengers.
The Present Center is a Small One
There's already Chardham information center at Rishikesh but this existing center is quite small and thus can offer every type of information. With the setting up of the new center, passengers will be able to gather various types of information in an organized manner all under the same roof. At the same, the new center will ensure total safety for the passenger during the travel.
What they have to say?
In this plan 50% of the financial requirement will be met by Central government and another 50% by State government. The land transfer procedure has already been completed. The forest department has been replenished with land at Chakrata as a replacement for their contribution of land at Rishikesh. The main goal behind tracing passenger via chips is to keep them free from every type of danger or destruction. Thus, instead getting stuck in the midst of a route they'll be asked to halt in such where they could find hotels to lodge and be safe.
Image & News Source: https://dehradun.amarujala.com/