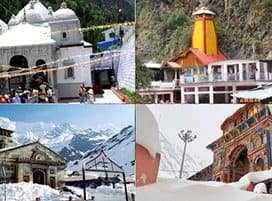 Chardhams lapped amid Garhwal Himalayas holds great spiritual significance for Hindus as this 'Dev Bhumi' houses the four significant holy Dhams namely, Yamunotri, Gangotri, Kedarnath and Badrinath. But apart from spiritual glory, the region abounds in marvels of nature as well.
What actually provides ample scope for fun and adventure in your Chardham yatra
Cradled in the lap of snow-wrapped gigantic Himalayan peaks the region has numerous steep slopes, deep chasms and gorges, magnificent glacier points, gushing streams which indeed serve as a wonderful treat for passionate adventure lovers. Also there are areas in the region densely covered with forests and home to a wide variety of fauna and flora. Hence Chardhams is important not only as a religious destination but also as a ground offering immense scope for fun and adventure.
Fun and adventure in fact begins as soon as one makes an entry into the panoramic hilly state of Uttarakhand. This state promises moments of fun and lifetime adventure memories to all its visitors irrespective of their purpose of visit. Chardham tour allures tourists from around the world, and many of them are passionate adventure enthusiasts, bird watchers, wildlife enthusiasts, florists and botanists. The geographical location and positioning of Chardhams actually make way for all sorts of adventure activities to be carried out in this region.
Fun and Adventure for all at Chardhams
1 – Nature lovers perhaps wouldn't stop clicking photos of the wondrous lofty snow clad peaks, gurgling rivers and springs, lush verdant green forest covers that create a mesmerizing heavenly sight worth arresting onto the camera reels. It appears as it were Nature is in complete harmony with the deep spirituality that rules over the place.
2 – Wildlife enthusiasts too enjoy a great fun time in the Chardham region. If you wish to explore the veritable treasure of some of the rarest species of wild animals, you would get to do that in the Nanda Devi Wildlife sanctuary that falls in Uttarakhand's Chamoli district. Marvel at the sight of rare enough animals like Himalayan bear, Musk deer, Snow Leopards, Pheasant and get an inexplicable joy and the thrill of your life. Even bird watchers can have a great fun time in the region catching sight of some really wondrous birds like Snow Pegion, Himalayan Monal, Snow Patridge, Himalayan Golden Eagle, Griffon Vulture, Himalayan Snow cock.
3 – For botanists and florists too Chardham yatra proves to be immensely interesting and fun-giving. The Valley of Flowers falling in the Chamoli district too draw florists, botanists and nature lovers from every corner of the globe, who get pulled to the region to explore the enchanting floral splendor out there. Some rare flowers such as Brahamakapal, Blue Poppy, Cobra lily bloom in this vale. Also marigolds, orchids, anemones, daisies, primulas stud the emerald green valley creating a colorful fairy-land sight. Plus the valley is also reputed for some rare herbs of great medicinal value. Thus its no wonder that UNESCO awarded it the title of 'National Park' as well as World Heritage Site.
4 –  For adventure enthusiasts too there's ample scope in the Uttarakhand Chardham region to chase their passion and satiate it to the fullest. Trekking, Skiing, Rafting, Paragliding are the major adventure activities that give adventure enthusiasts a good rush of adrenalin. Auli , located very near to Badrinath Dham attracts thousands of skiers from different corners of the globe and is well renowned as the country's skiing capital. Trekking can be carried out in and around the Chardham route. Some of the popular treks are:
Valley of Flowers and Hemkund trek to Badrinath
Gangotri- Gaumukh-Nandanvan-Tapovan trek
Panch Kedar trek
Gangotri – Kedarnath trek
Har ki Dun trek etc…..
Paragliding, a flying sport mostly loved by enthusiasts for recreational purposes. Recently it's becoming more and more popular in India. Tourists visiting Chardham often indulge themselves in this sport at Bedini Bugyal which is located on Uttarkashi- Gangotri road. Rafting, a favorite sport in Uttarakhand, is practiced by many visiting Chardhams especially in Barkot. One can opt for a rafting from Barkot to Lakhamandal.
In other words, Chardham Yatra is full of fun and adventure. It is a fine way to enjoy nature at its best. To experience the true spirit of adventure it's essential to bid good bye to modern day facilities and explore the tour by trekking, hiking and by camping in the laps of Mother Nature.