Once you feel called to undertake the pious Chardham Yatra, many are perplexed with where to begin. How does one begin to prepare for Chardham Yatra? The sacred shrines of Yamunotri, Gangotri, Kedarnath and Badrinath are located in the wintry landscape of Gharwal Himalayas. Depending upon where you come from, the challenges you face in adapting to the myriad demands of the journey may differ. The following travel guide offers answers questions to 15 questions that might come to mind before one starts Chardham Yatra. They say well begun is half done! Let us begin by evoking the grace of Lord Ganesh himself in removing the obstacles that lay before your Chardham pilgrimage trajectory.
1. When Should I Go?
Char Dham shrines witness heavy influx of pilgrims every year during its 'pilgrim season'. A lot of this is attributed to the shrines being open for Darshan for only half a year owing to their location in extremely cold locales. Thus, the sacred shrines remain closed for winters and can be accessed only during the summer months, May to November (beginning).
Even though you might pay homage to the shrines in anytime between the six months, it is advisable to avoid the monsoon season. Monsoon + Hilly terrains do not make for the best of combinations. Monsoons are extremely unpredictable in Himalayan terrain, especially with the increased probability for occurrence of landslides.
Most pilgrims choose to make their travel plans during May and June, with May bearing a larger share of pilgrim influx than the latter. Once monsoons hit the terrain, the region registers a sharp decline in its number of pilgrims.
So, the thing to keep in mind while making travel plans for Chardham Yatra is this:
May-June is the most preferred time.
But if you prefer to avoid the pilgrim crowds, wait till the monsoon recedes and make your travel plans during post-monsoon months of September and October.
2. What are the Permits Required? Does one need a Medical Fitness Certificate?
One needs to duly register oneself duly to be able to visit all the Chardham shrines. You can get it done at https://registrationandtouristcare.uk.gov.in/
Also, keep in mind that Kedarnath pilgrimage requires one to present a medical fitness certificate which can be obtained from Guptkashi or Sonprayag. These will be checked at the Sonprayag check-post before one is let into the trekking trail till Kedarnath shrine.
3. How Can I Ensure I am Physically Fit?
The treks that lay ahead from the stopovers at motorable road junctions till the sacred shrines at Yamunotri and Kedarnath are particularly physically demanding. Unless one is a regular sports practitioner and enjoys above-average fitness levels, one needs to be duly prepared to undertake the strenuous uphill treks. Thus engage in some sort of physical training like brisk walking, repetitive climbing of stairs etc so that your body is fit enough to show up for the challenges the uphill trails may present. Before one starts Chardham Yatra, one needs to be adequately prepared, both mentally and physically, for the strenuous physical exercise the pilgrimage demands of oneself.
4. When to Book Transportation?
Since the number of pilgrims for Chardham Yatra is on the rise with every year, waiting till the last minute to book transportation is not a good idea. Make sure you get confirmed flight/train tickets that get you till Delhi/Haridwar/Dehradun, the typical sites from where the journey begins, well in advance of your departure date. Also, if you are planning to visit the temples via road, confirm your booking with local drivers who have years of expertise behind the wheel in traversing the mountainous trails. If you plan to travel via helicopter packages, make sure your seats are held and confirmed by the helicopter companies. Also, there are buses that ply along the roads towards all these pilgrimage stopovers. One can depend on them as well.
5. What do I Pack?
This is the No.1 stress factor before one embarks on any journey. Let us list the following items you must include so that you can pack smart for Chardham yatra!
Woolen clothing including a sufficient number of sweaters, mufflers, monkey caps, thermal body warmers, socks. Women ought to prefer salwar kameez, pants etc over saris.
Dry eatable stocks like chocolates, milk powder, dry fruits, glucose powder, sugar, candies, honey, lemons etc.
A Torch and a lighter.
If you like clicking pictures or capturing the journey in video, make sure you carry digital camera, mobile phone etc. with additional batteries since you may encounter fluctuating electricity levels.
Enough cash to meet the travel expenses.
Medication (See below for details).
6. What Medicines Need I Carry?
Many people tend to show symptoms of mountain sickness (altitude sickness) while travelling to higher heights/altitudes. It so happens that at higher altitudes, the oxygen levels are less resulting in less atmospheric pressure. Anytime we travel to a place with less atmospheric pressure than we are used to, body needs to acclimatize itself with the new conditions. In some cases, it results in physiological symptoms like headache, dizziness, nausea, muscle aches etc.
Thus, it is advisable to carry first aid and any personal medication that your previous medical history may deem necessary. In fact, it is always better to consult a doctor and ask his/her opinions before choosing what medication to carry. Some medicines you ought to carry include tablets for sore-throat, antibiotics, antiseptic cream, anti-fever medicines, cough-cold tablets, painkillers, bandages, medication for Blood Pressure issues etc.
7. Will There Be Mobile Connectivity?
Since we are travelling to remote locales in Chardham Yatra, do not expect uninterrupted mobile and internet connectivity. But, BSNL offers the best possible connectivity for telecommunications and internet data usage. Grab yourself a BSNL SIM so that you can keep your loved ones at home updated about your whereabouts.
8. How to Book Hotels?
It is essential to get your accommodation reserved well in advance of the beginning of the pilgrim season in Chardham Yatra. It gets very difficult to find accommodation during peak season if one has not made early reservations.
9. How Can I ensure that Environment is not negatively affected?
Know that the shrines of Chardham – Yamunotri, Gangotri, Kedarnath and Badrinath are located in environmentally sensitive areas. Please ensure that your being there does not negatively impact the environment. Our heritage is known for its reverential attitude towards nature. In fact, the Dhams at Yamunotri and Gangotri worship the river Goddesses Ganga and Yamuna as embodiments of Shakti. It is sad to witness many offering ritualistic reverence before the holy idols but then proceed to dirty the environment by throwing waste materials here and there.
Ensure that you throw all waste materials including plastic/polythene bags, wrappers, bottles etc. only in the allotted dustbins. Never should you proceed to dirty the holy waters of the revered rivers. Also, ensure that usage of public washrooms/toilets is handled responsibly.
Leave the public premises always cleaner than you find it. Know that the very natural environment that has built the sacred container for these sacred temples to exist is as holy as well.
10. What to Avoid During the Journey?
It's best to keep your jewellery to a minimum. Avoid carrying much jewellery.
Alcohol is strictly prohibited. So are non-vegetarian meals. Follow a saatvik diet.
Do not indulge in photography where it is prohibited. Make sure that your behavior is respectful of the religious sentiments of native people.
Avoid taking rest at places where boards displaying caution are placed.
Do not take bathe or clean your articles at /near water-bodies unless they are designated as Ghats for the same.
11. What do I Need to Take Care of During Monsoons?
It is actually best to avoid travelling during monsoons. But in case you make travel plans during the season, keep these in mind:
You are advised to carry a plastic/synthetic bag that can carry wet clothes separately and avoid in their getting mixed with dry clothes. Also, ensure the bags you carry during rainy season are waterproof.
Be cautious of fungal infections. Keep your legs dry.
You need to carry umbrella and rain-coat. Other useful items could be sleeping bags, waterproof shoes, waterproof tents, walking sticks, wind sheets etc.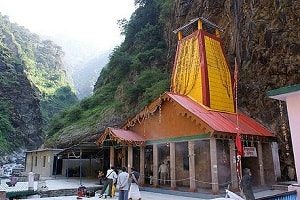 12. Where is Yamunotri Located?
Yamunotri is located in Uttarkashi district of Uttarakhand state. This shrine celebrates the source of River Yamuna. She is considered as the daughter of Lord Surya and Goddess Sandhya. Also, she is the sister of Shani Dev and Yam Dev. As per beliefs, a visit to the shrine helps in one's attaining freedom from the shackles and fear of death.
Yamunotri is located at a distance of about 230 km from Haridwar. The road route to Yamunotri from Haridwar passes through Barkot.
The temple does not have motorable road till its premises. In fact, the base for Yamunotri pilgrimage is at Hanuman Chatti or Jankichatti. From Jankichatti, Yamunotri is a 6 km uphill trek.
13. Any Tips for Yamunotri Trek?
You can hire pony/palki to ease the perils of the trek. Make sure that you maintain discipline while trekking. It is essential that you undertake the trek in devotion, and not give into competitive urges. It is advised to move slowly as the trek gets more difficult with time.
Also, avoid walking or standing on the side of valley. Instead choose to walk alongside the hill-curve. This will prevent your coming in the way of ponies coming from the opposite side and subsequent accidents.
14. Whom to Hire as Ponies/Palkies/Porter?
Only hire registered ponywala/palkywala/porter. This will prevent unnecessary haggling over prices as the rates have been previously fixed.
Also, do not leave your luggage alone with any of them. Ensure that you walk alongside them.
A little kindness goes a long way. One ought to treat the people and animals hired with respect and dignity while on the chardham Yatra. Make sure that you buy eatables, chai etc for them on the way. This will also let them reciprocate their services wholeheartedly.
15. What to do at Yamunotri?
Pay obeisance at the Yamunotri shrine. Yamuna Maa is embodied in a black statue.
Enjoy the trek! It's not every day that one gets to undertake such a challenging as well as rewarding trek through the Himalayas. The trek gifts you beautiful Himalayan scenery! Be sure to enjoy it fully.
Pay obeisance at Divya Shila. This rock-pillar is said to have been where Yamuna river first originated at.
Visit Surya kund. Bring home the prasadam of boiled potatoes/rice made in its boiling water.
16. What are the Major Stations in Yamunotri-Gangotri Route?
Uttarkashi, 'Kashi of the North', falls in the Yamunotri-Gangotri route of Chardham Yatra. This holy city located along the banks of Bhagirathi River not just emulates Varanasi/Kashi in its name but also in the many religious sites strewn within its contours. In fact, the city witnesses the meeting of two rivers Varuna and Asi and has a temple named as Kashi Vishwanath Temple in its centre. Uttarkashi even has a Ghat named as Manikarnika Ghat.
Pilgrims of Chardham Yatra also include Uttarkashi in their itinerary so that they can pay homage at Kashi Vishwanath Temple and the renowned Shakti Temple located opposite to it. The Shakti temple venerates a massive trident which is considered to be an embodiment of Shakti herself. It is to be noted that the trident which does not register even a slight motion after application of great physical force vibrates at the slight touch of a finger on its surface!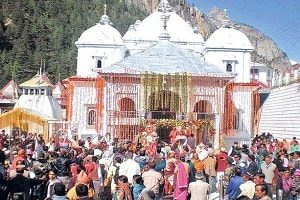 17. Where is Gangotri Located?
Gangotri is located in Uttarkashi district of Uttarakhand. Gangotri celebrates the origin of River Ganga. River Ganga is formed of Alakananda and Bhagirathi, of which Alakananda is the hydrological source stream because of its greater water discharge and length. As per Hindu mythology, River Bhagirathi is the chief source of Ganga River. Hindu mythology traces Ganga's descent from heaven upon earth to have taken place in Gangotri.
Gangotri is situated at about a distance of 105 km from Uttarkashi. The major towns in the road route between Gangotri and Uttarkashi are Bhatwari, Gangnani and Harsil. The town located at an altitude of 3145 m above sea level is well connected by road with the major pilgrim stopovers and cities in north India, thus it poses no major challenge inaccessibility.
18 What to Do at Gangotri?
Pay obeisance at the beautiful temple that worships Ganga at the site of her corporeal origins. Pilgrims report experiencing a certain spiritual serenity while worshipping at this temple. If you are fortunate enough to worship the temple when it is less crowded, you will surely share the same.
A rock called Bhagirath Shila is venerated as the site upon which 'Bhagirath prayatna' was performed. It is a reference to the arduous meditation practice King Bhagirath undertook for thousands of years to bring in River Ganga upon earth. It is a major pilgrim attraction in Gangotri area.
Pandav Gufa is situated at about 1.5 km from Gangotri Temple. As the name suggests, the cave served as the resting place for Pandavas on their way to Kailash. The trail takes one through Himalayan forests and is a gift in itself for any nature-loving heart.
Many are not content with merely having Darshan of Ganga Maa at her built temple. Thus, Gangotri trek is quite popular among its pilgrims. Gaumukh glacier is situated at a distance of 19 km from Gangotri temple. The trail passes through Gangotri National Park and requires one to obtain permission from the Forest Department. It can be obtained online at https://swsuttarkashi.com/Permission/GangotriNationalPark.
If you are an advanced trekker, do consider going till Tapovan or even Nandanvan. Very few people go till there. If you are somebody whom the greater mysteries of Himalayas tempt, you ought to undertake this trip at least once in your lifetime, provided your physical health permits the same.
19. What are the Major Stopovers between Gangotri and Kedarnath?
Triyuginarayan Temple of Rudraprayag district is the celebrated wedding site of Lord Shiva and Parvati. This ancient Vishnu Temple still has a flame believed to have been burning from the date of the celestial wedding. The ashes from the fire are taken home by many pilgrims since they believe it will promote marital bliss. It is situated at just about 10 km from Sonprayag.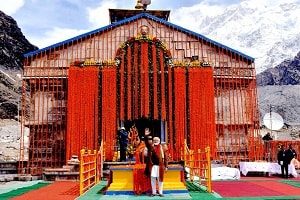 20. Where is Kedarnath Located?
Kedarnath is located in Rudraprayag district of Uttarakhand. Perched at an altitude of 3583 m above sea level, it contains one of the twelve Jyotirlingas of India. The temple is only accessible after trekking for about 19 km from Gaurikund. Also, at Sonprayag one's registration and medical fitness certificate will be duly checked before one is let into the trek ahead. This definitely testifies to the difficult nature of the trip.
Many choose to visit Kedarnath shrine by helicopter. The helipad is located quite near the temple and you can have Darshan without having to undergo any major difficulties.
21. What to Do at Kedarnath?
The trek till Kedarnath temple is a real test of one's physical endurance and spiritual faith. It is a real blessing to be bale to receive Lord's Darshan at the end of the travail.
One can also visit Bhairavnath Temple located near Kedarnath Jyotirlinga. This fierce form of Lord Shiva is considered as the guardian deity of the entire Uttarakhand region. The beautiful scenery one is gifted from the hilltop is truly worth the extra effort of climbing the hilltop.
22. What do we need to Take Care of During Kedarnath Visit?
Make sure you are adequately physically prepared to undertake the difficult trip. You should prepare for the trip by engaging in physical exercise well ahead of the actual commencement of Chardham Yatra.
Do not stop at such points along the journey where signs of caution are installed. These are places where high probability for occurrence of landslides is reported.
Be well hydrated during the trek. Carry a bottle of distilled water.
Keep your luggage to a minimum.
Refer to the tips for Gangotri trek given above.
There exists only basic provision for accommodation near the temple premises. So if you plan to return to check point at Sonprayag, start very early so that you can include both the treks plus Darshan within the duration of a journey.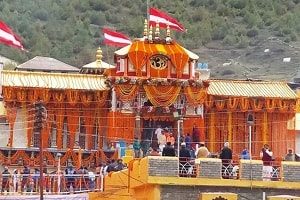 23. Where is Badrinath Located?
Badrinath is located in Chamoli district of Uttarakhand. The fourth dham is situated at a distance of 230 km from the third. The pilgrim town is located on the banks of Alaknanda River. Motorable road runs tills Badrinath Temple, so you can enjoy the blissful Darshan without much ado.
24. What to do at Badrinath?
Have a blissful Darshan of Badrinarayan. Legend has it that this is the exact site at which Nar and Narayan performed austerities for thousands of years for the upliftment of the entire mankind. The 1 m tall idol worshipped at the temple is said to have been discovered by Adi Shankaracharya.
Tapt Kund is the hot water spring located near the temple. Allegedly, a cave near Tapt Kund was the chosen site for enshrinement by Adi Shankaracharya when the idol was first discovered. Tapt Kund's water is known for its healing properties.
Mana Village is a major attraction near Badrinath. It is located at a distance of 3 km from Badrinath. Some of the major tourist attractions in Mana village include Vyas Gufa, Ganesh Gufa, Saraswati River and Bhim Pul. A stroll across this last Indian village would take you back to the bygone era, with its many remnants of Mahabharata serving as ideal pointers.
Additional Information
25. Where Should I Seek Information?
You are advised to seek information only from Government Tourist Information centers.
Phone numbers for Tourist information centers at each of the major stopovers are given below:
Also, let us list the address of Head office of Tourist Information Centre at Dehradun.
Tourist Information Center Dehradun (Head Office)
Uttarakhand Tourism Development Board
(Pt. Deen Dayal Upadhyaya Paryatan Bhawan)
Garhi Cantt. Dehradun – 248001 (India)
Contact No – 91-135-2559898, 2559987
E-Mail: UTDB- dd-tourism-ua@nic.in
26. What are the Emergency Phone Numbers?
Before you start your Chardham Yatra, make sure you carry list of all the emergency phone numbers you might require on the way.
Gangotri & Yamunotri Region
Ambulance, Police, Fire- 108
Commissioner Garhwal Pauri- 01368-222300
DM Uttarkashi- 01374222280/222102
SP Uttarkashi- 01374-222116/222102
Tourist info. Center Uttarkashi- 01374274761
GMOU Rishikesh- 0135-2430074
Taxi stand Rishikesh- 0135-2430413
Badri – Kedar Region
Ambulance, Police, Fire- 108
DM Rudraprayag– 01364-233300/233376
SP Rudraprayag– 01364-233210/233388
Badri-Kedar Temple Committee Joshimath– 01389-222124
DM Chamoli- 01372252102/252101
Chamoli- 01372252134/252133
Tourist Information Center Gopeshwar – 01372253185
27. Where are the Hospitals Located?
It is essential to know where the hospitals are located en route. In case you encounter any medical difficulties, you can go to hospitals located at the following places: