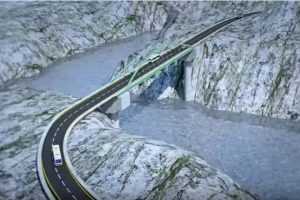 The big budget worth Rs 12, 000 crore project of constructing Chardham Highway in Uttarakhand is likely to be accomplished towards the close of year 2018 and this target will not be influenced in any way by the change of ruling party in the state, as assured by Nitin Gadkari, the Union minister.
Gadkari who shoulders the portfolio of Road Transport and Highways for the current ruling party of the country, has also expressed confidence of emerging victorious in Uttarakhand State elections. Single-phase Uttarakhand Assembly elections were held yesterday and its results are likely to be declared by 11th of March.
He said that this Chardham highway project is something that has been promised to the Uttarakhand natives and that the process of setting it up has already been started off by PM Modi and the work is likely to be completed prior to the closure of 2018.
When he was asked whether the commitment made will be fulfilled even if BJP ceases to be in power in Uttarakhand, he replied with a 'Yes' and added that the project completion and politics have no connection between each other.
The project foundation stone was placed by PM Modi only a week ahead of the declaration of the modal clauses of Code of Conduct pertaining to the Uttarakhand Assembly Polls. This all-weather Uttarakhand highway project referred to as Chardham Mahamarg Vikas Pariyojna or Chardham highway development project has been initiated with the goal of improving the connectivity in between the four pilgrimage destinations of Yamunotri, Gangotri, Kedarnath and Badrinath.
Congress; an opposition party had however tried to snub this project addressing it as 'poll stunt' and said that BJP had made use of a similar gimmick strategy prior to Bihar Assembly Elections. Gadkari responded to the comment of the opposition party saying that it was in no way done keeping the State elections in mind.
Gadkari further said that their ministry has future developmental plans for the famed skiing destination of Auli in the district of Chamoli at Uttarakhand where temperatures drop to even – 6 degrees centigrade. Their plans are to develop Auli to the stature of Davos, Switzerland.
He further said that they are reviewing the Auli developmental project currently in view of the fact that any kind of investment venture in the tourism industry only enhances scopes of new jobs. He expressed hope saying that with this Auli developmental project nearly 10, 000 local youths are expected to get employed and that is likely to give Auli an altogether changed face.
When queried on the Auli project investment need, he replied that the project is backed by ample investment funds
He then highlighted on the subject of the immense tourism potential that Uttarakhand has and added that there are enough scopes in the state for developing other tourism wings like water tourism, adventure tourism.
He then added that once the all-weather road to chardhams is constructed tourists will visit chardhams all year round. The need to more hotels, restaurants will arise and the provision of adventure plus water sports will be created.
New Source: https://economictimes.indiatimes.com/