After the calamity in 2013 Char Dham Yatra in Uttarakhand is increasingly moving towards a new record this year. Pilgrims have started their journey towards Char Dham temples. The number of pilgrims in Kedarnath is staggering this time. For the very first time, this picture has emerged with the number of pilgrims in Kedarnath and Badrinath being almost equal which really is a whole new record in itself.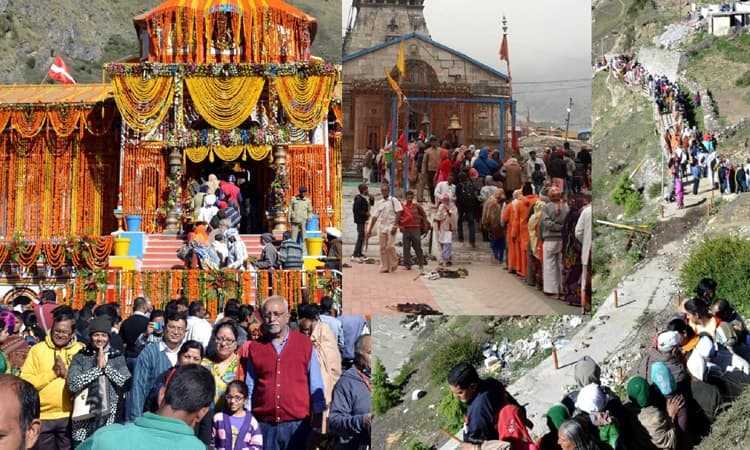 According to the picture that has emerged from the travelers on Wednesday for Kedarnath and Badrinath the foot fall to the temples are only at a difference of 2284 people. After 2013 all sorts of efforts are being made for the rebuilding and reconstruction of Kedarnath which was heavily highlighted by the media. This has helped in increasing the number of passengers here.
By Wednesday, the number of passengers reaching the 4 Dhams was recorded at 18 lakh. In 2018, around 27 lakh pilgrims had completed the Char Dham Yatra journey. In the year 2018, during its 1st month, there were around 4,39,473 pilgrims inflow to Kedarnath and 4,1,667 in Badrinath.
Consistent rise in pilgrims – New Record Being Set since the Devastating Flood of 2013
However, in the entire travel season, there were more than 3,16,060 Tirth Yatris for Badrinath Dham. Mentioning Kedarnath in specific is essential. This is because during the last visit, there were around 7,31,991 Yatris to these Dhams. This time, during the 2nd week of June only 5,87,200 pilgrims have paid their visit.
Modi's Meditation Cave is the Centre of Attraction in Kedarnath
Ever since the reconstruction of Kedarnath Dham post the 2013 calamities the number of pilgrims visiting the sacred destination of Kedar Puri has only increased but visitation by prime minister Narendra Modi has also helped in promoting the pilgrims to this Dham. Prior to the Lok Sabha election result the cave in which the honourable PM had spent a night has also gathered a lot of attention and promotion.
The number of pilgrims visiting Kedarnath has steadily increased from the year 2013 to 2019. All the works has been done under the master plan. By this way the number of pilgrims is increasing continuously and it can be said that in the pilgrim foot fall will touch a new height. However I feel that the amount of pilgrims visiting all the Char Dham temples is hope to rise this year.
……………………Satpal Maharaj, minister of tourism and culture, Uttarakhand.