The Chardham yatra in Uttarakhand has even displaced the major Char Dham yatra comprising of Badrinath, Rameshwaram, Puri and Dwarka in terms of popularity with millions flocking to these pilgrimage sites. The terrain is challenging. Apart from a sense of religious fulfillment, one also gets satisfaction in being able to complete such a tough pilgrimage.  Before you set output together all information and one set comprises of knowing the route that takes you across scenic mountainous regions of Uttarakhand, Land of Gods. It is traditional Hindu practice that the circumambulation follows a clockwise pattern. Therefore, the Chardham yatra commences with Yamunotri being the first stop followed by Gangotri, Kedarnath and, finally, Badrinath. This is how the pilgrimage is undertaken on the commonly followed route map. More details below.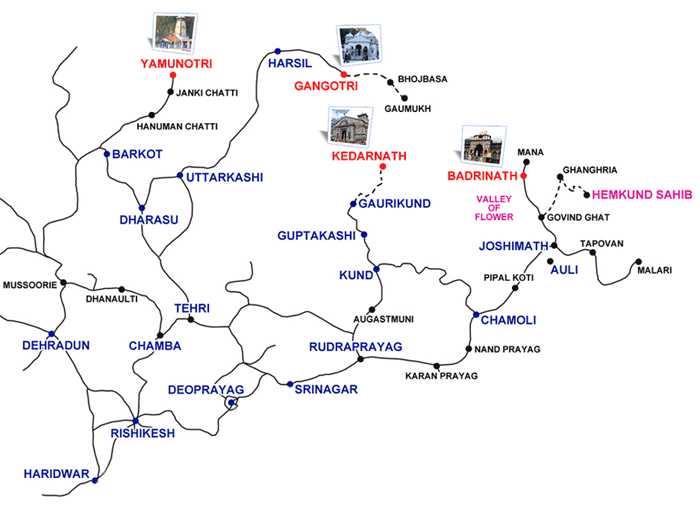 Concise Sketch for the Road Travel to Chardham
6 hours Delhi to Haridwar: 210 km
7 hours Haridwar to Barkot: 220 Km
7 hours by road and trek 7 km (can take more than 2 hours) Barkot to Yamunotri: 36 Km + 7 km
4 hours Barkot to Uttarkashi: 100 Km
4 Hours Uttarkashi to Gangotri: 100 km
7-8 hours Uttarkashi to Rudraprayag: 180 km
4 hours Rudraprayag to Kedarnath drive: 74 Km and 20 Km trek (greater part of the day)
7 Hours Rudraprayag to Badrinath: 160 km
11 hours Badrinath to Rishikesh: 297 Km
6 Hours Rishikesh to Delhi 230 km
These are rough estimates. Be prepared to any eventuality that may cause delays like traffic jams on the narrow mountainous roads.
The route starts from Haridwar and goes on to Barkot, Yamunotri, Uttarkashi, Gangotri, Guptkashi, Kedarnath, Badrinath, Rishikesh and back to Rishikesh or Haridwar and from there to other destinations.
The pilgrimage to Yamunotri is relatively easy but gives you a glimpse of how tough it can get as you proceed. Yamunotri is located in Garhwal alongside the River Yamuna and has a shrine dedicated to Yamuna Mata. Said to have been built by Maharaja Pratap Shah of Tehri Garhwal, it is the starting point to the Yatra. You can commence your journey by road from Delhi or arrive at Haridwar and then proceed onwards to Rishikesh and so on. This is the route map of Yamunotri:
Delhi to Rishikesh:  231 Km
Rishikesh to Narendranagar to Chama to Brahmkhal to Barkot: 117 Km
Barkot is the staging point. You can just as well travel by road using alternate routes.
Barkot to Sayana Chatti to Hanuman Chatti to Phool Chatti to Janki Chatti is the next leg covering a total of 41 kms. From Janki Chatti to Yamuna is a trek of 6 km. You can go on foot or hire a pony or a palanquin.
Along the way you can stop at Saptarishi Kund, Surya Kund and Divya Shila, each of which has religious significance.
Gangotri has a shrine dedicated to Mata Ganga Devi on the banks of the Bhagirathi at a height of 3200 metres. Built by General Amar Singh Thapa in the 18th century, this is where Ganga is said to have descended to Earth in the matted locks of Lord Shiva.
After Yamunotri Darshan you travel to Uttarkashi and proceed to Bhatwari and then onwards to Gangnani and Harsil, the jumping off point for the Gangotri Yatra, a distance of 98 kilometres in all. Fortunately, you do not have to trek a long distance since Gangotri temple is only a short distance from Harsil.
The next stop is Kedarnath, the toughest Yatra in that it involves an extended trek of 14 kms. From Harsil you return to Uttarkashi and go on to Tehri and travel the 100 km odd distance to Guptkashi. The next stop is Sonprayag, about 14 km by road. Phata is on the way, a starting point for the helicopter Yatra to Kedarnath. However, you proceed by road to Gaurikund, about 5 km away. From here it is a trek of 14 km to the shrine of Kedarnath.
There is an alternative route from Srinagar to Rudraprayag to Tilwara to Agastyamuni to Kund to Guptkashi to Phata to Rampur to Sonprayag and Gauri Kund, a total distance of 100 km but the road may not be accessible so the currently route is from Gaurikund to Rambara Bridge to Linchauli to Kedarnath, a distance of 16 km.
Kedarnath is one of the 12 Jyotirlinga in India, the abode of Lord Shiva at a height of 3586 metres in Rudraprayag district of Uttarakhand. The shrine is located alongside the Mandakini River, which gushes forth in a noisy torrent while the surroundings are absolutely peaceful and calm. The present temple was built by Adi Shankaracharya in the 8th century but the place is as old as time, finding mention in the Mahabharata.
Badrinath is home to Lord Vishnu. Badrinath is the name by which he is known here since he meditated for millenia under the Badri tree, which, actually, was the form assumed by Mata Laxmi to protect him from the elements. Located in Chamoli district of Uttarakhand at an altitude of 3133 metres on the banks of the torrential Alaknanda, Badrinath is of special importance since it is also one of the major char Dham pilgrimage destinations.
From Kedarnath you drive down to Guptkashi and take the road via Chopta to Chamoli and proceed to Joshimath from where you travel onwards to Govindghat and then Badrinath, a short route. Some people, if they arrive from Rishikesh, take the straight road via Devprayag to Rudraprayag and then go on to Karnaprayag, Chamoli and then Joshimath, the winter home of Badrinath.
The distance from Rudraprayag to Joshimath is 110 Km and from Joshimath to Badrinath you travel a distance of 42 kms. After Darshan at Badrinath temple you can drive straight back to Haridwar.
Important places in the vicinity are Mana Village, Tapt Kund, Neelkanth Peak, Narad Kund, Ganesh Cave and Vyas Cave among others.
While you are in the region, take time off to enjoy brief stays at lovely resorts like Chamoli and enjoy the ropeway at Auli from where you get a breathtaking view of the valley below.
Char Dham Route Map from Delhi