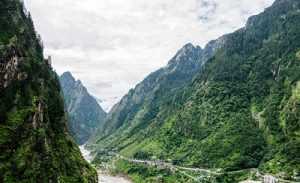 The Chamoli Police authorities have taken major steps to ensure that the pilgrimage route to Badrinath and Hemkund remains comfortable and safe. The police authorities have decided to keep a vigilant eye on the journey routes and roads used by pilgrims and tourists. The major stop points like Gouchar, Karnaprayag Tiraha, Joshimath, Govindghat etc have been equipped with CCTV cameras which will ensure tighter control. The footage of the CCTV Cameras will be provided to the local police stations.
During the course of the implementation of the vigilance measures, there are also plans of constructing new parking lots at specific points. Police constables with walkie-talkies will be positioned in the marked danger zones of the highway. The police staff will immediately notify local authorities and call for help in case of emergencies and natural disasters. These measures will help the vehicle movement to be monitored through the populated routed and the safety quotient will be increased.
The local authorities and police have identified the major stops of the journey route along with government buildings, playgrounds and school buildings and marked these as possible future shelters. If the highway is closed during some emergency situation then visitors and pilgrims can be sheltered at the marked places.
The commissioner of police, Priti Priyadarshini has said that all possible measures will be taken to ensure that the pilgrims, who walk miles to reach holy shrines of Badrinath and Hemkund, remain safe and comfortable. Major rescue measures and emergency handling techniques are being discussed and agreed upon by police authorities and local government. The police have decided to adopt warm hospitable measures towards tourists and pilgrims in line of the philosophy of "Athihi Devo Bhava".
Marking of Danger Zones on Badrinath Highway
The police authorities will soon be constructing a list of the danger zones on Badrinath highway and this list will be shared with BRO and NH maintenance and Construction authorities. The police will be instructing the specific authorities about the places which need installation of steel guarders and added security.
Kanchan Ganga, Lambgarh, Bainakuli, Haathi Pahar, Maithana, Kamera, Gholtir and Birhi are danger zones on which signage will be installed. The signage will convey the journey route ahead, location of hospitals and other necessary facilities along with the contact numbers of relevant authorities.