The hills in Uttarakhand are home to a host of ethnic mountain tribes and communities who have stayed true to their traditions and rituals. Every year the local people celebrate a number of fairs and festivals to express their delight and indulge in age old practices which holds them to their roots. The festivals and fairs of Uttarakhand involve grand processions, puja rituals, unity, peace and co-existence with nature. The Badri valley is no stranger to these age old traditions and cultures. Going there during these festive occasions will make you experience a different religion and a unique set of practices. Here are a few festivals and fairs in Badrinath Dham where the whole town springs to life, vibrancy and color:
Badrikeshwar or Badri – Kedar Festival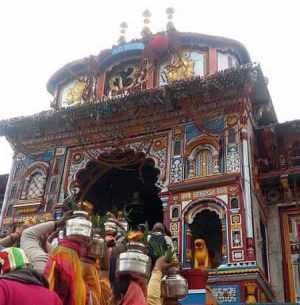 This 8 festival which goes on for 8 days is celebrated in the holy shrines Badrinath and Kedarnath. This festival generally takes place in the peak summer month of June and is a grand attempt to bring together all the greatest traditional artists panning across the country under one roof and pay tribute to our pristine Indian culture. For 8 days the entire valley remains engulfed in an inescapable positive vibe. If you want to indulge in some deep religious and patriotic feeling then this is the most appropriate time to go. The best part? in case you are already going on a Badrinath Dham pilgrimage in June then you will  be able to have an add on experience.
Shri Krishna Janmashtami
The birthday of Lord Krishna is celebrated with great excitement and zeal among the general population and if you get an opportunity to visit the temple in this auspicious eve then this will be the most ideal time for you to go. Since lord Krishna is believed to be an incarnation of Lord Vishnu, on this day the idol of the presiding deity is heavily and beautifully adorned with garlands and flowers. Although a commonly celebrated all over India, the Janmashtami festival in Badrinath has a whole different feel to it.
Mata Murti Festival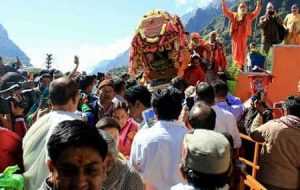 This holy festival procession takes place in the month of September during the auspicious occasion of Vaman Dwadashi. When this ceremony takes place the Kapat for Badrinath remains closed for Darshan to the General public for a whole day since Badrinathji is taken to visit his mother at Mata Murti temple which is situated in the village of Mana. This is an extremely vital festival which is attended by a host of priests from various parts of the valley and other nearby places along with the pilgrims on their way to their holy Badrinath Dham Yatra.
Gauchar Mela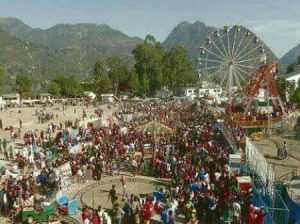 Celebrated primarily in Gauchar, a pilgrimage town en route Badrinath Dham and at a distance of 4 hours and 30 mins, this festival is a huge attraction for the local population of Uttarakhand, traders as well as merchants who make their way to the festival from various parts of the state and take part in various trading activities with the local people. The interesting part is that the trading between India and Tibet is also opened up for services during this time. If you want to have a unique traditional experience in Badrinath then you can visit this fair which takes place during the winter month of November.
Makar Sankranti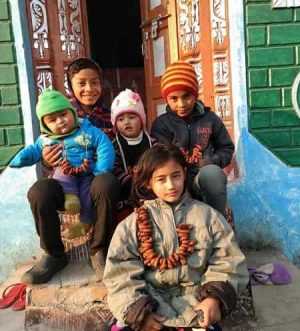 This vibrant Hindu festival generally takes place in the month of February which marks the time when the sun enters Capricorn which gives it the name of Makar while Sankranti refers to the movement of the sun. in Badrinath along with being celebrated in great zeal and enthusiasm the Kapat of one of the Panch Badri sites of Adi Badri is also opened up for Darshan to general public. This is the time when special puja is performed inside the temple of Adi Badri and pilgrims or primarily the locals from the surrounding villages are a part of it.
Diwali / Badrinath Kapat Closing Ceremony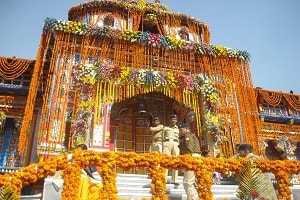 This is probably one of the most unique and one of a kind experience which could be experienced by an avid devotee. Diwali celebrations take place with immense joy and enthusiasm since this is also the day when the Kapat for Badrinath Dham is shut down for Darshan. This is a dual reason for the grand celebration and processions. The temple is decorated with bright flowers and lights along with some traditional songs being sung. The entire atmosphere is filled with great positivity.