As per traditions the reopening dates for the Badrinath Dham was announced by the temple committee there during the auspicious eve of Basant Panchami i.e 10th February 2019.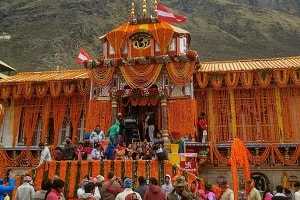 After spending 6 long winter months at his winter abode in Joshimath, the Kapat for Sri Badrinath Dham portal of the Char Dham Yatra in Uttarakhand will reopen for Darshan on May 10th 2019 during the auspicious eve of Akshaya Tritiya. This date of reopening was declared on behalf of Maharaja by Pandit Krishna Prasad Uniyal at Narendra Nagar in Tehri during the holy celebration of Basant Panchami.
The gates will reopen exactly at 4:15 am in the morning for Darshan. Ahead of the reopening dates BJP MP Mala Rajya Laxmi Shah, who was a part of the royal family of the state, by participating in the puja rituals at 10:30 am on 24th April.
Bhavishya Badri to also Open the Same Day:
Situated in the Subhai village of Chamoli district is the Bhavishya or the future Badri which was built to give the pilgrims and devotees and option to offer their prayer to Badrinath Dham after it gets inaccessible. The doors of Bhavishya Badri will also reopen on the same day as Badri Vishal on May 10th 2019 at 4:15 am in the morning for the summer months. As per tradition the doors of Bhavishya Badri of the Panch Badri portals are opened and closed along with the doors of Badrinath Dham. The priest of Bhavishya Badri, Sushil Dimri, informed that after opening the gates another puja will take place along with Vishnu Sahasranamam.