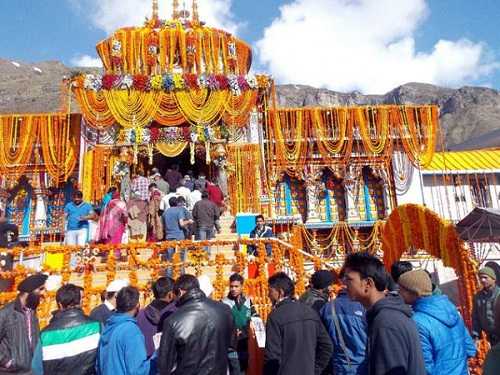 Amid the musical drizzling of the rains and chanting of Vedic Mantras, the doors of Badrinath Dham were thrown open on the auspicious 'Brahma muhurat' on Sunday at sharp 5'0 clock in the morning for the devotees. Over 15000 pilgrims made a 'darshan' of the Akhand Jyoti or Eternal Flame. And the entire dham resounded to the holy name of Shri Badri Vishal that Pilgrims called out.
Devotees had queued up for the 'darshan' of Shri Badrinath Ji right from 3'0 clock in the morning. The students group of Sanskrit University at Joshimath specializing in Vedic literature made the ambiance of Badrinath Dham to echo to their chanting of the various Vedic mantras. The IDBI armed forces played bands to the rhythm and beats of which the pilgrims responded deeply.
At 11'o clock in the morning the Abhishekam puja of Shri Badrinath Ji started and continued till 2'o clock. The main priest of the Badrinath Shrine Ishwran Nambudri and Spiritual Head Bhuban Chandra Uniwal completed the Abhishekam puja of Shri Badrinath Ji. Also, nearly 2000 pilgrims proceeded towards Badrinath dham from Joshimath but could not make a darshan of the 'Akhand Jyoti' owing to the blockage of Badrinath highway by Rdhang band at Kanchan Ganga.
Within 10 minutes of the opening of the doors of Badrinath dham, the Chief minister of Uttarakhand Harish Rawat, Vidhan Sabha Chairperson Gobindh Singh Gunjwal, Tourism minister Dinesh Dhanaye, B.K.T.C Chairperson Ganesh Godiyal, Badrinath local legislator Rajendra Bhandari, Zilla Panchayat Chairperson Lakhpath Butola and others had their darshan of Shri Badrinath Ji.
Forgetting the calamity, the pilgrims flooded the Badrinath shrine quite enthusiastically
On the year of 2013, on 19th May the doors of Badrinath shrine were thrown open in the same way and about 28000 pilgrims gathered to make a darshan of the holy Akhand Jyoti. For about a month things went fine but after the 16th of June, calamities totally disrupted the yatra.
In the year 2014, yatris were hesitant to embark on the yatra because they were traumatized by the debacle of 2013. But in spite of that nearly 5000 pilgrims gathered until it was time for the doors of the Badrinath shrine to be thrown open. But this time people have fully transcended their fear and about 15000 pilgrims and more have gathered to make a darshan of Badrinath Ji.
 News Source: Amarujala Dehradun