The pious land of Haridwar is the exact spot where the holy Ganga River hits the plains from her mountain abode. Dotted with old and new temples, Adbhut Mandir stands out from the rest. This is one of Haridwar's most revered temples dedicated to Lord Shiva and goddess Parvati, his consort. The glorious temple is tucked away from the crowded parts of the holy city in a distant place complete with wide open spaces and lush green cover. The ambiance here is extremely calm and a feeling or peacefulness washes over you from the moment you step into the premises. Being one of the powerful temples in Haridwar it is also known for its immaculately unique architecture.
About Adbhut Temple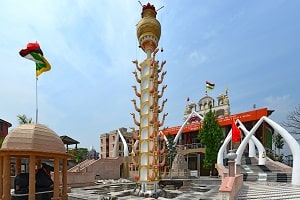 This Shiv Parvati Temple occupies a large 3 acre of area and its construction was completed in the year 2016. Due to its unique architecture and wonderful design, the temple stands out as a stark contrast to its surrounding temples. Founded by the Mahamandaleshwar Bhooma Pithadhishvar Swami Achyutanand Ji Maharaj, the temple was inaugurated and opened for Darshan by the honourable chief minister of Uttarakhand Harish Chandra Rawat. The temple complex is a marvel since the time you step in as it displays a variety of unique architectural elements and exhibitions that will keep you interested throughout.
History
Rightfully named Adbhut the temple is mostly known for its architecture and sculptures that capture the attention of the visitors. As it was built in 2016, there is no legendary or ancient history attached to the temple's past. It was simply built to honour our lord Shiva and goddess Parvati through various modes of expression. Its location also invokes a feeling of extreme peace and calm as the temple is set against the backdrop of a blue meandering river and calming open spaces.
Architecture
When it comes to the temples of India, each one of them is unique and bears a personality of their own. There are several interesting elements in the temple complex that are an unseen factor across the temples of India. The entrance is decorated in elaborate sculptures, paintings and murals. One of the most unique structures present in the courtyard is a white, golden and red colored pillar with numerous arms protruding from either sides, from top to bottom.
A Nandi bull idol can be seen facing towards the temple covered in a small temple dedicated to it. The main temple is constructed in the traditional Hindu Nagara style of architecture complete with colourful flags decorated on top. Inside the Garbha Griha devotees can get a Darshan of the idols of Lord Shiva and Goddess Parvati decorated in great detail and colour.
Temple Timing
Mandir opening hours are from 9 am to 1 pm and the evening Darshan time is from 3 pm to 8 pm.
We advise you to visit Adbhut Temple early in the morning when there is less crowd and the whole temple radiates an extremely calming energy.
Best Time to Visit
The best time to visit Adbhut Temple in Haridwar is from October to February. This may be the winter season but it isn't too extreme as Haridwar is situated on the foot hills and not exactly on the hills. The sun shines warmly and it is a perfectly safe time to go out, hiking, camping and exploring the region.
Summer is another peak travel season in Haridwar. It may get too hot during the peak summer months of March to May. This is also a great time to experience the festival season in Haridwar like Kanwar or Kumbh Mela. Although morning and afternoon time may be extremely hot, by evening it goes a bit cooler and more comfortable. Remember to always come prepared just in case by packing at least one piece of woollen clothing.
Avoid travelling to Haridwar during the monsoon season that lasts from July to September. The rain makes the palace unreachable due to landslides, road blockages and floods.
How to Reach
The temple is not situated in the main city centre of Haridwar. The temple is located 8 kms away from the main Haridwar city. It is 22 kms away from Haridwar's twin holy town of Rishikesh. Being an incredibly famous temple in Haridwar it is very well connected through various modes of transportation and roads. There are rickshaws and 3 wheeler autos that can take you there from anywhere in Haridwar or Rishikesh.
Travel Tips
Here are some things to keep in mind before visiting Adbhut Temple Haridwar:
Make sure to wear decent and appropriate clothing as it is a holy place of spirituality.
It is best to visit the temple during early morning or post sunset time.
Carry essentials like water bottle, sunscreen and sunglasses to shield yourself from the strong sun.
Remember to always wear a good and comfortable pair of shoes to make your exploration and visit even more luxurious.