Badrinath is witnessing continuous snowfall in the entire Dham where the region is covered with 8 to 10 feet of snow blanket. Irrespective of such harsh conditions, 23 people are taking responsibility of snow-covered regions and are working very actively and positively. It seems like the snowfall is not going to stop this year in Badrinath. It has been recorded that in the last 13 years the region is experiencing such a heavy snowfall for the first time which is still going on and the region is still frozen.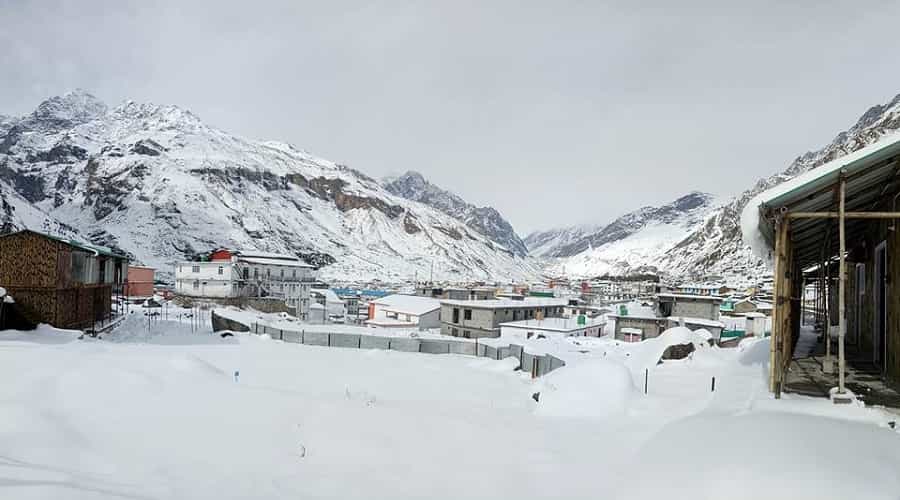 It is quite difficult to survive in such cold and snowy weather. But we cannot ignore those who are still surviving and actively participating in this adverse climatic condition. The personnel includes the policemen who are posted for the security of the temple, others are the staff of the Badrinath Temple Committee, Sadhu Saints, and the hoteliers. They all are seeking permission from the administration of the guesthouses.  Yogendra Singh who is the deputy collector of Joshimath stated that all those 23 people are living safely in this chilly cold weather of Badrinath. They are not facing any kind of problems and if it is needed they will be provided with the facilities of heli services.
Ranang Glacier is also Flooded with Heavy Snow
Ranang Glacier which is located closer to Badrinath has also received the heavy snowfall. All the way, the standing snow mountains can be found. It has been come to notice that when the weather was a bit favorable some days back then a few people visited Badrinath but as the region has again witnessed the scanty snowfall which is making it quite difficult to visit Badrinath.
Soldiers are Fighting Bravely Irrespective Of the Heavy Snowfall
ITBP and Indian soldiers are actively doing their duty irrespective of the massive snowfall in the region. ITBP soldiers stand bravely stand near the Mana village throughout the year.