The maximum temperature in Yamunotri region ranges from 15 degree centigrade to 20 degree centigrade on an average while minimum temperatures usually drop below freezing point. Woolens are a necessity throughout the entire year in Yamunotri.
Summers in Yamunotri
The summers in Yamunotri are pleasant and cool. Towards the beginning of summer season, the doors of Yamunotri temple are thrown open to receive pilgrims and visitors. There are occasional showers in the months, May, June. After the fall of night, the weather may turn remarkably cold. The maximum recorded temperature is near about 20 degree centigrade. The summer months are the most ideal for Yamunotri travel and pilgrimage trips.
Winters in Yamunotri
The winter season of Yamunotri covers months starting from November to April. Temperatures in winter months drop below freezing point and is accompanied by intense cold and heavy snow fall. The temple remains closed during winter months and the only visitors to Yamunotri during that time consist in mountaineers and trekkers who go to Yamunotri for many adventurous expeditions. If you wish to witness Yamunotri snow falls, you could visit between months, November end to the middle of March.
Monsoons in Yamunotri
The monsoon season in Yamunotri starts from the month of July and continues till August. It is the most unsuitable period for making a trip to Yamunotri because frequent landslides and heavy downpours make your journey difficult, time-consuming and perilous too.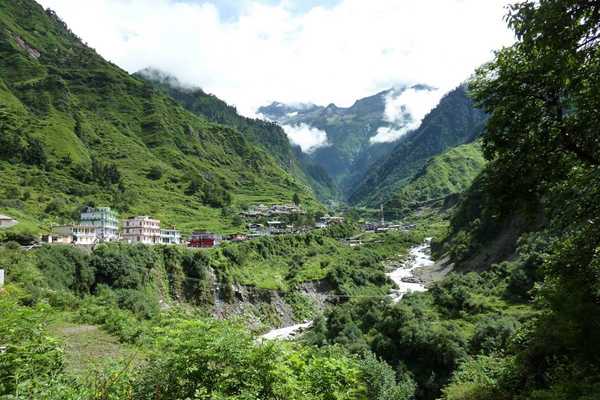 Ideal Time for Yamunotri Yatra
The ideal time for Yamunotri Yatra is from months, April-June and then again from September-November. The temple is thrown open for pilgrims on April last week and continues to remain open until November second week.
A Glimpse into month-wise Yamunotri weather details-
In May
The snow in the region starts to melt in May. The temple opens up for pilgrims and this makes the ideal travel month.
In June
This is perhaps the best month for Yamunotri travel.
In July
July has quite clear and good weather. But sudden unexpected rain showers lead to landslides hindering your trip.
In August
August is damp, moist and frequent rainfall results in frequent landslides, causing immense disruption in the journey. It is best to avoid travel in the month of August.
In September
September shows a dip in the temperatures. Days during the month of September are pleasant enough while nights will usually be moderately cold. Trip to Yamunotri could be comfortable and enjoyable in the month of September.
In October
Weather is quite cold and nights turn chilly. But for those who enjoy winters, this could make an ideal travel month for Yamunotri pilgrimage.
In November, December, January, February, March, April
It is freezing cold at Yamunotri during these months. Temperatures get lowered to zero degree or even below. Heavy snowfall leads to the region being clad with snow and temple shuts down. Visitors are likely to have recurrent frostbites during this period.