All pious Hindus are fascinated by the various mythological tales associated with the uncountable pilgrimage destinations that dot our country. Rudraprayag is one such pilgrimage spot that enchants and elevates the soul of any pious Hindu with the garland of fascinating mythological tales weaved around it. So if you have made up your mind to visit, Rudraprayag, the travel information guide below will surely prove helpful:
Rudraprayag is a small holy town in Uttarakhand and its significance is that it is located at the confluence of two holy Rivers, Mandakini and Alaknanda. Pilgrims who undertake chardham yatra usually make it a point to visit Rudraprayag as well because of its association with Lord Shiva. According to legend Lord Shiva appeared in the form of Rudra and blessed Narad Muni. It is one of the Panch Prayags, the other five being Karn Prayag, Nand Prayag, Vishnu Prayag and Dev Prayag, all of them confluences of these two holy rivers. Rudyraprayag is picturesque, the mighty Himalayas towering up, gushing waters of the two rivers at its feet and scenic greenery on all sides.
Getting There
The nearest airport is Jolly Grant Airport in Dehradun, at a distance of about 160 Kilometers and from here you can take taxis or catch a bus to reach Rudraprayag. Rishikesh is the nearest railhead; about 140 km away and from here one takes a taxi, hires a private car or gets on a bus that travels on NH58 to reach Rudraprayag. If you wish to travel by road you can do so all the way from Delhi, Allahabad, Rishikesh, Haridwar, Srinagar and Uttarkashi. There are state transport buses, private bus operators, taxis and private cars available for hire. Rudraprayag is 380 km from Delhi, 306 km from Meerut, 140 km from Rishikesh, 165 km from Haridwar, 190 km from Dehradun,165 km from Uttarkashi, 35 km from Srinagar and 70 km from Chamoli.
Accommodation
Rudraprayag is a holy place so you can expect widely varying types of accommodation here. For the budget minded there are dharmshalas run by charitable trusts where entire families can stay at very nominal costs. For single travelers there are budget rooms as well as dormitory accommodation in low to mid-end hotels. For the average family there are about 14 different hotels to choose from, ranging from modest to expensive, well-furnished, comfortable rooms. You can also find cottages such as the Tourist Rest House at Tilwara and tourist bungalows. The Jwalpa Palace offers 2 star accommodations with room tariffs starting at around Rs. 4000.
Sightseeing
In addition to being the staging post for onward travel to Badrinath or Kedarnath, Rudraprayag itself offers plenty of opportunities for sightseeing.
Agastamuni is only 18 km from Rudraprayag and is famously known as being the place where Agastya Rishi meditated.
66 km on the road to Kedarnath you will come across Gaurikund, named after Goddess Parvati. Folklore has it that Lord Shiva agreed to marry Parvati here and, more relevant in the present context, it has hot springs where you can bathe.
It is said that Lord Shiva formally married Goddess Parvati at Trijuginarayan and a flame is kept alive, said to be burning since ancient times, to commemorate the divine wedlock.
Kedarnath is the major pilgrimage spot, one of the char dhams that you can reach from Rudraprayag. You travel to Gaurikund, about 66 km away and from here it is a 14 km trek to Kedarnath, home to one of the 12 Jyotirlingas and a place that is also divinely enchanting in terms of its raw beauty.
Uttaranchal is not about pilgrimages; you can visit Chopta, 64 km from Rudraprayag and it is the State's own Mini Switzerland offering a host of adventure sports and exploration trips. If other places blossom in summer, Chopta is a winter destination, perfect for skiing.
Khirsu is a scenic and peaceful resort and the view of the Himalayas is simply magical. It is so enchantingly charming with its serenity, a far better option than many of the popular hill resorts.
Okhimath, about 37 km away is another temple town but it also offers a scenic view of the Himalayas.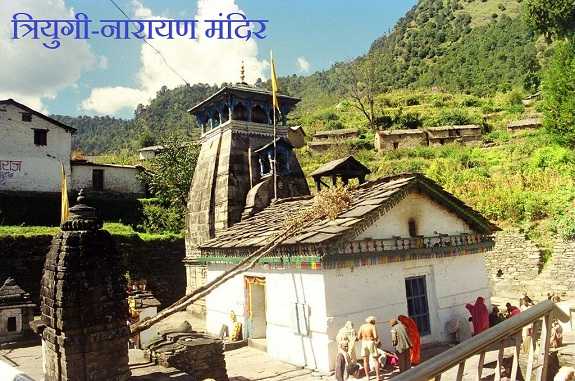 Fairs and Festivals
A holy town, Rudraprayag does witness festival celebrations during Dussehra, Diwali, Holi and other occasions. However, since the town is associated with Lord Shiva it is the Nagpanchmi festival during Shravana month that is worth a look with devotees offering prayers to Naga devta. Shivratri is another festival when devotees flock to the temple of Lord Shiva with votive offerings and fairs come up at various places such as Gopeshwar, Bairaskund, Nagnath and Dewal. Makar Sankranti, around the 14th January is when the Sun comes up North and devotees observe it as a holy day by taking a dip in the Alaknanda River. Fairs are organized and the place wears a festive look.
Cuisine
A holy town, Rudraprayag offers a variety of vegetarian foods, mostly North Indian style. If possible, eat at roadside stalls to get a taste of local cuisine made from Mandua and Jhangora coarse grains and dals made from urad, lopia and masoor. It is possible to find restaurants serving chicken and mutton.
Shopping
A small town, Rudraprayag offers limited shopping choices but local handicrafts are what you may want to buy here.