Rudranath, the third of the 'Panch Kedars' holds special importance for the Shiv Bhakts. If you want to calm your tempest-tossed mind with the spiritual environment of the place, you must surely set out on your Panch kedar pilgrimage that will take you to this splendid temple. For more information, read on.
Devotees of Lord Shiva simply love Uttarakhand. It is the land of Gods and, to them, it is the Land of Shiva. This is where you find Kedarnath, one of the 12 Jyotirlingas, also a part of the Panch Kedars. Kalpeshwar, Tungnath, Madhyamaheshwar and Rudranath are the other four. Rudranath is third in order of importance when one undertakes the Panch Kedar pilgrimage. Located at a height of about 3600 metres in Rudraprayag district, the temple is surrounded by lovely rhododendron bushes and mountain slopes.
Mythology & Legend
Rudranath is one of the Panch Kedars more or less connected by the same legend. The Pandavas came here in search of Lord Shiva and to ask him for forgiveness for having killed their kin, the Kauravas, in war. Lord Shiva did not wish to appear before them and turned himself into a bull and hid underground. The Pandavas pursued him whereupon he flung his body parts in different directions. The hump lies in Kedarnath. The mid portion appears in Madhyamaheshwar. The hair and head appeared at Kalpeshwar. The face in the form of Nilkanth Mahadev is worshipped at Rudranath. The Linga here is said to be Swayam Bhuva or one which appeared by itself in the form of a Shivalinga with a face, measuring about 3 feet.
Worship At The Temple
The best time to visit is from April end to October. In winter the idol is brought down to Gopeshwar in a procession known as the Doli Yatra. At the commencement of the season in summer the idol is taken in the Doli Yatra to Rudranath via Liti Bugyal and Panar before being installed at the temple but not before praying to Vandevi. Priests conducting rituals are Bhatts and Tiwaris of Gopeshwar and each morning they decorate the lingam and remote the decorations in the evening. It is best to attend the morning religious ritual and come away fulfilled. Pilgrims usually bathe in one or the several water tanks near the temple. These are the Mana Kund, Surya Kund, Chandra Kund and Tara Kund.
Places to Visit Around Rudranath
Rudranath is by no means an easy place to trek to, especially over a long rocky terrain stretching over 20 kms but the sight is rewarding. One can go trekking to Kandiya Bugyal, pass through the tiny Shirouli Village and come across the Anusuya temple where childless couples pray in the hope of getting a child. You can trek across the Amrita Ganga River and go on to Hamsha Bugyal, a picturesque break from the mountains with flowers in bloom in summer. Next is Dhanpal Bugyal which leads you to Naola Pass. After this it is Panchaganga Bugiyal before you reach Rudranath. Trekkers usually prefer to go on to Panar Bugyal across scenic countryside over a distance of 8 km. If you have come this far it would be a shame to ignore Pitridhar top where clouds play hide and seek with mountain tops with the enchanting scenery keeping you enthralled. Kalpeshwar is not far away and you will find another cave temple dedicated to Lord Shiva here besides the mythical Kalpavriksha that fulfills all wishes. From here you can go on to Madhyamaheshwar Temple and admire the peaks of Neelkanth, Chaukhambha and Kedarnath in all their resplendent glory. Do not forget to visit Nandikund, a lake that is believed to be a watering hole for Nandi. On the road you might come across swords embedded in the rocky cliffs. These words are said to belong to the Pandavas.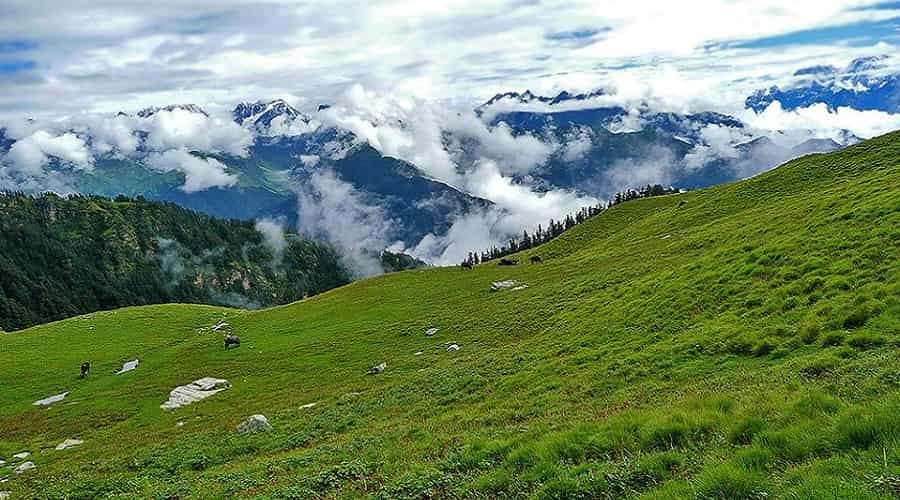 Travel, especially the last trekking part over 21 km, to Rudranath is arduous but the sights are richly rewarding and if you have a camera you can bring away precious images that will remind you of a wonderful journey.
Getting There
Rishikesh is the starting point of your pilgrimage to Rudranath. From here you go on by road to Devprayag, to Srinagar, to Rudraprayag, to Gopeshwar and then to Sagar village. You cover a distance of about 219 km. From here it is a longish trek of 21 km to Rudranath because the way lies over narrow rocky path where no vehicles can travel. There are different routes to reach Rudranath. One route is from Helang that goes to Urgam, Kalpeshwar and Dumak. Another one starts at Sagar village from where you walk to Liti Bugyal, Panar Bugyal and Pitradhar. The third route is from Mandal village that takes you to Anasuya temple, Hansa Bugyal and Naola Pass before you reach the holy temple. The nearest airport is Jolly Grant near Dehradun, about 258 km away from where you take a taxi, a private coach or join a tour.
Accommodation
Unlike Tungnath where there is no place to stay, you will find accommodation options besides the choice of stay at the Dharamshala attached to the temple. There are moderate guest houses in Lyuti Bugyal, Panar, Urgam and Sagar.