Yamunotri in Uttarakhand is the second destination in the Char Dham Yatra tour. The temple here, located at a height of 3235 metres, is dedicated to Goddess Yamuna and sits beside the Yamuna River. If you plan to visit Yamunotri, a tough trek by any standards, you might also want to take in nearby places of interest. Janki Chatti is the starting point of the trek to Yamunotri that brings you to Surya Kund, renowned for its hot water springs where people can be seen cooking rice for offering at the temple. Surya Kund is dedicated to Lord Surya, father of Yamuna. After that pay your respects at the Divya Shila, proceed to the Yamunotri temple, pray and then look around for other places to visit.
Hanuman Chatti
This can be the starting point of your explorations around Yamunotri. Located just 13 km away, Hanuman Chatti is where Yamuna and Ganga Rivers confluence in a picturesque location leading to grassy meadows with mountains in the distance. Trek to Dodi Tal from where the view is simply enchanting.
Saptarishi Kund
Hindus believe the Yamuna originates at Saptarshi Kund and as such it is held in high reverence. You will have to climb to a height of 4420 metres to reach the Kund where the lake, with its Brahma Lotuses and surrounding wild scenery, will keep you enthralled.
Janki Chatti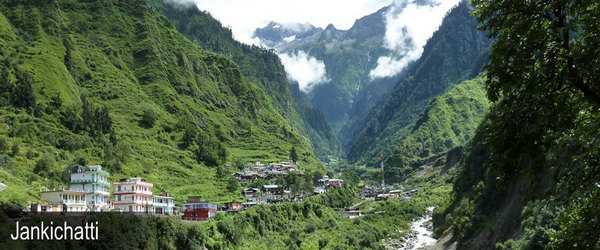 Janki Chatti lies just 3 km from Yamunotri with its hot water springs proving to be a magnet for people. From here you can proceed to Kharsali, a lovely picnic spot.
Kharsali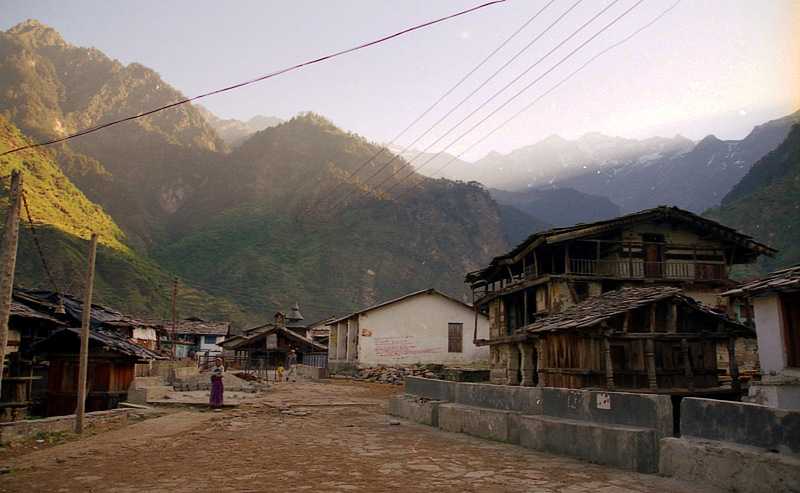 Kharsali with its wild and rugged beauty will go straight to your heart. You will find meadows, mountains in the background, forests of fir and oak and hot water springs. Enjoy the view as you enjoy a picnic in the cool nippy air of the mountains.
Barkot or Badkot, lies about 49 km away from Yamunotri known for its peaceful atmosphere that promotes meditation. Visit the temples and shrines here and take a walk around on the mountain paths and admire the Bandarpoonch peaks of the Himalayas in the distance. From here you can see the Yamuna's frothy waters as you walk through apple orchards.
Bhojbasa
If you have time you can take in Bhojbasa, another picture-postcard destination that is closer to Gangotri and the starting point for the trek to Gaumukh glacier, the source of the Ganges. You can reach it after a 14 km trek from Gangotri or via Uttarkashi and Harsil.
Dayara Bugyal
When you do reach Uttarkashi make it a point to visit Dayara Bugyal. The lush green high altitude meadow comes as a delightful surprise. There are craggy peaks and dense forests for an all round experience at this scenic and rustically charming location.
Gangnani

Return to Uttarkashi and then head off in another direction to Gangnani, a spiritual retreat known for its hot water springs. From here you can proceed to Gangotri, if you like or head for the Govind Wildlife Sanctuary with its typical alpine flora and fauna and the prized snow leopard. Stay at the rest house in Hari-ki-Dun, a lush green valley.