Andhra Pradesh's Hyderabad has a Trilok Security Services Company Pvt has been working for the last 3 years in Uttarakhand in the Chardham and Hemkund Sahib zones for Photometric registration facility. Apart from this the Sanstha of Kanwar Mela, Ardh Kumbh and other regional Melas (fair) have been handling the Photometric registration process.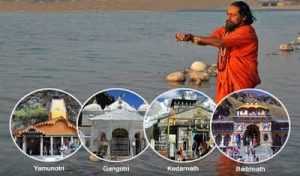 The important thing is that this company has been handling the record maintenance of the Char Dham Yatris for pilgrims and tourists completely free of cost. This organisation does not charge any fees from either the state governed, tourism department or the pilgrims.
Post the 2013 Uttarakhand debacle, the Managing Director of Trilok Securities Services Ravi Chandra had proposed the following scheme. All the tourists and pilgrims entering the Devbhoomi should be enrolled via the Photometric registration devices so that the heavy data bases can be compiled in a proper way. The government has approved the photometric registration project since January February 2014.
The company has acted on the Government's proposal that the personal resources will be utilized to deliver this facility for the tourists and pilgrims. The company has acted by superbly facilitating the Photometric registration of tourists and pilgrims since 2014 to 2015 on the routes of Chardham and Hemkund Sahib.
The registration process involves the submission of name, phone numbers, photo records of travellers and pilgrims. All travellers and pilgrims would be given access cards. This company had previously taken care of Nanda Devi Raj Jat, 14 to 15 February Kanwar Yatra, Ardh kumbh Mela 2016 etc. and the pilgrims were registered through the online registration process. These days the company has been providing online registration facility to travellers and pilgrims to Purnagiri Champawat Mela.
2014 Online Registration Locations
Haridwar – 2 Counters
Rishikesh – 15 Counters
Janki Chatti – 2 Counters
Gangotri – 2 Counter
Guptakashi – 2 Counters
Phata – 2 Counters
Sonprayag – 2 counters
Kedarnath – 2 Counters
Govindghat – 2 Counter
Pandukeshwar – 5 Counters
Counter Locations for 2017
Haridwar- 1 counter
Dobata Uttarkashi – 2 Counters
Hina Uttarkashi – 2 Counters
Rishikesh- 4 Counters
Guptakashi – 1 Counter
Fata- 1 Counter
Sonprayag- 2 counters
Govindghat- 1 Counter
Pandukeshwar – 2 Counters
The company has also facilitated has facilitated 5 mobile registration counters in the state.
The Awareness Campaign in the Off Season
The company has utilised the off season (when Chardham temples will be closed) in promoting the Char Dham Registration and journey details in pilgrimage destinations like Haridwar, Rishikesh etc. the staff of this company is actively engaged in pamphlet distribution in these areas.
Statement by Company Chief
The company has released a statement that it has been engaged in the services of Dev Bhoomi and it is honoured to take care of the arrangements on its own expenses. The chief director of the company is also interested in promoting the tourism culture of Uttarakhand and increasing the tourist footfall. The company will soon be receiving state popularity advertisements via the state government through which there are hopes of generating heavy revenue.