Kedarnath is a small place tucked away in the Rudraprayag district of Uttarakhand and it is one of the famous pilgrimage places in India. According to Hinduism, Kedarnath is one of the Char Dham and a visit to the famous Kedarnath temple is supposed to wash away all the sins of the souls. Kedarnath had been heavily damaged by 2013 floods but now the route has been completely restored. The town is named after King Kedar who was a famous ruler of the Sat Yug. The many attractions of Kedarnath include Shankaracharya temple, Vasuki Tai, Kedarnath temple, Ukhimath, Chandrashila, Guptakashi, TriyugNarayann, Trekking, Bhairav Nath Temple, Gaurikund, Chorabari, Deoria etc it is best to visit Kedarnath is between May to October as there is heavy snowfall in the winter months. If you wish to know about the route map to Kedarnath, you need to learn about the various options you have.
How to Reach Kedarnath by Road
Kedarnath enjoys great road connectivity to major Indian cities like Rishikesh (215 km), Haridwar (240 km), Badrinath (212 km), Tehri (184 km), Pauri (210km), Mussoorie (250), Chandigarh (416 km), Delhi (445 km),  Nagpur (1420 km), Bangalore (2485 km). The route map that one takes very much depends on one's convenience.
Alternate Approaches
Pilgrims and visitors can opt for train journey till Dehradun, Haridwar and Kotdwar.
From Various Cities
Buses travel to Haridwar every half hour and the road time is 8 hours. From Haridwar you can directly travel to Kedarnath by Jeeps as many Jeep rental companies operate over there.
From Haridwar buses run every morning to Gaurikund and advance bookings can be made every day at the Garhwal Mandal Owner Association office which is in front of the Railway station. The Bus journey is beautiful with 240 km stretch of Ghat lined road. From Gangotri the narrow road leads up to Kedarnath.
The road to Kedarnath moves through Rishikesh, Rudraprayag, Devprayag and ends in Gaurikund.
In case one uses personal vehicle to drive up to Kedarnath then it's necessary to check ground clearance as the road is extremely rocky. There are two parking lots (100 m and 500 m away from Gaurikund) and it's tough to get parking spaces in either.
Gaurikund the nearest vehicle accessible point from Kedarnath is very well connected to Garhwal, Kumaon, Haridwar, Rishikesh, Dehradun etc.
Trekking Route to Kedarnath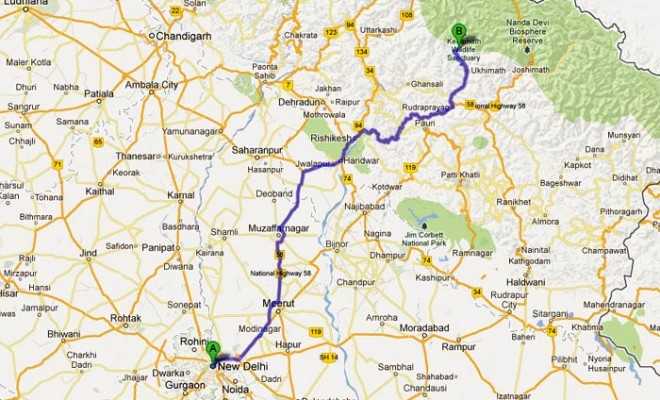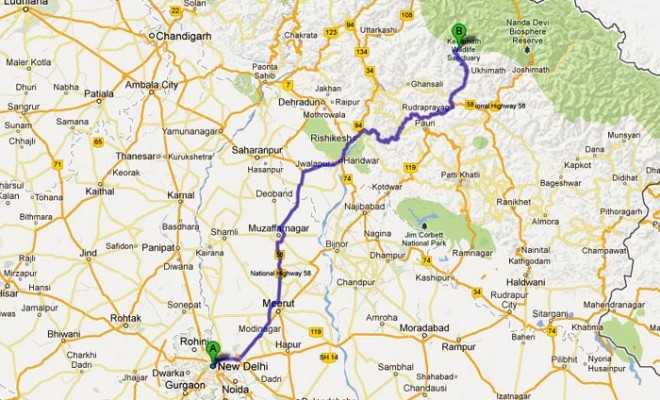 There is a huge gate 5 km below Gaurikund in Sonprayag that makes sure that all vehicles move in directionally from Sonprayag to Gaurikund. The route is long but there are less chances of traffic snarls.
Kedarnath can be accessed only after a steep 16 km trek which goes through a paved path.
Horses, ponies and palanquins are all available on rent from the Gaurikund spot for those who cannot manage the trek.
Kedarnath by Air
The nearest airport from Kedarnath is the Jolly Grant Airport which is near Dehradun (265 km away).  This Airport is only 20.6 km away from Rishikesh and many tourists take a taxi to reach the Holy Joshimath from there. Kingfisher Red Service connects the Jolly Grant Airport with New Delhi.
Kedarnath by Helicopter
Helicopter services are obtainable to Kedarnath from various cities in Uttarakhand like Phata, Dehradun, Agustumuni, Sitapur, Gauchar etc.
Kedarnath by Train
The closest railway stations to Kedarnath are Rishikesh railway station (250 km), Dehradun railway station (243 km). Haridwar railway station (223 km) and Kotdwar railway station (207 km). There are no fast trains to Rishikesh and Kotdwar has very few trains. Haridwar railway station on the other hand enjoys excellent connectivity to Mumbai, Howrah, Delhi, Amritsar, Ahmedabad etc.
Kedarnath Route Map from Delhi
Delhi to Haridwar (210 km) Rishikesh (25 km) – Devprayag (70 km)- Srinagar (36 km)- Rudraprayag (35 km)- Tilwara (10 km)- Agustumuni (11 km)- Kund (15 km)- Guptakashi (6 km)- Phata (12 km) -Rampur (10 km)- Sonprayag (4 km) -Gaurikund (6 km)- Rambara (8 km) – Garud Chatti (5 km) – Kedarnath (4 km).