If you are in a mind to make a Yatra to Gangotri Dham, then there are three modes of transportation that you can avail. Read on to learn more-
By Air
You could take a flight from Delhi to Jolly Grant Airport, 250 kms away from Gangotri. Also you could take a flight to Dehradun which is 199 kms away. Both Jolly Grant Airport and Dehradun are connected to the Gangotri Dham by means of well developed road networks. Some people even choose to fly to Bhuntar Airport in Kullu of Himachal Pradesh and then travel by road to Gangotri. Regular flight services are available from Delhi to the Jolly Grant Airport or to Dehradun. Even one could avail chopper services from Dehradun to reach Gangotri.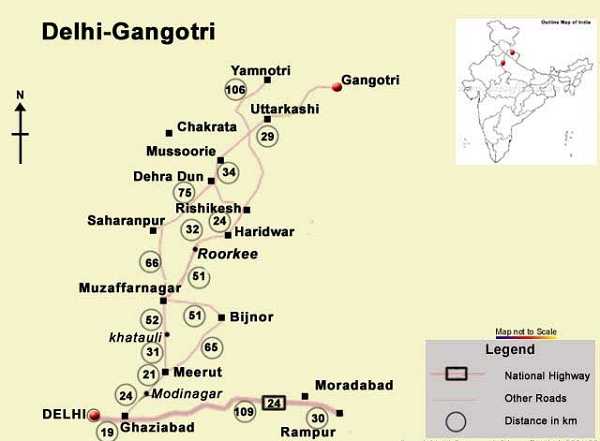 By Rail
If you wish to avail the train route you need to bear in mind that no direct regular train services are available from other important cities to Gangotri. Rishikesh, about 234 kms away is the only nearest station. Rishikesh falls ahead of Gangotri on the NH58 and there are frequent trains running between Rishikesh and all the other major destinations across the country. Rishikesh is well connected to Gangotri via motorable roads. Thus buses or taxis could be availed to reach Gangotri from Rishikesh. Also buses or taxis to Gangotri are available from all other major Uttarakhand destinations like Uttarkashi, Tehri Garhwal etc.
By Road
If you wish to avail the road route, there are two major ways of reaching Gangotri by means of road transport. First option is 'via Haridwar & Rishikesh' route and second option is 'via Dehradun' route. Generally pilgrims reach Delhi first and then avail road transport to reach Gangotri. From Delhi one could drive to Haridwar by means of a Ddn Janshtbdi or Tata Indica and then avail the State bus services to reach Gangotri from Haridwar. The first route option; i.e. via Haridwar route takes you 11 hours in total to reach Gangotri and the distance covered is about 474 kms while in case of the second route; i.e. via Dehradun distance covered is about 509 kms. If you are residing in any other part of Uttarakhand, it is not a problem to reach Gangotri at all because frequent and regular buses and cab services connect the various major Uttarakhand cities to each other. Thus you could easily get buses plying to Gangotri from destinations like Haridwar, Rishikesh, Uttarkashi, Tehri Garhwal and many more.
Here's the road route for the two options mentioned above –
Route 1
Delhi-Haridwar-Rishikesh-Narendranagar-Tehri-Dharasu Bend-Uttarkashi-Bhatwari-Gangnani-Harshil-Gangotri
Route 2
Delhi-Dehra Dun-Mussorie-Chamba-Tehri-Dharasu Bend-Uttarkashi-Bhatwari-Gangnani-Harshil-Gangotri
Use Facebook to Comment on this Post