Badrinath Dham Geographical Features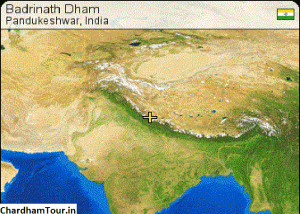 Badrinath is located in Chamoli district of Uttarakhand forming part of the Himalayan zone. Chamoli was once part of Garhwal district but gained its own identity in 1960 when it became a separate district. To the North lies Uttarkashi. Almora is in the South East and Pithoragarh is in the South West with Rudraprayag to the South West. Tehri Garhwal is in the West. The terrain is rocky and mountainous with deep gorges and tall, snow covered mountain peaks and the vegetation is Himalayan with deodar and pine trees. Badrinath is part of the Garhwal hills and is located between Nar and Narayana Mountain ranges just off the Nilkanth peak, about 301 km from Rishikesh.
The entire area of Chamoli has several small rivers and their tributaries spread over the landscape. Alaknanda is the major river of this region originating below Balakun peak, about 16 km above Badrinath from the glaciers located in Chaukhambha peak. The river flows turbulently in a deep and narrow gorge between the mountain slopes of Alkapuri. Downstream it is joined by the Saraswati River, Bhyundar Ganga, Khilrawan Ganga and Dhauli Ganga. Still further ahead the small tributaries of Helang, Garur, Patal and Birahi Ganga join the Alaknanda.