Book Online Helicopter Ticket
Visiting Gangotri and Yamunotri together is a cherished dream of many pilgrims. Not only is the two shrines representative of the reverence with which nature is held in Indian traditions, but also of how Shakti expresses herself in the myriad ways of the corporeal universe – herein, Mother expresses herself in the mighty flow of River Goddesses of Ganga and Yamuna. Yamunotri Dham is visited before Gangotri in a typical do dham Yatra. River Yamuna is the cherished sister of Shani Dev and Yam Dev, while also the daughter of Surya Dev and Sandhya Devi. It is widely believed that procuring her blessings would please Yam Dev, the God of Death, and would ensure a pain-free death and afterlife. Need one even attempt explaining the importance of Gangotri Dham? The holy river Ganga is worshipped as the Great Mother who can wash away all sins by millions of Indians. And what can one say of the holiness attributed to the origins of such heavenly river? In fact, legend has it that King Bhagirath underwent penances for thousands of years to bring down the flow of heavenly river Ganga upon earth so that the curses upon his deceased ancestors could be erased away.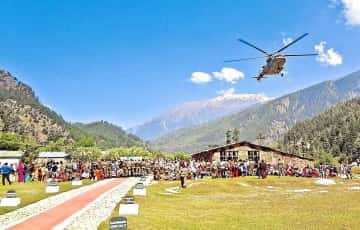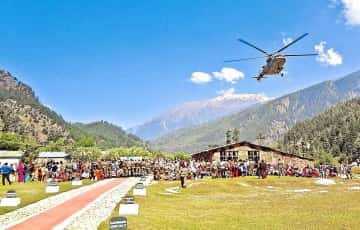 Do Dham helicopter package for Gangotri and Yamunotri lets one visit both the sacred shrines in a single day. Talk about how easy and convenient modern day technological advancements in transportation have made this age old pilgrimage.
Itinerary for Gangotri & Yamunotri Yatra by Helicopter
We will alight on our journey to Yamunotri from Dehradun. Please ensure that you reach the helipad well in advance of the departure time at 7.00 am. Because before the journey initiates, a session is conducted by Pilot and ground staff to make the travelers acquainted with the dos and don'ts of the trip. Any queries you have will be duly answered.
7:00 am Departure for Sahastradhara Helipad, Dehradun
8:00 am Arrival at Kharsali Helipad
Yamunotri shrine is located at an altitude of 3291 m above sea level. The helipad is located at Kharsali. Once you alight at Kharsali Helipad, we would warmly usher you into the next phase of the journey. Palkis will be arranged to let you travel the rest of stretch- a distance of 5.5 km. After enjoying the darshan of Yamuna Maa at Yamunotri, one can return to the helipad in the same palki. The round trip is estimated to take around 5 hours.
01:30 Departure from Kharsali Helipad
02: 00 Arrival at Harsil Helipad
Within half an hour of the helicopter journey, we will reach the picturesque town of Harsil. Our representative will assist you to the nearby Resort where a sumptuous meal awaits you.
After the lunch, one will be driven to Gangotri shrine. It will take about 45 min- 1 hour to cover the 24 km stretch from the helipad till the temple.
4: 05 pm Gangotri to Harsil Drive
05: 00 pm Harsil to Dehradun Helipad
After a blissful darshan, we will take you back to Dehradun Helipad from where the journey began in the morning. The auspicious day would have left your heart and mind full of memories of a wondrous day.
Helicopter Type: Bell 407/ Bell 206 B-III / AS 350 B3 (Subject to Availability)
Seating Capacity: 5 Persons (Weight limit for passengers upto 400 Kg including baggage)
OUR HELICOPTER package includes:
Accommodation for one night
Meals for the entire day
Palki at Yamunotri
Taxi from Harsil
VIP darshan at Gangotri and Yamunotri
BEST SEASON:
It is advisable to make travel plans to Gangotri and Yamunotri during April-June and August-October.