Sacred and held in high reverence by all devout Hindus, the char dham yatra is a spiritual duty one must undertake at least once in a life time. Uttarakhand boasts of not only the char dhams but also the Panch Prayags made up of Devprayag, Rudraprayag, Vishnuprayag, Nandprayag and Karanprayag with similar spiritual importance. The five streams that Ganga was split into when she landed in the locks of Lord Shiva flow down tempestuous paths and ultimately confluence at various places to finally form the Ganga. Confluences are of equal religious significance. Chardhamtour brings you the best of both in the form of the Chardham yatra that also includes yatra to the panch prayags.
Tour Starting Point  – Delhi
Duration: 12 Days / 11 Nights
Tour Cost: Rs.23,900/-
Places Covered: Haridwar – Rishikesh – Yamunotri – Gangotri – Kedarnath – Badrinath Devprayag – Rudra Prayag – Karanprayag – Nandprayag – Vishunuprayag
Tour Itinerary
Day 1: Delhi – Haridwar
Arrive in Delhi to a warm welcome by our tour guide. You will board the coach later on for the 215 km drive to Haridwar where you check into a hotel and then set out to a visit of the Ganga ghats and temples. The highlight is the evening Aarti at the Har Ki Paur.
Day 2: Haridwar – Barkot
Breakfast over we get into the coach for the 235 km drive to Barkot that will take 7 hours. On the way we cross Dehradun and Mussoorie where, a short distance away, we stop for a while at the lovely Kempty Falls. Arrive in Barkot and check into the hotel for the overnight stay.
Day 3: Barkot – Yamunotri – Barkot
Rise and breakfast early after which it is time for the 7 km trek to Yamunotri temple, the first of the char dhams. You can walk or ride a pony or get into a palanquin. Before arriving at the temple we halt at Suraj Kund where you cook a small rice offering to take to the deity. Pilgrims also worship at the Divya Shila before entering the temple dedicated to Yamuna Mata. The Darshan over, we return to Barkot via Hanumanchatti for the night's stay.
Day 4: Barkot – Uttarkashi – Harsil
Breakfast on typical local fare and drive 140 km to Harsil. We stop at Uttarkashi for Darshan at the Vishwanath Temple and a look around the town. Arrive in Harsil and check into the hotel for the overnight stay.
Day 5: Harsil – Gangotri – Harsil
Wake up in the crisp morning air, breakfast, proceed to Gangotri. Located at a height of 3048 metres, Gangotri temple is dedicated to Ganga Mata, who it is said descended to Earth here in response to supplication by King Bhagirath for the peace of souls of his ancestors. Gaumakh glacier was close to this temple but it receded due to global warming. The temple is ancient but the current temple was built by General Amar Singh Thapa. Pray at this temple for the blessings of Ganga Mata. Also, there is a submerged Shivling in the river said to be the spot where Shiva received Ganga. Take a dip in the holy Bhagirathi River and then return to Harsil for the overnight stay.  It is also believed that the Kedar Ganga and Bhagirathi confluence at this spot.
Day 6: Harsil – Srinagar
Breakfast over we drive 185 km to Srinagar. On the way there is a halt at Tehri Dam, Asia's highest dam and also a scenic picnic spot. Arrive in Srinagar and check into your hotel.
Day 7: Srinagar – Kedarnath
Get into the coach after breakfast for the 105 km drive to Kedarnath. We stop at Rudraprayag, the site where Alaknanda and Mandakini rivers confluence, considered a holy spot. We then proceed to Gaurikund and start the 14 km trek to Kedarnath over steep paths. You can hire a pony or get into a palanquin. Check into a hotel on arrival and visit Kedarnath temple in the evening. Kedarnath is one of the 12 jyotirlingas in India. There are legends and myths associated with Kedarnath but it is universally believed Lord Shiva grants your prayers here.
Day 8: Kedarnath – Rampur/Guptkashi
Rise early, visit the Kedarnath temple once again and then we have breakfast. Then we set out on the return 14 km trek to Gaurikund. After some rest we proceed to Guptkashi and check into a hotel for the night's stay. Proceed to Gaurikund on the way to Badrinath. The spot is marked by a hot water spring said to have medicinal properties. Parvati Devi is said to have performed penance in order to gain Lord  Shiva.
Day 9: Rampur – Badrinath – Neelkanth
Breakfast and drive 205 km drive to Badrinath via Joshimath. Visit the holy temple of Lord Badrinath for the evening Aarti. Lord Vishnu is said to have meditated here for ages with only Laxmi to shelter him in the form of a Badri tree. Those who are up to it can visit the Neelkanth peaks a little bit ahead while others can rest. Badrinath, apart from being one of the Chota Chardhams, is also on the major Char Dham circuit.
Day 10: Badrinath – Pipalkoti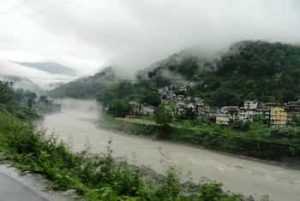 We set out an excursion around Badrinath starting with the Tapt Kund. We visit Narad Kund, Brahma Kapal, Sheshnetra, Charanpaduka, Mata Murty temple, Mana Village, Vasudhara Falls, Bhim Pul and Vyas Gufa, all places with religious or mythological significance. Later, in the afternoon, we proceed to Pipalkoti where we check into a hotel for the night.
Day 11: Pipalkoti – Rishikesh
Breakfast over, we proceed to Devprayag where Bhagirathi and Alaknanda Rivers join to form the start of the Ganga River. We then proceed to Rishikesh, the city of ashrams and yoga, also a holy city in its own right. We go on a brief tour of Sivanand Ashram, Ram Jhoola, Laxman Jhoola, ashrams and ghats by which time it is evening. We proceed to the banks of the Ganga for the Ganga Aarti at Pramarth Niketan. Stay overnight at Rishikesh.
Day 12: Rishikesh – Haridwar – Delhi
The Chardham Yatra and visit to the Panch Prayags ends as you board the coach for the return trip to Delhi via Haridwar. The guide bids you a fond farewell at Delhi.
TOUR PACKAGE INCLUDE
Personal assistance by Chardham Tour representative on arrival.
Accommodation on Double sharing basis at hotels. ( Moderate Hotels)
All transfers/tours services by Air-Conditioned vehicle & may be change as Per Group Size & road condition.
The air-conditioning will be worked Delhi – Rishikesh & Haridwar – Delhi.
All Veg. Meals, Daily Breakfast, Lunch, Dinner, Morning & Evening Tea/Coffee
Caring Tour Manager throughout the tour
Local Guide at Rishikesh for local sightseeing
01 Liter Mineral water per Day
Sightseeing as per above Itinerary.
All inclusive (Fuel, Driver Allowance, Parking Toll Tax, State Tax.)
All currently applicable hotel tax and Transportation tax
TOUR PACKAGE DOES NOT INCLUDE
Expenses of personal nature such as tipping, porters, laundry, telephones, Cameras fees. etc
Any kind of insurance.
Any claim or delay charges due to natural calamities, land slide, road blockage etc. Or any other things which are not mentioned in cost included column.
Meals at Kedarnath (our catering team cannot reach there)
If due to any reasons beyond our control like landslide, traffic jams, flood, riots, political unrest, bandhs, helicopter unavailability or bad weather conditions, accidents or any other natural or man-made misfortunes, program will needed to be changed or extended. the additional expenditure for the same will have to be borne by the passengers directly. Due to these reasons we may cancel some sightseeing places, there shall be no refund for the same
Any charges of train, helicopter, auto, ropeway ticket of Manasa/Chandi Devi, Doli &pony etc.
Government service tax – 4.5% applicable on total billing
Special Requirements for Yatra
Raincoat, Umbrella, Monkey cap, Hand gloves, Swatter/Pullover, Canvas Shoes, Torch, Oxygen cylinder & personal medicines.
Precaution for Yatra
Cover your head with Monkey cap or any other woolen clothes while on high altitude to avoid hill-sickness, giddiness etc. at Kedarnath, Yamunotri.
Keep on drinking water to avoid dehydration.
Trek only on hill-side, avoid trekking or standing on valley side, as pony (horse) coming from opposite direction may push you down to the valley which may cause serious casualty.
Packaged Water is available at every place, use only packaged water or boiled water can be obtained from local tea shop during trekking.
CANCELLATION POLICY:
If the reservation is cancelled 30 days prior to the date of arrival – 90% may be refunded
If the reservation is cancelled 15 days prior to the date of arrival – 50% of the may be refunded
If the reservation is cancelled 07 days prior to the date of arrival – 25% of the may be refunded
If the cancellation is any later than the above stated period or in case of 'No Show'- No Refund
No refund or any changes will be accepted at last minute for tour starting or after starting or middle of the tour.
Above are the cancellation rules but we will put our best possible effort to waive/minimize the cancellation charges
Use Facebook to Comment on this Post