Bageshwar is a town located in Bageshwar district in Uttarakhand, at the confluence of Sarju and Gomti Rivers. Its claim to fame is that it is an extremely holy spot for devout Hindus who consider the place to be blessed by Lord Sadashiva. In fact there are quite a few temples in the vicinity, the most well known of which is the Bagnath temple dedicated to Lord Shiva and located in the heart of the town.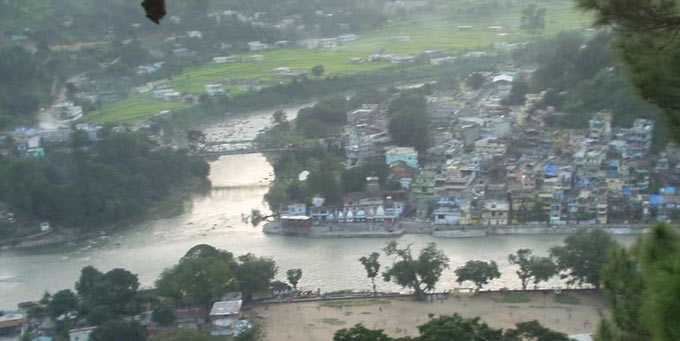 To the north and south lie Suraj Kund and Agni Kund. The holy Nileshwar Mountain is to the west and the Bhileshwar is to the east. In recent times Bageshwar has acquired fame for being the jumping off point for treks to the Pindari and Sundherdhunga glaciers.
Getting there
Bageshwar is about 150 kilometers from Nainital and about 470 kilometers from Delhi. You can take a bus direct to Bagheshwar from any of these cities. Pantnagar is the nearest airport, about 180 kilometers away, from where you travel by taxi or by bus. Kathgodam is the nearest railway station, about 160 kilometers away.
Things to see and do
The Bagnath Temple is undoubtedly the first place to go to when you are in Bagheshwar. It is at the junction of the two rivers and is dedicated to Lord Shiva. The temple dates back to 1450 AD and at the time of Shivratri, the entire area is flooded with devotees for the festival. In close proximity to the Bagnath Temple you will find Kalika temple, Durga temple Bhairav temple, Vaneshwar temple, Ganganath temple, Hanuman temple and Dattatrey temple.
The Baijnath temple dedicated to Lord Shiva is on the left bank of the Gomti, about 19 kilometers from Bageshwar.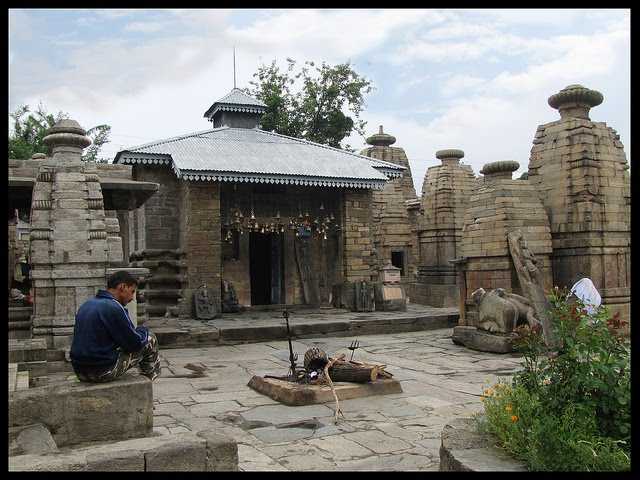 The other temples to visit are Chandika Temple, about a half kilometer away; Sriharu Temple, about 5 kilometers away and Gauri Udiyar, about 8 kilometers away where you will find a cave housing idols of Lord Shiva.
These temples are locations where fairs are held at appropriate times and thousands of devotees from all over India flock to Bageshwar, considered just as holy as Varanasi.
The places you can visit from Bageshwar are Kanda, about 25 kilometers away where you will find an ancient temple of Maa Kali and Pandusthal where the Kauravas and Pandavas waged battle. Vijaynagar, about 30 km away, offers a scenic view of the Himalayas.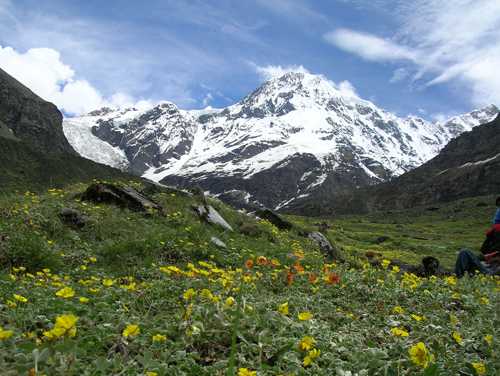 For adventure seekers the start of a trek to the Pindari Glacier is at Song, about 36 kilometers from Bagheshwar. From here trekkers can also go on to Sunderdhunga glacier, about 54 kilometers from the base camp at Song. These two treks are quite tough and need you to be in perfect physical condition.
Accommodation and Food
Accommodation is available in the form of small to luxury hotels, guest houses and of courses Dharmshalas for pilgrims, offering stay at quite moderate rates. Some temples may offer food but in any case there are restaurants and eating places so that tourists or pilgrims never have to worry about routine fare. Try local dals (lentil) and rice preparations for a change.