Book Online Helicopter Ticket
Badrinath Helicopter services: New age solution to Age-Old Pilgrimage
Gone were the days when pilgrimages had to be covered on barefoot.  Due to their location in rather difficult terrain, the abodes of Divinity strewn across Himalayas have remained quite elusive to a regular traveler. It has been expostulated in puranas that receiving divine grace would become easier in kali Yuga. As the difficulties of extrinsic world increase, the divine help available to humans caught in the ceaseless cycles of birth and death to free them from samsaric suffering would also increase manifold. Perhaps, pilgrimages to difficult shrines being rendered easier is a reflection of the same. Nowhere is this more reflected than in the immense help helicopters provide in making such pilgrimages accessible.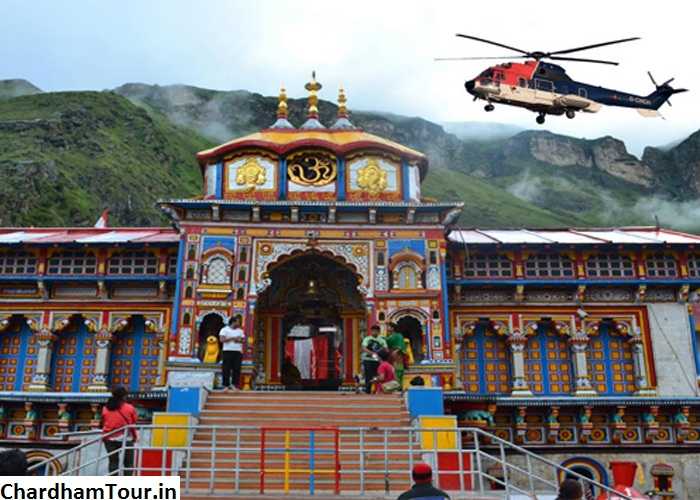 Why Visit Badrinath?
Skanda Purana testifies that although there are a million sacred shrines of Vishnu upon earth, none comes close to the spiritual sanctity instilled in Badrinath Shrine. But, it is widely believed that a pilgrimage to Badrinath shrine would be deemed incomplete without a prior visitation to Kedarnath shrine. Char Dham pilgrimage culminates at Badrinath, so does the revered Panch Badri. One can estimate its importance from the fact that not only does Badrinath form an integral part of Himalayan char dham but also of the all India Char dham initiated by Adi Shankaracharya in eighth century CE.
The present idol worshipped in Badrinath is said to have been discovered by Adi Shankaracharya from a recess in Alaknanda River. It was first installed in a cave near the hot water springs at Tapt Kund. It was in the sixteenth century that the King of Garhwal moved the shrine to its present abode. But do not assume that the temple's origin goes back to only eighth century. In fact, references of the temple abound in Vishnu Purana, Skanda Purana and Divya Prabandha etc.
The earliest of the references on the dham can be found in the legend of Nar and Narayan. The sages Nar and Narayan are said to have been the prior incarnation of Sri Krishna and Arjuna. They sought a sacred land that could build the sacred space for their spiritual ascetic practices meant to bring in welfare for all living beings. This is the land they chose to engage in their spiritual practices for thousands of years. The land rendered holier by the intense spiritual practice began to be venerated as Badrinath.
Helicopter Services to Badrinath
It is not just for the ease in conveyance that helicopter services are recommended. Sure helicopter journey considerably reduces the travel time and makes the trip convenient for pilgrims. But the trip in itself is going to mesmerize your senses.
What can one say of the wonderful vistas that an overhead trip across Himalayas provide? It really has to be seen to be known. If you have never been above Himalayas, you really ought to try a helicopter trip across its lofty peaks and picturesque vales at least once in your lifetime.
A Typical Itinerary for Badrinath Yatra by Helicopter
Helicopter journeys to Badrinath start from Dehradun. That one can finish the entire round trip – the outbound trip from helipad at Dehradun, the return trip from the holy shrine and the holy darshan, in the course of a single day is a true miracle!
Pilgrimages ought to begin quite early in the morning. You are expected to arrive well ahead of the scheduled departure at 7:00 am from Sahastradhara Helipad, dehradun.
It is to be noted that the actual departure time is subject to changes depending upon the changes in weather and the subsequent decision by our expert pilots.
Before the journey begins, one will be given a briefing on all the necessitate information a traveler ought to know to ensure a wonderful helicopter journey. Your queries will be duly answered too.
7:00 am: Departure from Sahastradhara helipad, Dehradun
Unlike Kedarnath helicopter services wherein one has to shift into a shuttle service in between, helicopter services to Badrinath is an uninterrupted journey that will take you till the Badrinath helipad.
The wonderful aerial views of Tehri dam and snow capped mountains are sure to lift your senses!
8: 00 am : Arrival at the sacred shrine
Once you reach the helipad, our car would take you till the temple. There's hardly a 1 km stretch in between.
Avail the VIP darshan passes we have in store for you and enjoy a blissful darshan of Badrinarayan.
11:00 am : Scheduled departure
12:00 am : Reach Dehradun
The auspicious day ends by afternoon at the precise spot we began the journey in the morning.
Contact us for any further inquiries on Badrinath Yatra by Helicopter. We have been the most trusted partner for helicopter services to Badrinath and other char dham shrines for many years, we would love to tailor the ideal pilgrimage for you as well. Please contact us for any further details. May Badrinarayan direct your mind in choosing the best course to reach Him as well!